Your riding hat is part and parcel of your safety gear, but many riders overlook the role it has in protecting you. Our latest article looks at the dangers of no hats, old hats and when you should replace yours.
When did you last replace your riding hat? Is yours fit for purpose? SEIB's Horse Insurance experts have taken a look at the key things you need to know about riding hat safety including tips on when to replace your hat and what to look for in a new one.
What are the dangers of not wearing a riding hat?
A safe and well-fitted riding hat should be regarded as the most important element of your riding gear. Whilst a body protector and other protective items are important, broken ribs and limbs will heal. A back or head injury could be fatal or cause life limiting injuries.
All riding schools, clubs and competitions will require you to wear a riding hat. If you don't have a riding hat, some schools can provide them, if not they will usually simply turn you away. For new riders a riding hat may seem uncomfortable at first, but manufacturers have made great strides in making them both affordable and comfortable, too.
I've had my riding hat for several years. Should I replace it?
Most manufacturers recommend replacing your riding hat after 2000 hours. Roughly, this equates to around 5 years for the average rider, but if you ride professionally you may want to try to calculate your usage more accurately.
New hats can take time to get used to and once yours feels right, you might feel reluctant to replace it. However, a worn riding hat won't protect you properly during a fall and with new safety standards coming into play often, you should always know your riding hat specifications.
When considering whether you should replace your hat, ask yourself:
Have you suffered a fall while wearing the hat?
Have you dropped the hat on any occasions?
Is there fraying to the lining inside?
Are there any dents or bumps to the hat?
It is strongly recommended you replace your riding hat immediately if you have suffered a fall and the hat has taken impact.
If you have dropped it, if there are dents, or if there is fraying to the lining or straps, it may not serve its purpose anymore and you should replace it.
Don't be tempted to sell your worn hat, either. Doing so could jeopardise the safety of the rider that buys it from you.
What are the current riding hat safety standards?
The most common standard for riding hats is the PAS015 combined with the Kitemark quality mark. The Kitemark is the registered trademark of the British Standards Institute (BSI). It essentially proves that a company complies with a thorough system of regulation and testing.
Many standards depend on the type of riding you participate in. You can find out a handy table of standards here.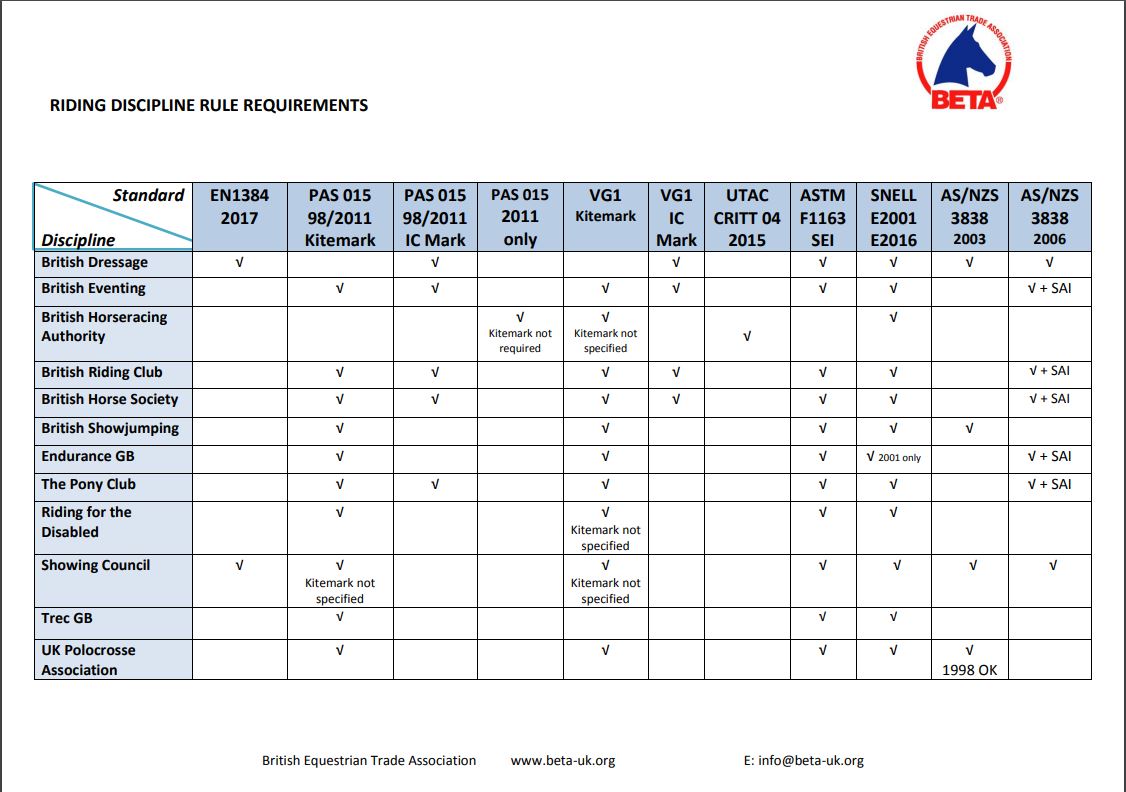 What is the best riding hat for me?
Nor should you be tempted to buy a used riding hat from somebody else. Even if it looks pristine, you don't know the condition of the internal padding and could be risking your life in using it.
When buying a new hat, you should:
Consider the type of riding you participate in first
Ensure the hat fits the size of your head perfectly by having it fitted professionally
Ensure the hat feels comfortable to wear
Ensure the straps don't hinder you in any way
Ensure the hat is compliant with the necessary standards
Take care of your hat and store it properly
Keep it away from direct sunlight
Let it dry naturally if it gets wet
Can riding hat safety affect my insurance?
The Highway Code states that all riders under the age of 14 must wear a riding hat when on the road, and all others should also follow these requirements. If you were to have an accident on the road and you had failed to follow these requirements, your claim settlement could be affected.
If you ride on your own property, you are not breaking any laws by not wearing a hat, but you are putting yourself at risk. Our yard insurance policy wordings state under the Exclusions section that bodily injury, personal injury, damage or denial of access that arise from anyone not wearing the appropriate headgear, that meets current British Standards, whilst riding, including mounting and dismounting, would not be covered. This exclusion is not restricted to age groups either, so be sure to check your insurance requirements in regards to hat safety.
SEIB are horse insurance specialists and we have more than half a century of experience to work on. Our advice ranges from rider and horsebox safety to insurance for horses, clubs, schools and more. We are well-respected equestrian experts and are always happy to share our in-depth knowledge.
Thank you to British Equestrian Trade Association (BETA) for compiling such useful information.