Over £50K up for grabs from the SEIB Giving Virtual Awards and voting tied!
Two charities shared the top spot in the SEIB Insurance Brokers Giving Virtual Awards held from the 30th March to 3rd April 2020. It is hard to believe that following over 36,000 nominations for 1,300 charities, two remained neck and neck and ended on exactly the same number of votes.
The front runners in the 2020 SEIB Giving awards and were each granted £15,000. Bransby Horses Rescue and Welfare and Redwings Horse Sanctuary were announced as the leaders in the SEIB Giving Virtual Awards ceremony. During the virtual awards, two charities had their placings – and grant amounts - announced each day through video posts on SEIB's social media.
Eight other charities reached the final voting stage of the SEIB Charity Awards and shared a further £20,500 from SEIB bet. All had their prizes announced and a video celebrating their brilliant work in the virtual awards.
The SEIB Giving Awards were due to be held in London on the 20th March 2020. When the awards were cancelled due to Covid-19 a quick decision was made by SEIB to go ahead and move them online. SEIB's Chief Executive Officer, Barry Fehler said: "I am immensely proud of my company and our team have seamlessly ensured that each of the 10 shortlisted charities got their moment in the spotlight. Helping others is what SEIB is all about and I am delighted that we have been able to grant this money to such wonderful causes at this moment in time when it is so desperately needed."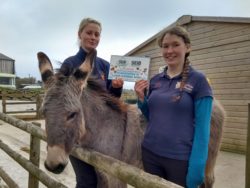 The SEIB Charity Awards have strict entry criteria; only small and medium charities are eligible. In previous years the criteria required that the grants should be used for a specific capital project. However, in light of Covid-19 SEIB realised how difficult it will be for charities to operate this year and on this occasion the money may be used for running costs to help keep the charities afloat.
Doris Banham Dog Rescue took best small charity in the 2020 SEIB Giving awards with a grant of £7,000. Trustee and Founder of the charity, Trudie James said: "This money is a real Godsend to us. I would have loved to buy some kennels but I will have to use it for running costs to keep our dogs safe during this virus period. I have worked out that this money will pay three months kennel, care and retraining for 21 of our dogs during our survival period."
Hertfordshire based, Gaddesden Place Riding for the Disabled (RDA) received a grant of £5,000. Trustee and volunteer Karen Gosen said: "We are delighted with the money and grateful to have had the opportunity to be a part of the SEIB awards. The nomination stage in particular was very engaging for our riders and volunteers. It was one of our volunteers – who is an SEIB customer – that let us know about the awards."
The UK's oldest horse charity, The Horse Trust – founded in 1886 – earned a grant of £4,000. Once Upon A Smile, a Manchester based bereavement charity received a £2,000 grant from SEIB and Hope Pastures and the Flicka Foundation were granted £1,000 apiece. Claire Turnbull from the Flicka Foundation said: "We really truly appreciate this support – now more than ever. Our rescued donkeys are blissfully unaware of the current global crisis, but they deserve only the very best second chance at life and we must find ways to continue to be here for them." The South Essex Wildlife Hospital and Hope Rescue each received a grant of £250.
SEIB's Marketing Manager Nicolina MacKenzie said: "Charities are facing some tough times ahead and we have been determined to not only make sure that our finalists receive their SEIB grants, but that they also have the opportunity for some publicity through our virtual awards. I am very grateful for the magnificent support we have received with staging these awards. In particular to Land Rover Burghley Horse Trials and the Horse of the Year Show for the efforts they have made to promote the SEIB Giving virtual awards.
Lynn Cutress, Redwings' Chief Executive, said: "We're delighted to have been awarded £15,000 in the SEIB Giving Awards. As a charity 100% funded by donations from the public, this generous grant will go a long way towards caring for our 1,500 horses, ponies, donkeys and mules. This news is also a very welcome boost for our teams right now who are working hard in challenging times to ensure our rescued residents still receive all the specialist care they need, so thank you to everyone who supported our application."
Sally Crawford, Bransby Horses Executive Director of Engagement and Income Generation, said:
"We are absolutely delighted with the incredible £15,000 awarded to us by SEIB Insurance Brokers. Working since the November 2019 floods has been tougher than usual and though the waters have finally subsided, the fallout from this devastation continues. The money we've been so kindly awarded will go towards purchasing a Kabota vehicle which we can use at our Barlings site where over 50 horses and ponies have been moved as a result of our Bransby land being ravaged by the floods. Thank you so much SEIB from us all here at Bransby Horses.
The Charities Trust provided SEIB with their help to carry out due diligence ensuring that each of the finalists met all criteria of the grant and are above board.
SEIB works closely with the charitable sector and insure many charities and non-for-profit organisations. Whilst SEIB is an independent broker, the company is owned by the Ecclesiastical Insurance Group that is in turn owned by the charity Allchurches Trust.
Giving is embedded in the culture of SEIB. From supporting grass roots competition that gives opportunities to amateur riders that they could only otherwise dream about, right through to the company's unwavering loyalty to promoting nationwide equine welfare.
The SEIB team does a huge amount for local charities and SEIB has proudly supported the Burghley Sponsored Ride for the past six-years by covering expenses so all proceeds go to charity, it has raised over £250,000 during its history.
Full results for the final 10 charities in the 2020 SEIB Giving Virtual Awards
£15,000 - Redwings Horse Sanctuary www.redwings.org.uk.
£15,000 - Bransby Horses Rescue and Welfare www.bransbyhorses.co.uk.
£7,000 – Doris Banham Dog Rescue www.dorisbanhamdogrescue.org.uk.
£5,000 – Gaddesden Place RDA www.gaddesedenplacerda.org.uk
£4,000 – The Horse Trust www.horsetrust.org.uk
£2,000 – Once Upon A Smile www.onceuponasmile.org.uk
£1,000 – Hope Pastures www.hopepastures.org
£1,000 – The Flicka Foundation www.flickafoundation.org.uk
£250 – Hope Rescue www.hoperescue.org.uk
£250 - South Essex Wildlife Hospital www.southessexwildlife.org
About SEIB
SEIB Insurance Brokers are specialists in horse insurance, funeral directors insurance and private hire insurance. We are able to provide flexible policies to suit individual client needs and provide advice on what cover is needed. For more information call the team on 01708 850 000.