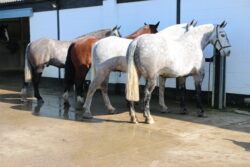 Feeding straights – or unprocessed cereals – is often dismissed as an antiquated practice from years of old. However, can our modern horses benefit from eating locally sourced, good quality barley, linseed, oats and corn that have had stayed pretty much unchanged on their journey from field to feed bucket?
Top show producer, Lynn Russell has for many years focussed on re-training racehorses and showing cobs and hunters. Lynn has taken to feeding her horses straights and despite her vast experience, she freely admits, she is on a constant learning curve when it comes to what her horses should eat.
"Nutrition is key. We all know that the sum of the parts makes up the whole, for me feeding is key lynchpin. Since I have been showing professionally, for 40 years now, I have had sponsorship, as many of you know that came to a close. Since then, I have looked hard at my feeding ethos and system and have re-evaluated the way I feed my horses.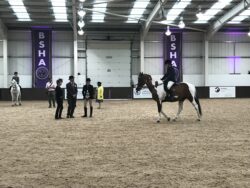 "I took a close look at the current feed on the market and I have to confess that I never really questioned what was in feeds, they were given to me and I fed them, the horses looked fine from the outside and I never really went beyond that. The situation I found myself in meant I had to find a new solution. I decided to take this as an opportunity to see if I could do things better, so I set about learning what I could about my horses' digestive systems and how I could help them yet still have them in show ready condition. What I have learned has even astounded me. Never before have I looked at feed sacks and questioned what was in them, now I read labels not marketing. I have a new rule, horses are strict herbivores and so now I avoid anything that does not respect this physiological fact.
"I am fortunate enough to have fantastic turnout at home. My horses are out at grass virtually all the time except for when I am working them or they are in being fed and groomed, so I do have an advantage that many don't. With my new found knowledge I realise now that feeding complete mixes is a pretty lazy way of feeding. I thought it convenient but now I realise it is not and I really wouldn't go back to this method. I have gone, what some would call backward but I would say this is the future, yes – my horses are on straights. I am still finding my way, tweaking and changing but I am now in control of my horses' guts and I am working out just what each of them needs and adjusting accordingly.
"Looking for local suppliers was important, as getting feed for 14 horses into a car is just a bit hard! I have cheated a little bit though as I have my alfalfa delivered by pallet from Leicestershire. The rest is all sourced locally. I am keeping it simple, alfalfa as my chaff for the majority of my horses. I am still working out between flaked barley and whole oats, or maybe a combination and some cold pressed linseed oil. As a daily supplement, the horses have Hi Form's Oxydane, which includes vitamins, minerals and amino acids with electrolytes. Then of course, ad lib hay when they are in their stables.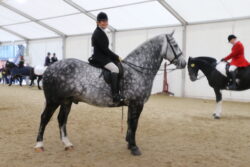 "We all know racehorses are often difficult to get weight on and coming straight from racing they still have the track in them. Cobs and hunters need to be well covered but not fat. For the ring we need great action but have to be rideable. Now I have the ability to feed exactly what each horse requires to be in the optimum of health, work with each individual as an individual. With our imposed lockdown situation, I have been able to easily adjust their feeds accordingly as we wait for a green light to be able to go back to what we should be doing – showing!"
"If you had told me 5 months ago this is what I would be doing, I would have laughed but now I am laughing for another reason. My horses have never looked so good and everyone who has seen them says the same thing!"
Lynn Russell kindly used her experience and expertise to judge the finals of the SEIB Search for a Star Riding for the Disabled Championship in 2019.
SEIB Insurance Brokers are committed to supporting equine research, welfare and education as part of their ethos of 'putting something back'.
For more information please visit www.seib.co.uk