Many of the horse insurance team here at SEIB are keen, amateur riders and horse owners. Between us we have many years of experience when it comes to keeping our horses happy and healthy through the long, dark, wet winter months. Our top tips for keeping our equine friends happy and healthy are….
Feed plenty of hay to horses that are out in the field
Ad-lib hay out in the field will provide your horse with much needed roughage and a full tummy, it will also help him feel the bitter cold and rain a bit less. To prevent hay from getting trampled into wet, muddy ground, a wooden hayrack can be an absolute godsend. If you have someone around that is handy, old pallets can be fairly easily fashioned into an effective hayrack to ensure minimal wastage.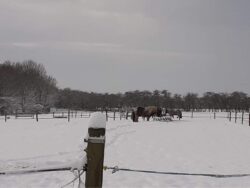 Make the most of the daylight
If your horse lives out 24/7 in the winter, always try to make sure he gets seen in daylight once a day. If you are working and it is impossible to check him each day in anything other than pitch darkness, a head torch can be a lifesaver to pick up on any lumps, bumps or scrapes. Alternatively, if time allows and it is feasible, pop by to check him on your lunch-break – one of the possible benefits of the current lockdown and working from home!
Hold back on the hosing
If your horse comes in every night, resist the temptation to keep hosing those muddy legs off. If mud fever sets in, it will become a very long and miserable winter for you both. Constantly washing and drying wet, muddy legs can make them very sensitive and prone to mud fever. It might seem counterintuitive, but leaving wet, muddy legs well alone may prevent mud fever setting in.
Bulk buy
It can get expensive caring for your horse over the winter months, even more so if you haven't planned ahead. Whilst it is difficult to predict the weather, it is reasonable to assume that the grass will not start to grow through before mid-March at the earliest. If you have the upfront funds (and plenty of storage space) it can be sensible to buy hay straight from the field once it has been cut in the summer. This will mean you will pay less per bale and you can rest assured, knowing your horse will have enough hay to last the winter.
Rug wisely
If you are hacking your horse out once or twice a week over the winter months but have decided it isn't worth clipping him out it is important to make sure he doesn't get a chill. Hairy horses can easily get cold if they are hot and sweaty when turned out after riding in the winter months.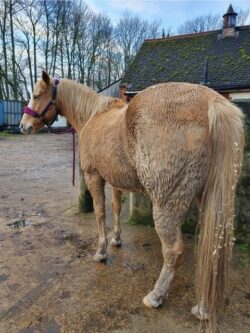 If you can, ride in the morning rather than risking coming back from a late afternoon ride with a hot horse. Always make sure that you walk the last mile home so your horse has cooled off as much as possible by the time he gets back to the yard.
About SEIB
We have been providing insurance for horses for over 50 years. This experience allows us to tailor policies to suit your circumstances and ensure that you and your horses are covered should the worst happen. If you'd like advice on your insurance please call us on 01708 850000.