SEIB Search for a Star is delighted to confirm that the first Search for a Star qualifier of the year is set to take place on the 2nd April at Warwickshire Spring Fair at Dallas Burston Polo Grounds, Southam, Warwickshire. Amateur riders and their horses and ponies will have the opportunity to compete for a ticket to the Search for a Star finals at Your Horse Live this November in three classes that are brand-new to the series for 2021.
For the full schedule and to enter CLICK HERE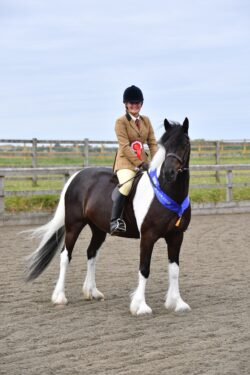 The three Search for a Star qualifying classes at the Warwickshire Spring Fair are for Part-bred Traditional Gypsy Cob, Veteran horse and Veteran Pony. Part-bred Traditional Gypsy Cobs can be any colour or type and are not limited to coloured animals. In the two veteran qualifiers, horses and ponies must be aged 18 or over.
Show organiser, Loraine Homer said: "I have thoroughly enjoyed putting this show together and, now we are heading out of lockdown, giving people something to work toward. I am confident we can run a safe, happy and fun show. I am particularly delighted to have a new working relationship with SEIB and Search for a Star by hosting their new qualifiers for Your horse Live."
SEIB Marketing Manager, Nicolina MacKenzie said: "We are very excited to be offering these new Search for a Star classes as they provide an extra opportunity for the many enthusiastic amateur owners and riders out there to have the chance to compete on the big stage at Your Horse Live."
Search for a Star is purely for amateur riders and this rule is very strictly enforced. The full SEIB Search for a Star 2021 rules, schedule and details on how to enter the Search for a Star qualifiers at the Warwickshire Spring Fair are available at www.seib.co.uk/competitions.
Leading equine Insurance brokers, SEIB Insurance Brokers set up Search for a Star over 20 years ago so they could offer a unique competition opportunity to many of their amateur rider customers. SEIB has a long association with the showing world and is renowned for 'putting something back' by supporting many equestrian events and activities in addition to Search for a Star.
For full details on all Search for a Star, virtual Search for a Star, Racehorse to Riding Horse and SEIB competitions, please visit www.seib.co.uk/competitions. The website will be updated as dates and venues are confirmed.
In the meantime - if you need to insure your horse, horsebox, trailer, yard or business - SEIB are here to help so please give us a call on 01708 850000 or visit www.seib.co.uk. #SEIBhere2help