In January 2020, we asked hundreds of funeral directors "What are the biggest risks that you think will impact your business in 2020?". Unsurprisingly, no one foresaw the pending storm of COVID-19 and the unimaginable impact it would have on all of our lives and businesses.
We asked this question, and others, as part of SEIB Insurance Broker's first-ever Annual Funeral Directors' Risk Survey. The survey helps us to better understand the ever-evolving risks funeral directors like you face, so we can ensure we're providing the service and insurance you need to protect you, your business, your employees and your clients. We recently received the results from our 2021 survey which made for interesting reading. While the impact of COVID will still be felt for some time, it was interesting to see that many of the industry's perceived risks remain relatively consistent.
Competition, regulation and COVID remain key risks
Results from last year's survey revealed that competition with other businesses, regulation changes, manual handling and cybersecurity were regarded as the top risks within the funeral director industry. This year's survey mirrors many of these concerns:
63% said that competition with other businesses in the future was something that could have an impact on the way their business operates (compared to 67% last year)
58% said that regulatory/legislative changes were a risk that they were likely to face (down slightly from 59% in 2019)
54% of SEIB funeral director clients feel that business reputation may be an issue for them compared to 39% last year.
However, these weren't the biggest risks that funeral directors see their businesses facing in 2021. Unsurprisingly, 79% of our respondents saw COVID-19 as a potential business issue for this year.
Although we may now be in a more knowledgeable position than we were at the start of last year, the industry is still learning how to adapt to the challenging pressures caused by COVID-19. Since March 2020, the demands on funeral directors, crematoria operators and other stakeholders, such as local authorities, has increased significantly as a result of the exceptionally high death rates, and the particularly distressing circumstances in which funerals have had to be arranged.
Government restrictions such as social distancing measures and the number of attendees at funerals have also dramatically changed the economics of funeral directors and crematoria alike. It has led to a negative impact on both the cost of operation, number of funerals and types of funeral arranged during this period.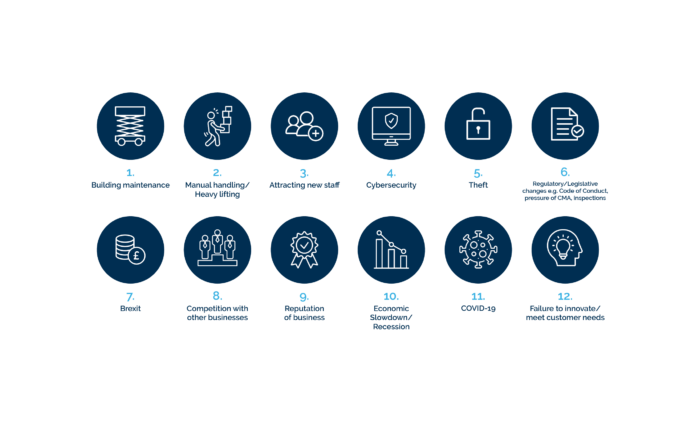 Figure 1: List of risks mentioned in SEIB's Funeral Directors' Risk Survey
Brexit no longer seen as a key risk
For many industries, the challenges of adapting to Brexit remain profound. This is likely to be the case for the coming years, as additional new legislation and cooperative technologies are introduced by the UK and European Union (EU). Brexit seemed to be at the forefront of many of everyone's minds in last year's survey. Our latest results show that this is no longer the case.
Results from our 2020 survey showed that 16% of respondents reported Brexit as a potential risk for the upcoming year compared to 0% of respondents regarding it as a business issue for this year. Due to the escalation of the coronavirus pandemic, priorities surrounding business risks have now changed.
Will turnover increase?
We also asked funeral directors if they expected their turnover to increase or decline in 2021. 42% of respondents
expected their turnover to remain the same in 2021 with 16% of respondents predicting a decrease in their turnover.
This may be due to the increased competition within the industry and the economic recession. Research has shown that in the last three years the number of funeral director premises present on the high street has increased by 12%1.
Although the funeral market has become more competitive, it has also driven innovation within the industry. The reality of competition means that businesses have to work harder for their customers. Businesses within the industry have been able to launch new innovations, delivering a wider range of products and services that can cater to people at different price points.
Finally, we also asked funeral directors what their main priorities for the upcoming year would be. Results showed that you generally remain optimistic about your business plans for 2021. Responses from some showed that they were hoping to improve their marketing communications and carry out property renovations.
The most common responses though detailed funeral directors' consistent focus on maintaining high standards of customer service and customer satisfaction, no matter what the circumstances. As one respondent put it: "As always, we'll remain vigilant and ready to face new challenges."
About SEIB
We understand how important it is to run a funeral directing firm during a difficult time. From our findings, we're able to understand the experiences and expectations of funeral directors during this period. By sharing this research, we will continue to work collaboratively with our clients to ensure that our services support your insurance needs.
Here at SEIB we have been arranging tailored insurance for funeral directors and associated trades for over 40 years, giving us expert insight into the risks faced by such a unique industry. To find out more about protecting your business and reputation with SEIB, please call us on 0345 450 0648 to talk to one of our experienced staff members.
Sources:
1: Trajectory Report: Dignity Funeral Director - Time to talk about quality and standards – 2018