SEIB sponsored rider, Hannah Horton won the Riding Horse Championship at the Prenetics Royal International Horse Show today with Eileen Jenkin's homebred gelding, Buriana Larkrise.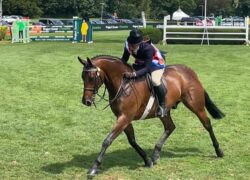 Eileen Jenkin, owner and breeder of Riding Horse Champion Burianna Larkrise has had her stunning eight-year-old bay gelding with SEIB sponsored rider, Hannah for the past three seasons. A delighted Eileen said: "We have done pony club and riding club and then finding that the showing was something we enjoyed, we moved on to county level. This top level of success is something I haven't aspired to and I am so lucky to have this wonderful horse. I didn't realise there was a championship here on Sunday – I was meant to be heading home to look after family."
This is the sixth championship that Buriana Larkrise has taken this season. He has also qualified for HOYS with Hannah's boyfriend, Jack Moore in the Intermediates alongside taking his HOYS ticket with Hannah in the Riding Horses at Stoneleigh Horse Show.
Eileen continued: "We couldn't wish for a better yard for Ralph to be in. Hannah and her mother Helen Horton have a wonderful, relaxed team and they all work so hard together ensuring the horse's welfare. They do plenty of hacking and are happy horses. I know I can pick up the phone and get an honest answer. We have spent a long-time nurturing Ralph. His mother, Buriana Cashel came from Ireland as a yearling, she was champion at Devon County in-hand and then went on to do intermediates, taking the championship at Royal Windsor before going on to HOYS. We have a full-sister to Ralph back at home that we have high hopes for."