With the recent law change to driving licenses and the confusion around it, the SEIB Horse Trailer Insurance team have been thinking about who can and can't tow a trailer. On the 16th December 2021, legislation came into force changing the trailer test law in the UK.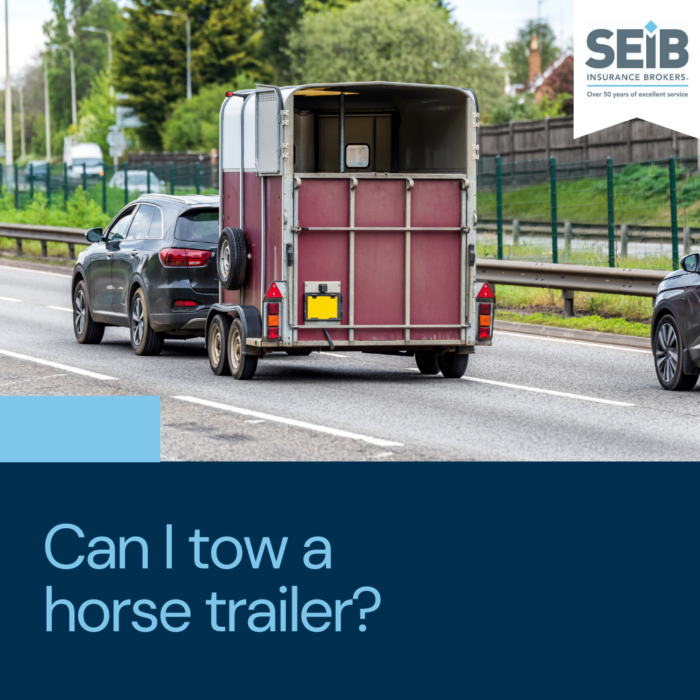 Since 16th December, driving licences will be automatically updated to have category B +E added, and with this, the permission to tow a trailer up to 3,500kgs.
Can you tow a horse trailer on a car licence?
Whist there is no legal requirement for new trailer drivers to pass a test, there are many things that need to be considered with regards to safety. Voluntarily undertaking some training with a qualified B + E instructor before setting out could have great benefits for both you and your horse and we would strongly recommend doing this.
Benefits could include: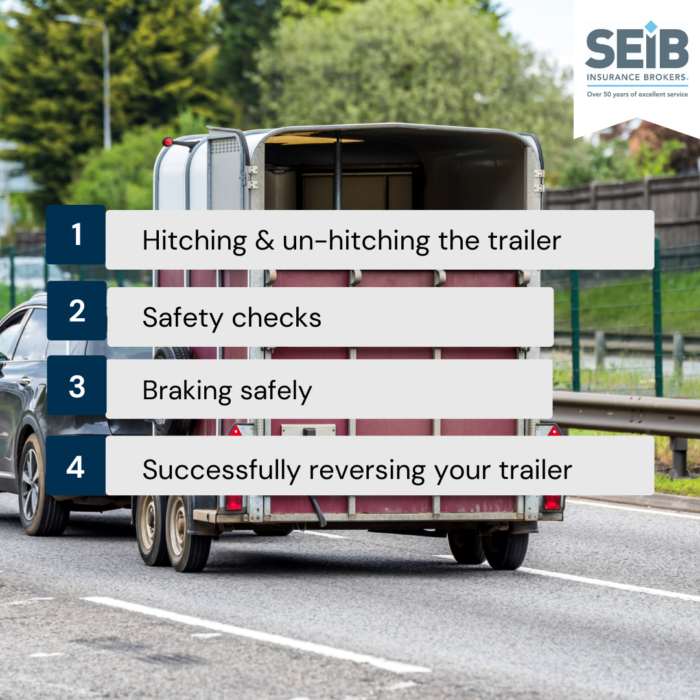 Safely hitching and un-hitching the trailer
There was more to the trailer driving test than simply being out on the roads. As part of the test training, hitching, unhitching and checking the relevant parts used to be covered. Would you know how to check that the safety chain is working correctly and should the worst happen and the trailer become unhitched from the towing vehicle, be confident that the chain would effectively operate the trailer brake? Also, some simple training might provide some useful tips on reversing back accurately to the trailer hitch.
Making essential safety checks before you tow
An experienced instructor will be able to effectively impart to you the things that you need to check before towing your trailer. These might include; ensuring the trailer is hitched up correctly, the electric cable is correctly attached, the brake and indicator lights are functioning, checking the tyres and checking the load in the trailer.
Braking safely when driving a trailer
It takes a lot longer to stop when towing a trailer than when just driving a car. A trailer driving instructor will ensure you are looking for hazards far ahead up the road so you can anticipate when you need to brake and have plenty of time to do so safely – and making sure your precious cargo is safe.
Successfully and confidently reversing your trailer
At some point when out and about with your trailer, you will have to reverse it. Off to a sponsored ride, heading to a training session? Many equine destinations are down long, narrow, winding roads with the potential for taking a wrong turn and needing to back up to get back on track. A lesson or two could very easily take the edge off the fear of this happening!
In the meantime, the National Trailer and Towing Association website has some really helpful information including how to get a free safety check for your trailer and a great guide to safe and legal towing.
About SEIB
SEIB have been arranging horse trailer insurance for over 50 years. This experience allows us to tailor policies to suit your circumstances and ensure that you and your horses are covered should the worst happen