The 2022 competition season is in full swing and our horse insurance team are talking passports. It is a legal requirement in the UK that all horses, ponies and donkeys have a horse passport and that the passport is registered to the correct owner. Since early 2021 all horses, ponies and donkeys in England, Wales and Scotland are required to have been microchipped. The penalty for not holding a passport for a horse, pony or donkey is an unlimited fine.
All equine passports are issued by a Passport Issuing Organisation (PIO). Some PIO's manage studbooks, if you have a pedigree horse, pony or donkey it is important that it is registered with – and has its horse passport issued by - the relevant breed society.
You can find a full list of UK PIOs please here.
A horse microchip is essential
A horse passport cannot be issued until the horse, pony or donkey has been microchipped and the microchip registered with the Central Equine Database. This database keeps an official record of all horses, ponies and donkeys in the UK.
We spoke to Cliffe Equine Vets in East Sussex, they confirmed the procedure for getting an equine microchipped and a passport issued:
"We discuss with the customer if they need the passport to be issued by a specific organisation and ensure the vet has the correct paperwork when he visits the horse. If there is no need for the passport to be issued by a particular breed society or organisation we will issue a Horse Passport Agency passport.
"When the vet comes out, he will scan the horse to check for an existing microchip. Provided the horse hasn't already been microchipped, the vet will then insert a chip and re-scan to ensure it is working. The microchip number will then be recorded on the passport and the horse's markings will be filled out by the vet. The vet will then follow this up by registering the microchip number on the Central Equine Database.
"Occasionally, particularly with older horses, we find that the horse already has a microchip so we know that there is in all likelihood a passport already issued for the animal. All being well, upon checking the microchip number against the Central Equine Database we can then find out the horse's registration history and arrange for a replacement passport to be issued."
Do horse passports need to be renewed?
Equine passports differ from human passports as they are valid for the animal's lifetime and do not need renewing. An application for an equine passport should be made by the time the foal is 6 months old, or by the 30th November in the year of the animal's birth. Any equine passport issued after the horse is 12 months old will be issued as a duplicate or replacement passport.
Why is it so important to keep your horse's passport up to date?
An equine passport provides the official record of all vaccinations that the horse has received. Each vaccination – primarily against equine influenza and tetanus – is stamped and signed in the passport by the administering veterinarian. To find out more about equine vaccinations please read our blog post – why should I vaccinate my horse?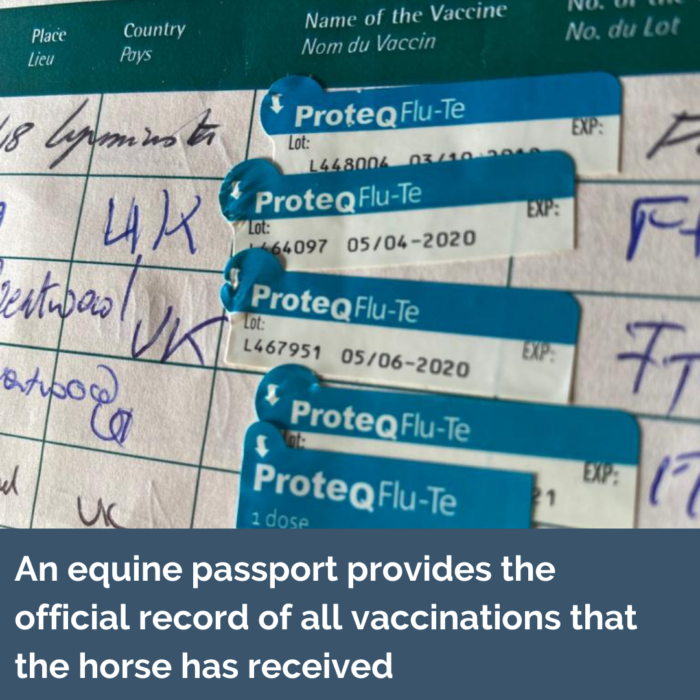 Without up to date, and correctly recorded vaccinations a horse or pony will not be permitted to travel and enter competition venues or different yards owing to the risk of infection from serious diseases such as equine influenza. It is a requirement for all competitions run by SEIB – including the Search for a Star and Racehorse to Riding horse showing series - that any horse or pony entered has their vaccinations up to date.
Another purpose of the equine passport is to ensure that horses that have been treated with certain medications – such as bute – can never be slaughtered for human consumption. Whilst we assume that our horses will never end up in the human food chain, having the horse's passport stamped out of the chain provides certainty.
Each time a horse, pony or donkey is sold, the passport must be returned to the Passport Issuing Organisation (PIO) to have the owners' details updated. The passport must be registered to the correct owner at their home address to be valid and within legal requirements. If you would like to compete in SEIB Search for a Star, following these steps is very important.
Your up-to-date horse passport should be kept with the horse at all times. If your horse needs emergency veterinary treatment, it might be useful for the vet to see the passport prior to giving treatment. For example, knowing that the horse has received a recent tetanus injection if he has cut himself. If your horse is kept at livery, the passport should stay in a secure place on site. Some people will then keep a photocopy of the passport at home for peace of mind.
Once you are certain your horse's passport is up to date and correctly registered why not look up how to take part in some exciting SEIB competitions including Search for a Star and Racehorse to Riding Horse, find out more here.
About SEIB
SEIB have been arranging insurance for horses for over 50 years. This experience allows us to tailor policies to suit your circumstances and ensure that you and your horses are covered should the worst happen.