This year, The British Horse Society are encouraging conversations about colic. They want all horse owners to feel comfortable talking about their worries, asking questions, making decisions and planning ahead.
Here at SEIB, colic claims are unfortunately quite common, so when we heard about Colic Awareness Week 2022 we knew we had to join the conversation. To show that there are positive outcomes, we caught up with long-term horse insurance client, Tracey Skipper, to hear how her lovely horse "Mr Mac" made a full recovery after colic surgery.
"I was working from home, luckily, when I received a phone call from a lady up the yard that Mac was thrashing around in his stable. As soon as I reached the yard, I could see something was not right, I took him out of the stable and started walking him about and rang House & Jackson (my vet) and they sent someone straight away.
When the vet came, she sedated him and put a tube down his throat to see if she could see what was going on, I rang SEIB Insurance Brokers to let them know he was showing signs of colic and that the diagnosis was looking likely for surgery. The claims lady I spoke to at SEIB was extremely calm and reassuring. I rang them twice to let them know what was happening and they authorised the surgery.
Mac was transported to the 'horse hospital' as I call it, and within 4hrs was on the operating table, I tried to keep positive, and I said to vet "he's coming home, and he will be fine". Mac had an obstruction which the vet told me looked as if he had rubber in his intestine and stomach, she asked does he eat the school? Or has he eaten something in his stable? No was the reply. The next 3hrs of surgery were the worse time in my life and from having had 3 major operations myself, I felt totally helpless but tried to stay positive, Mac was 10 at the time and I had only owned him a year.
Mac spent 4 days in the 'horse hospital' and received 5 star treatment from the staff, Classic FM was playing in the background and Mac and his stable were immaculately clean. I visited twice a day every day and I couldn't believe how well he recovered in a short space of time, they even left me poo so I could see that it was his and it was normal!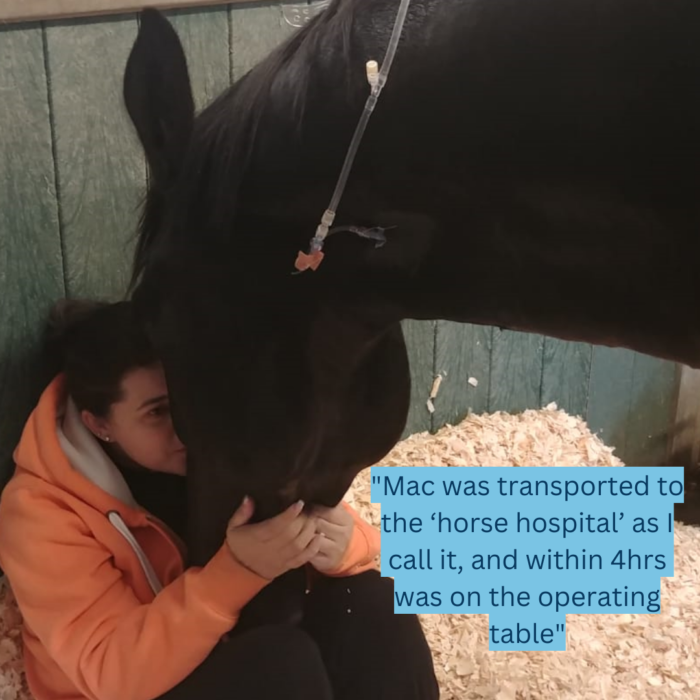 The day came when I was allowed to take him home and it was then that my job as his owner and friend took hold, I can't deny I was extremely scared! He was kept inside for two weeks and then allowed to go in a small paddock for 6 weeks, his friend Smokey the Shetland pony kept him company and before I knew it, he was back in herd with his friends.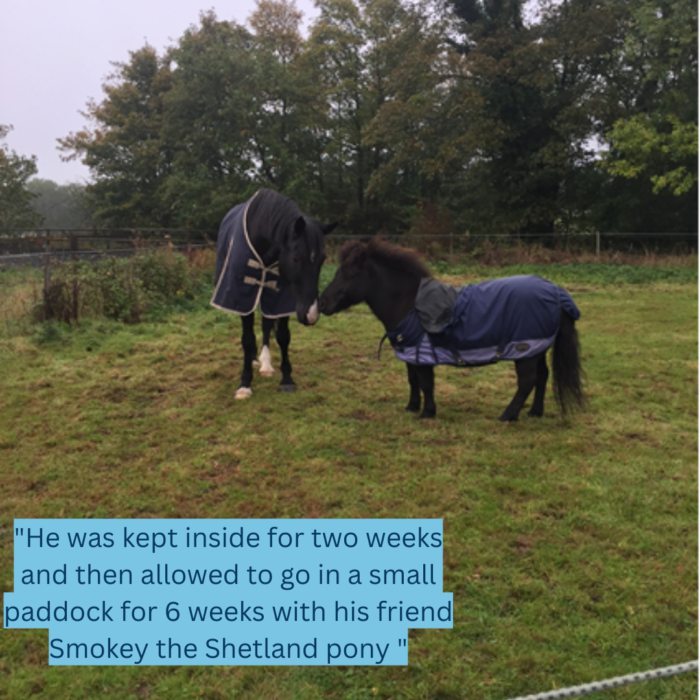 I normally ride four or five times a week and not being able to ride Mac for a considerable amount of time was torture. I rode a couple of friends horses, but there was nothing like sitting on my friend. The day came when I was allowed to sit on him and walk around the school, which of course I cried afterwards. It wasn't until 3 months after his operation I felt comfortable to canter him and though people were saying why don't you do this and why aren't you doing that, I knew Mac and I knew he wasn't ready.
I can't deny I look back on the whole experience and try to forget it, but since Mac's surgery and what he went through our lives have gone from strength to strength. We have been to the gallops twice this year, many pole clinics, intro and prelim unaffiliated dressage, lessons, and loads of hacking. If it wasn't for House & Jackson, my SEIB horse insurance and the ease of the claim I don't know what might have happened.  There isn't a day that goes by that I'm not grateful to have him. I'm so glad it wasn't any worse and I'm glad my friend and I can spend many many more days together."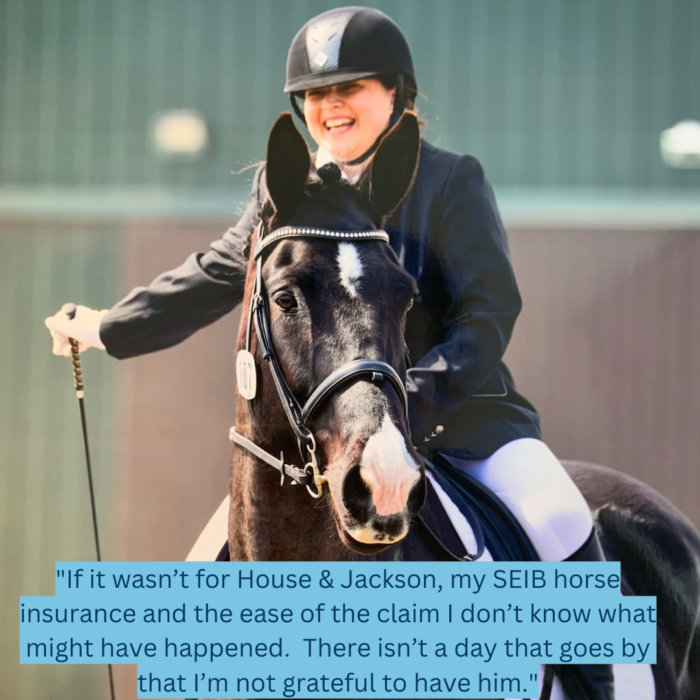 About SEIB
SEIB have been arranging insurance for horses for over 50 years. This experience allows us to tailor policies to suit your circumstances and ensure that you and your horses are covered should the worst happen.