With Christmas just around the corner, the horse insurance team at SEIB have been looking into ways to create some festive cheer for their equine friends. Home-made horse treats were top of the list – and even more importantly – how to make them!
Oatmeal, molasses, apples and carrots are all staple ingredients of horse treats. A firm favourite in the SEIB office – Apple and Molasses Traybake - combines all of these lovely horse friendly ingredients.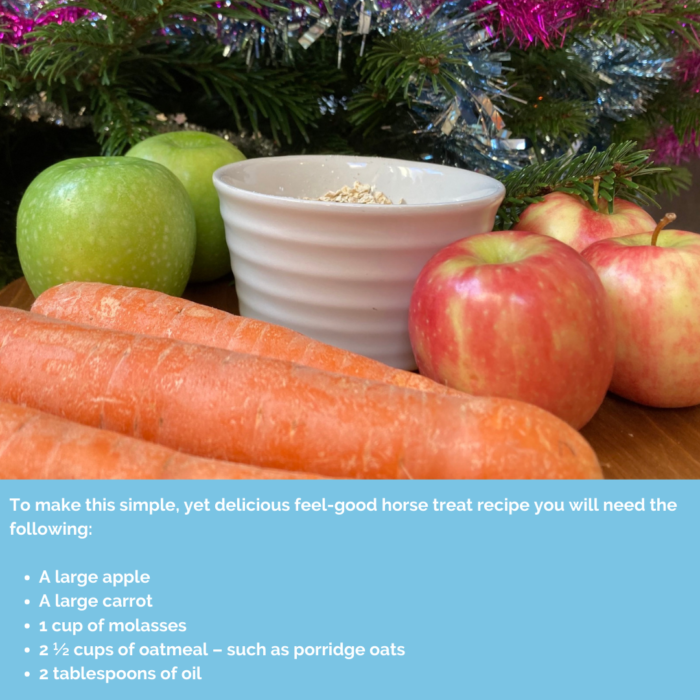 Christmas Horse Treat Recipe
To make this simple, yet delicious feel-good horse treat recipe you will need the following:
A large apple
A large carrot
1 cup of molasses
2 ½ cups of oatmeal – such as porridge oats
2 tablespoons of oil
Step 1 – grate the apple and carrot, either with a standard grater or – if you have one – a food processor. Put all the grated apple and carrot in a bowl.
Step 2 – Add the other ingredients – molasses, oil and oatmeal and stir everything in well. Once everything is coated in the molasses, it is ready for the oven!
Step 3 – Add the mixture to either a greased, or baking paper lined, baking tray. Press the mixture firmly down and put in a pre-heated oven at 180 degrees (gas mark 4) for around half-an hour. Be careful not to overcook the treats!
Step 4 – Once the sheet of treats is golden brown, remove from the oven and leave to cool. The treats will harden as they cool, once they have hardened score the sheet of treats into pieces.
Step 5 – Place your cooled treats into a tin or Tupperware tub, ready for shipping to the yard for your grateful equine friends!
If your first foray into horse treat baking is a success – why not spread some festive equine appreciation - these could make a thoughtful and cost-effective Christmas gift for other horses on the yard!
We would love to hear any other horse treat suggestions – the SEIB horse insurance team are keen on trying out new horse treat recipes for their beloved equine friends!
About SEIB
SEIB have been arranging insurance for horses for over 50 years. This experience allows us to tailor policies to suit your circumstances and ensure that you and your horses are covered should the worst happen.
---