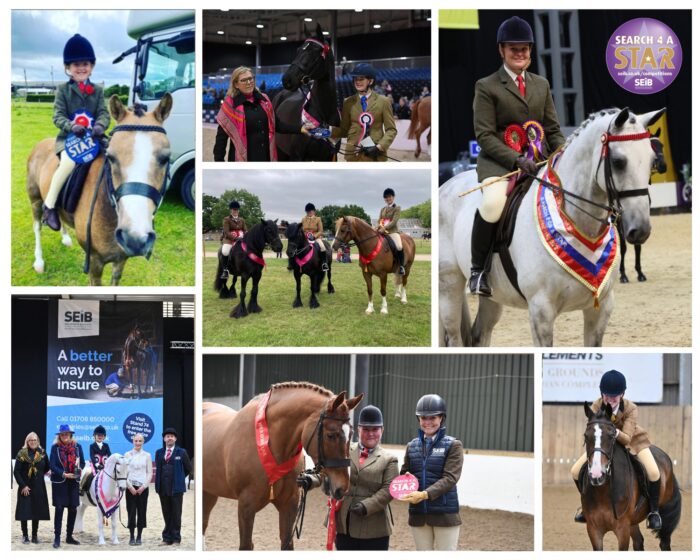 We looked up the top 10 reasons you might want to give SEIB Search for a Star a go this year. Read on and find out more about the ever-popular amateur showing series:
Whether qualifying for Horse of the Year Show (HOYS) or the Your Horse Live Search for a Star championships are a true goal – or a pipedream – amateur riders of ALL-ABILITIES and ages are welcome at Search for a Star.
Search for a Star was set up to help, support and encourage amateur riders to progress and for both horses / ponies and riders to ENJOY themselves! And make friends along the way!
The Search for a Star judges are true professionals with a lifetime of experience. They know their stuff inside out and are on-hand at each qualifier to answer questions and make suggestions. The judges are genuinely delighted when competitors return to Search for a Star having listened to advice and improved.
You don't need to pay joining fees or subscriptions to be a member of a society or body to attend Search for a Star. Native breeds will need to have the correct passport for their breed.
Search for a Star is run by Horse Insurance specialists SEIB Insurance Brokers who started the competition back in 1996 and have run it ever since. If you enjoy, and appreciate, the competition opportunities offered by SEIB please think about supporting the company in continuing its competition efforts by visiting www.seib.co.uk for a quote when your insurance comes up for renewal.
There is a total of 18 classes at each Search for a Star qualifier – making LOTS of opportunity! For most types of horse or pony there is more than one class you can take part in at each qualifier. Many people take part in the ridden class for their type of horse or pony in the morning and then the in-hand class later on. Giving two chances to qualify in one day! If you have an ex-racehorse there is also the extra opportunity of entering the SEIB Racehorse to Riding Horse competition! – qualifiers take place at each Search for a Star qualifier.
The goal is fit not fat! In 2023 the Search for a Star judges will be focusing on helping to educate competitors on their horse or pony's weight and making sure they are fit enough to be competing.
If you qualify, you get your very own write up and photo up on our Search for a Star Facebook page in the lead up to the championship! And the chance to feature in the press too!
Search for a Star isn't just about competitions, several Search for a Star 'Weekender' training workshops take place throughout the season on the day before the qualifying show. There is a final training day for those that have qualified for either the HOYS or Your Horse Live Search for a Star championships held in September each year. The Search for a Star judges and stewards take each training day.
The Search for a Star team have taken the cost-of-living crisis into account and while the Search for a Star qualifiers will remain standalone competitions run by the Search for a Star team, we are working hard with several other organisers to provide several qualifying opportunities in one outing by grouping qualifiers together to keep costs as low as possible for competitors.
Keep up to date with SEIB Search for a Star news at www.seib.co.uk/competitions or on Facebook at www.facebook.com/SEIB.Search4aStar. Dates for 2023 competitions have been published and can be found here.