British Equestrian has recently released unified concussion guidelines for use within the equestrian industry.
The six-page guidance document aims to help participants to recognise concussion and know what actions to take, both in the immediate aftermath and during recovery.
To read the guidance document and find out more about concussion, click the button below.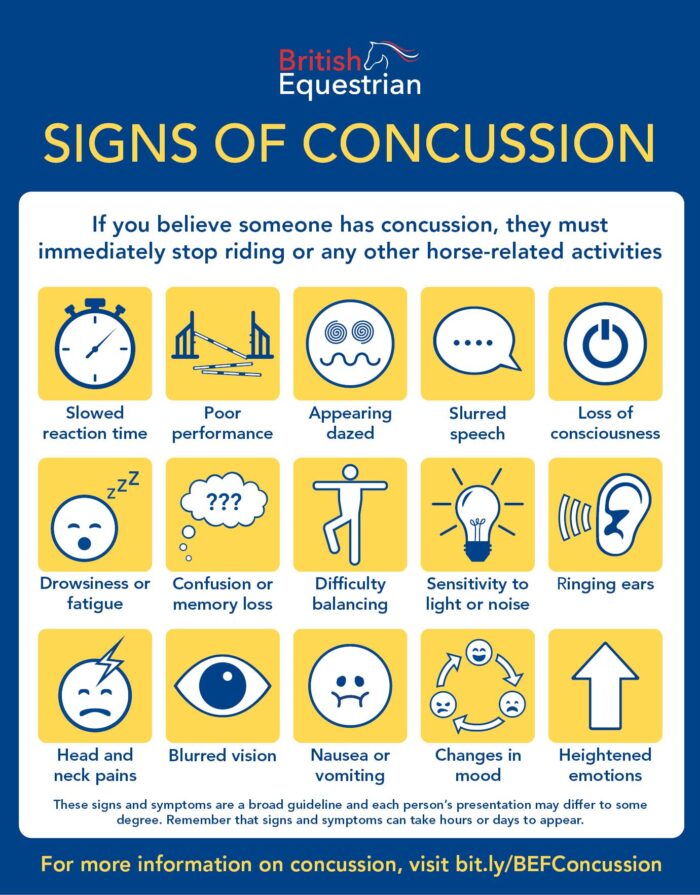 The guidelines have been produced in response to the action plan published by the UK Government in December 2021 to address concussion in sport to help reduce risks and potential long-term effects associated with head injuries, following a Select Committee report. Sports across the UK pledged unified support of the plan and, as part of British Equestrian's commitment to the welfare of participants at all levels, the federation has produced equestrian-specific advice, developed by its World Class Programme Human Sports Science and Medicine team.
Chief Executive Jim Eyre commented; "Concussion in sport has hit the headlines in recent times and we're increasingly aware of the devastating, lasting impact it can have. As highlighted in the Government action plan, all who regulate and work in sport have a collective duty to come together to safeguard the health of our participants. As such, I'm delighted we've produced this guidance, which is as relevant to those in elite equestrian sport as it those interacting with horses for the first time."
Aimed at participants at all levels of equestrian sport – including riders, vaulters and drivers, parents, coaches, officials, grooms, medical personnel and event organisers – the guidance document provides information to manage concussion, from the time of injury through to a safe return to equestrian sport. This includes the stages of recovery following concussion and a standardised 'return to riding' programme, both which should be carried out in conjunction with advice from a qualified medical practitioner or healthcare provider. Links to further help and resources are also listed.
"Our member bodies have been really engaged in this work and are committed to the responsible management of concussions," continued Jim. "Anyone in the equestrian industry is welcome to download the guidance from our website and adopt it as their own, so we all take a responsibility for our participants and their longterm wellbeing."
Ashleigh Wallace, Athlete Health Lead for the World Class Programme, is the driving force behind the project, with input from Chief Medical Officer Anna-Louise Mackinnon, who has considerable experience of the management of traumatic brain injuries. The pair have worked collaboratively with several other sports, in particular horseracing, to share best practice while consulting with a member body concussion working group involving medical and executive representatives from a number of national governing bodies across the federation. Member bodies will work on their own plans on implementing and communicating the guidance with their stakeholder groups, while British Equestrian will help with messaging via an awareness and education campaign.
Ashleigh said; "Developing concussion protocols for our World Class Programme riders has been a priority of mine, but the opportunity to use expertise, insight and knowledge – all backed up with science – to produce relevant guidance that applies to everyone is hugely gratifying. The resulting document should provide a valuable resource for participants across the industry. Raising awareness of concussion and providing education in spotting the signs will help hopefully save lives going forward – taking time to 'recognise and remove' is vital. I'd like to thank everyone involved in compiling this advice, and the wider project, so the industry can benefit."
In parallel with British Equestrian's guidelines, the Department of Culture, Media and Sport and the Sport & Recreation Alliance have been key to coordinating the generic UK Concussion Guidelines for Grassroots Sport, due to be launched this spring. British Equestrian has been involved in the development steps, which ensures consistent concussion messaging across all sports, including 'if in doubt, sit them out' and the 'four Rs' principle of recognise, remove, recover and return.
Olympic eventing team gold medallist and World Class Programme rider Laura Collett added her backing to the concussion initiatives; "Concussion is something we just don't take seriously enough in equine sport. We wouldn't think twice if it was a welfare issue with our horses, so why should we risk our own health and wellbeing?  A campaign to raise awareness of concussion, along with clear advice to help recognise the signs – and, most importantly, not letting someone continue – is really welcome. Having experienced major brain trauma and concussion first-hand, I'd urge everyone to take the time and read the guidance, educate themselves and use the resources provided. We all have a part to play, however you enjoy horses."
Accidents happen when we least expect them to, and they can turn your life upside down within seconds. That's why here at SEIB Insurance Brokers, we work with 'A' rated, UK-based insurers Accident & Health Underwriting Ltd, we've developed an Equestrian Personal Accident Insurance policy that can give those with equestrian occupations, such as freelance grooms and riding instructors, a financial safety net should they have an accident that stops them from working.
To get a PA Plus or PA Essential quote, please contact our equine experts on 01708 850 000, email info@seib.co.uk.