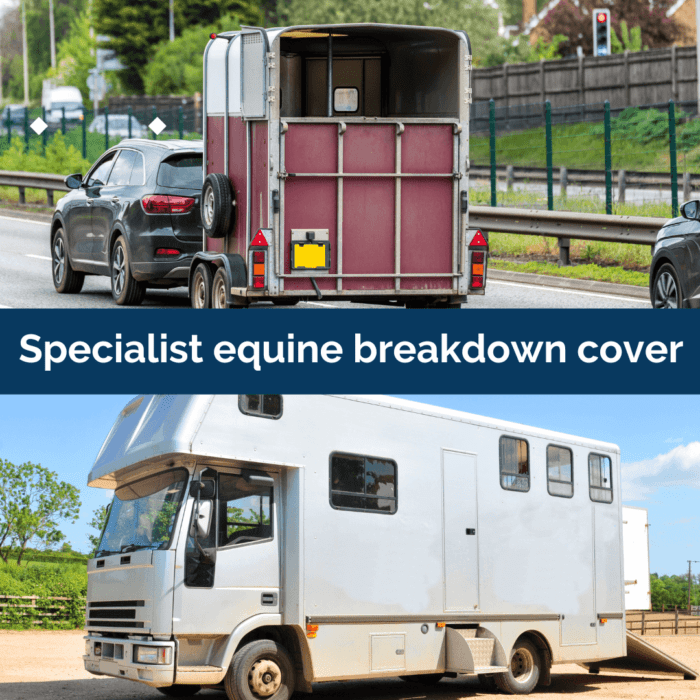 SEIB Insurance Brokers Ltd have appointed equine breakdown specialist ARAG for the provision of breakdown assistance cover for their equine customers. ARAG is a trusted and longstanding breakdown provider offering a specialist equine team with a focus on equine welfare. SEIB have listened to their customers and switched breakdown providers to ensure a high level of service from a specialist team that is dedicated to providing equine support.
Suzy Middleton, CEO at SEIB Insurance Brokers Ltd said: "We know how scary it can be to break down with horses on board and it is so reassuring to know that our customers and their horses will benefit from the specialist equine support offered by ARAG. Regardless of whether the horses need recovering, ARAG is dedicated to providing a specific welfare call and equine risk assessment for each breakdown. The peace of mind this offers our customers for their horses' welfare cannot be underestimated."
SEIB breakdown customers are to benefit from ARAG's specialist equine team ensuring the welfare of their horses should they break down. Following a breakdown, an equine welfare call to the customer will be made and a full roadside risk-assessment will be undertaken with equine welfare a key consideration. Specialist providers used by ARAG are in a position to co-ordinate the recovery of the horses and horse trailer or horsebox if required.
Katie Oswald, Head of Marketing at SEIB said: "My priorities for my horse are always his wellbeing and welfare. Our customers at SEIB share these values. Following customer feedback, we know that should a breakdown with horses happen, it is their welfare that is our customers' number one concern.
"With the breakdown assistance from ARAG now in place on my SEIB policy, I know that should I break down with my horse on board, my call will be answered by someone with equine knowledge who is positioned to understand the situation quickly and get the right people and equipment out to me and my horse, giving us the help we need. The specific welfare call provided highlights ARAG's commitment to welfare standards."
Paul Wilson, Motor & Commercial Manager at SEIB said: "We're really impressed with the specialist and reliable services ARAG provides, particularly for our equestrian customers. We're confident that this move will improve the breakdown experience for our customers. Their reassurance and the welfare of their horses are our priorities.
SEIB Insurance Brokers Ltd led the way in initiating equine breakdown cover and have extended and developed their offering over the years. ARAG is a natural fit for the continuation of this high-quality service. The company has an extensive, nationwide network of independent recovery operators with over 4,000 contractors ready for roadside assistance, they and their claims administrator Call Assist have been in partnership for over 12 years.
Matt Warren, UK Sales Manager at ARAG added, "We've worked hard to build up the capabilities and a reputation among brokers as a specialist for specialists. It's about tailoring not just the cover but also the claims service, to deliver products that truly meet our brokers' clients' needs. SEIB obviously has a great reputation itself, so we're delighted that such an award-winning company has entrusted us with this important business and to be extending our partnership with the broker."
SEIB Insurance Brokers Ltd have over the years won several national industry awards including Broker of the Year, the National Insurance Awards and the British Claims Awards. Most recently SEIB were awarded the Marketing and Customer Engagement Award at the UK Broker Awards 2022. The company celebrates its 60th anniversary this year.
Purchase Horsetrailer breakdown cover