Many industries are facing challenging times with rising costs and the equestrian industry is no different.
Following a general increase in business costs over the last 12 months, not least energy costs, our Livery Yard Insurance and Groom Insurance teams delve into the largest ever cash increase in pay as all rates of the National Living Wage (NMW) rise.
The increase in wage requirements sees a further price demand on running costs for livery yards
that employ staff, with the monthly cost increase for each business dependent on the age and number of staff employed. With grooms being the backbone of many equestrian establishments - be it livery yards, riding centres or for professional riders - it is important for business owners to embrace this price increase to ensure staff retention and a motivated workforce.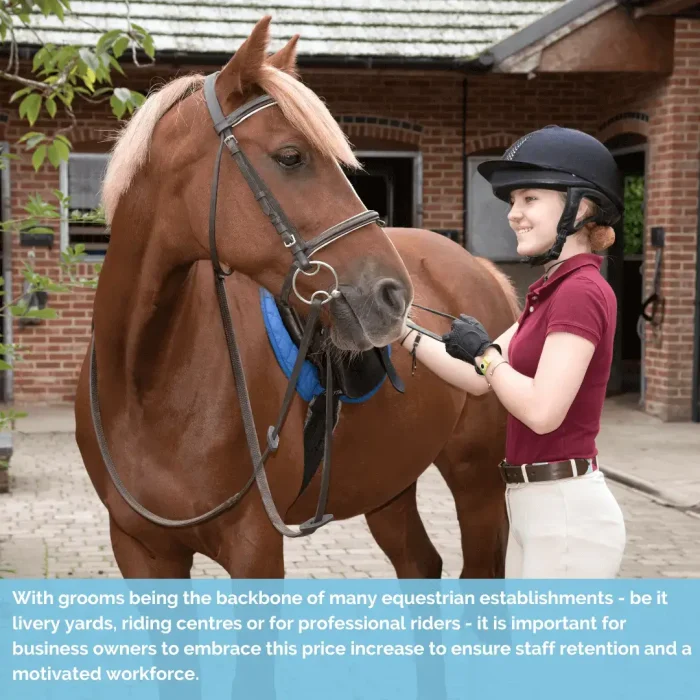 Recruitment and retention of good quality staff in the equestrian industry has become increasingly difficult in recent years, namely, down to increasing costs and responsibilities of employment. As well as paying the proper wage, employees are also legally obliged to have in place employers' liability insurance to cover anyone who may be working on the yard - be this employees, freelance staff, casual labour or even volunteers, as well as other costs such as staff training or needing to cover legal obligations such as holiday pay and PAYE. Employees country-wide are welcoming this wage increase at a time when everyone's purses are a little emptier.
As another rising cost, it is inevitable that this will need to be passed on to clients and it's another time for the industry to urge business owners to ensure they have their costs correctly calculated, and to know these costs are passed onto their clients.
With another price rise for their services on the horizon and an uncertain future, this new wage increase may tempt some employers into cutting staff hours, employing younger and less qualified staff, or reducing services but with less support from experienced staff, this can be counterproductive in providing a consistent high level of service to clients or the horses in their care.
Employers should carefully consider any changes in their business structure or management and how this may positively, or negatively, impact their income and the long-term viability or success of their business.
Skilled and reliable grooms and staff employed by equestrian establishments or equestrian professionals play a vital role in the business whether it be. From day-to-day care of the horses, travelling and grooming at competitions across the UK, coaching, office-based roles or any other aspect of practical or administrative support for the business owner or their clients. It is therefore important that they are paid a fair wage and supported correctly by their employers.
It's not just the legal obligations by their employers that can help staff flourish and stay motivated, but ensuring a happy working environment with staff that feel valued and appreciated can have a huge effect on a business overall, and staff consistency and job contentment can show when it comes to the satisfaction of clients as well.
Ensuring staff have fair working hours, the right tools and equipment for the job, the ability for CPD (continued professional development) in terms of training or qualifications, and the option for flexible working can all lead to better staff retention and a more productive workforce.
As equestrian insurance experts, SEIB covers all types including Freelance Groom insurance, Riding Instructor insurance, Livery Yard insurance, Riding School Insurance and much more. We can also put all of your needs on a single policy giving you peace of mind that you are covered suitably.

Contact the SEIB team today:
Call: 01708 850 000
Email: info@seib.co.uk