To celebrate 60 years of SEIB, we're donating over £60,000 to charity this summer, and over the last few months we've been busy drumming up public and client support to find out which charities should receive this much-needed funding.
After nearly 20,000 nominations later and much due diligence, we're pleased to confirm our final 10 charities ahead of the SEIB Awards ceremony on 4th July 2023.
In alphabetical order, our 10 finalists are:
A Bear Named Buttony is a charity supporting children and young people with a stoma. One in 335 people in the UK has a stoma but it's something that is not talked about enough. The lack of open conversation has a direct impact on children and young people living with bowel or bladder diversion. Buttony bear gives the child a 'friend' just like them and makes discussing their stoma a much easier thing.
BEE UNIQUE is an award-winning West Cumbria Based Autism Charity, set up to embrace, educate and entertain those diagnosed with and those engaged in the medical diagnosis of Autism. As well as supporting their parents, families and carers BEE UNIQUE's purpose is to relieve the needs of those diagnosed with Autism by the provision of support and recreational activities including creating safe sensory learning and stimulation.
At its core, the British Hen Welfare Trust's work aims to improve the lives of laying hens, both within the commercial sector and for those lucky birds who are rehomed with a loving family. Founded in 2005 by Jane Howorth MBE, the charity has to date rehomed more than 900,000 hens who were otherwise destined for slaughter.
Dogs on the Streets was founded in March 2017 supporting our rough sleeping community with their dogs. As the years have passed, DOTS continues to expand and support the most vulnerable of communities, including not only the homeless/rough sleepers, but anyone who is in a vulnerable situation with a pet dog that is their lifeline and would not want to surrender due to difficulties in their life.
Doris Banham Dog Rescue is a grass-roots front-line dog rescue, saving the lives of dogs for whom we are 'Their Last Chance to Live' because they have received no other rescue off ers in time to stop their destruction. Established in 2004 in dedication to the founder's Mother; the charity remains steadfast to their ethos of unconditional rescue regardless of age, breed or veterinary condition.
Home for Good are on a mission to fi nd a home for every child who needs one through fostering, adoption and supported lodgings. Their work is focused on finding excellent prospective foster carers and adoptive parents, especially for children who wait the longest for permanence.
Isle of Wight Donkey Sanctuary
The Isle of Wight Donkey Sanctuary is a small independent charity rescuing equines from across the UK. The charity provides a forever home for over 130 donkeys and ponies, who have been abandoned or for other reasons, need a safe haven. The Sanctuary provides a wonderful home for many equines and is open 364 days a year with no admission charges.
As animal populations decline, a point is reached when the genetic diversity essential for species survival is lost. Nature's SAFE and its network have pioneered cryopreservation techniques that were developed for domestic species, including those used to save the Suff olk Punch horse. With your help, Nature's SAFE can make a real diff erence to our planet's biodiversity.
StreetVet are a registered charity providing free accessible veterinary care to the pets of people experiencing homelessness. Anything that can be done in a veterinary consulting room StreetVet can do on the streets. Most of StreetVet's clients describe their pets as family, their main source of mental health support, and credit their pet-human bond with giving them a reason to live.
The British Thoroughbred Retraining Centre
The British Thoroughbred Retraining Centre (BTRC) was founded in 1991 and is the pioneering Thoroughbred welfare centre in the UK. For over 30 years BTRC has been a safe haven for any Thoroughbred that has fallen on hard times as the charity will never turn away a horse that needs help.
We'd like to say a huge thank you to everyone who took the time to nominate a charity this year, and a big congratulations to the finalists.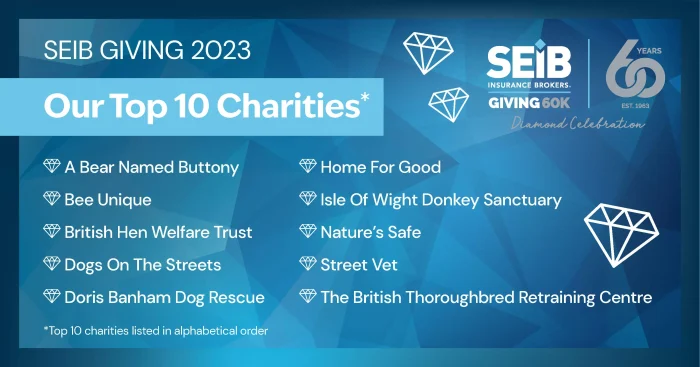 About SEIB
SEIB Insurance Brokers are specialists in horse insurance, funeral directors insurance and private hire insurance. We are able to provide flexible policies to suit individual client needs and provide advice on what cover is needed. For more information call the team on 01708 850 000.