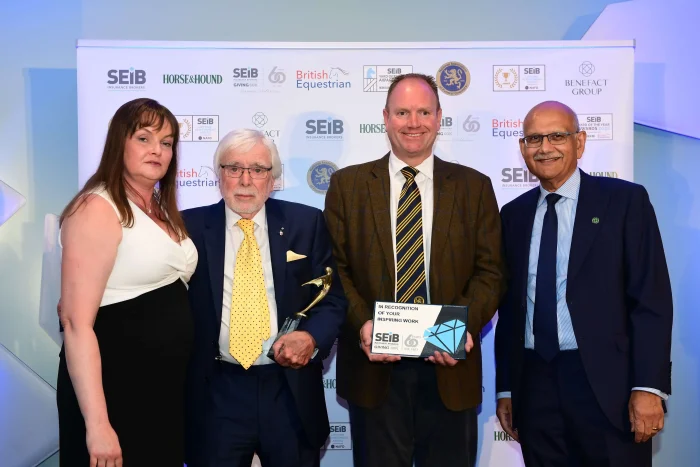 For the third year running, the SEIB and National Association of Funeral Directors (NAFD) Lifetime Achievement Award was presented at the SEIB Awards held on 4th July 2023 at Dorney Lake, Berkshire. The SEIB Awards were an extra special occasion this year in also celebrating funeral director insurance specialists SEIB reaching the milestone of 60 years in business. Prior to the awards ceremony, the guests enjoyed a delicious three course luncheon in the striking boat house overlooking the venue of the rowing competition at the 2012 London Olympics.
The SEIB and NAFD Lifetime Achievement Award recognises someone for whom excellence in the funeral industry has become their life work. Trevor Hunnaball, of The Hunnaball Family Funeral Group who celebrated 65 years in the funeral industry in 2022 was delighted to go on stage to receive his award.
The award was presented by Bipin Thaker, Chief Operating Officer of SEIB, Andrew Judd, Chief Executive Officer of the NAFD and Suzy Middleton Chief Executive Officer of SEIB. Trevor Hunnaball has a long history with the NAFD having been was National President of the association in 1994-1995; he has also served on the NAFD's International Committee.
Trevor commented: "I really don't know what to say. I'm a bit overwhelmed, and just want to say thank you to SEIB and the NAFD for this honour. It has been a privilege to look after so many bereaved families for so many years, and to have the support of my family and a great team working with me."
Trevor founded the Hunnaball Family Funeral Group 40 years ago along with his wife Melanie. Their children; Saul, Chris, Polly and their spouses work in the business. Trevor played football in the Essex Senior League and is a supporter and sponsor of Colchester United Football Club and Essex County Cricket Club. His extensive interests also cover sailing, being an active Rotarian for 38 years and he was also honoured with the Freedom of the City of London in 2017.
Suzy Middleton said: "The SEIB and NAFD Lifetime Achievement award was set up to illuminate the career of those that live and breathe the funeral service industry. Trevor is very highly regarded in the funeral profession and has played a pivotal role in building his business."
SEIB have been providing funeral directors insurance and funeral car insurance for over 40 years. For more information on this, or for a quote, please call 01708 850000 or email info@seib.co.uk.