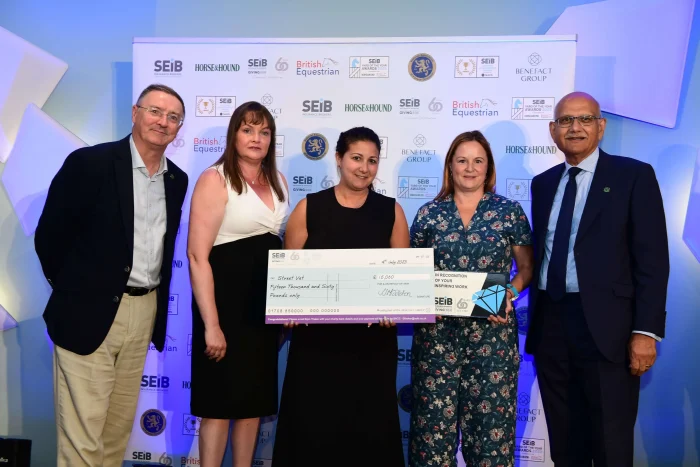 Fitting in with SEIB's 60th anniversary, SEIB Giving this year donated a total of £60,600 to good causes at the SEIB Awards held on 4th July 2023 at Dorney Lake, Berkshire. Prior the awards ceremony, the guests enjoyed a delicious three course luncheon in the striking boat house overlooking the venue of the rowing competition at the 2012 London Olympics.
SEIB's Chief Executive Officer, Suzy Middleton, Chief Operations Officer, Bipin Thaker and Group Managing Director of Lloyd & Whyte, Steve Astley presented a cheque for £15,060 and a commemorative plaque to Zoe Abbotts, Managing Director, and Jade Statt, Co-Founder and Clinical Director, of StreetVet as the highest placed charity. A sum of £12,060 went to A Bear Named Buttony as the highest placed small charity (with a turnover of less than £100,000). A Bear Named Buttony supports children and young people living with a stoma; Jenny Gow MBE and Gail Thompson went on stage, along with a buttony bear, to collect the cheque on behalf of the charity.
Seven other charities attended the SEIB Awards to receive vital funds as voted by SEIB's customers. They included; Home for Good who received £10,060, Doris Banham Dog Rescue with £7,060, Autism support charity Bee Unique took home £5,060, The British Thoroughbred Retraining Centre received £4,060, the Isle of Wight Donkey Sanctuary were donated £3,060, The British Hen Welfare Trust received £2,560 and Nature's Safe took £1,560 home. A further six charities that did not attend on the day, received £500 apiece from SEIB plus Dogs on the Streets who couldn't make it received £560.60.
Suzy Middleton said: "I am so very proud that SEIB, with the support of Benefact Group, are in a position for our profits to go to good causes. It is so emotive to watch the short films that the finalist charities submit for our awards each year detailing the work they do. it also provides a platform for them to promote themselves. To be able to make even a small difference to the lives of those that these charities help is heart-warming. This year we have had the most diverse selection of charities yet as finalists in SEIB Giving."
The SEIB Charity Awards have strict entry criteria; only small and medium charities are eligible. Any money granted by SEIB can be used as the charity sees fit and to cover running costs for the charity, but it must be in the UK. In previous years the grant had to be awarded for a specific project. SEIB introduced this flexibility into the awards to ensure that the money granted will really make a difference as charities find themselves with ever-tightening finances.
The general public nominated their favourite charities in the first stage of the decision-making process for the 2023 SEIB Charity Awards before SEIB clients went on to have the final vote for winners of the £60,600. The Charities Trust provided SEIB with their help to carry out due diligence to ensure that each of the finalists met all criteria of the grant and are above board. SEIB works closely with the charitable sector and insures many charities and not-for-profit organisations, now enhanced through SEIB's ownership of leading independent ethical broker, WRS Insurance Brokers.
Bipin Thaker added: "We are delighted that our customers have decided which of these very worthy causes should receive this money. SEIB is so successful because we are totally customer focused and this is another way that our clients can have their say".
The other finalist charities that received donations prior to the awards were; Dogs on the Streets, Horse World Trust, Supershoes, The Mare and Foal Sanctuary, The Ryan MS Therapy Centre and World Horse Welfare.
There are lots of ways for people to get involved in charitable giving through SEIB and The Benefact Group. Each year, the Benefact Group run their Movement for Good Awards, which is their annual programme for giving. This year, they'll be giving over £1million to charities and good causes. You can nominate a registered charity, not-for-profit organisation or community interest company in the UK, Republic of Ireland, Channel Islands or Isle of Man please visit www.movementforgood.com or for the Benefact Trust www.benefacttrust.co.uk.
Full results
SEIB Giving - £60,600 awarded in total
1st place – Street Vet - £15,060
Presented to – Zoe Abbotts and Jade Statt
2nd place – and highest small charity – A Bear Named Buttony - £12,060
Presented to – Jenny Gow MBE and Gail Thompson
3rd place – Home for Good - £10,060
Presented to – Tarn Bright and Ellie Tyers
4th place – Doris Banham Dog Rescue - £7,060
Presented to – David James and Michael James
5th place – Bee Unique - £5,060
Presented to – Dave Parsons and Nadia Parsons
6th place – The British Thoroughbred Retraining Centre - £4,060
Presented to – Gillian Carslisle and Lauren Vickerson
7th place – Isle of Wight Donkey Sanctuary - £3,060
Presented to – Susan McCall and Lisa Curtis
8th place – British Hen Welfare Trust - £2,060
Presented to – Jane Howorth MBE and Kate Fenton
9th place – Nature's Safe - £1,560
Presented to – Tullis Matson and Kate Ashton
10th place – Dogs on the Streets - £560.