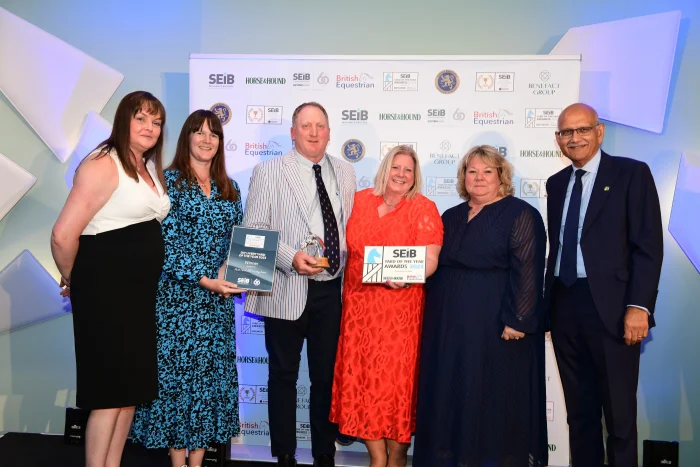 The fifth running of the SEIB Yard of the Year Awards 2023 in association with British Equestrian and Horse & Hound celebrated the dedication and expertise of a range of top yards across the country. The winners and runners-up in each of the six categories were presented with their prizes at the SEIB Awards held on 4th July 2023 at Dorney Lake, Berkshire. The SEIB Awards were an extra special occasion this year in also celebrating SEIB reaching the milestone of 60 years in business. Prior to the awards ceremony, the guests enjoyed a delicious three course luncheon in the striking boat house overlooking the venue of the rowing competition at the 2012 London Olympics.
Over 920 nominations were made for livery yards, riding schools and RDA centres throughout the country for the 2023 SEIB Yard of the Year Awards, in association with British Equestrian and Horse & Hound.  Those nominated underwent a rigorous judging panel including a video submission before a shortlist was drawn up.
This is the first year the Yard of the Year Awards have run with the support of British Equestrian. Head of Communications at British Equestrian, Winnie Murphy said: "It's been a privilege to be involved with the SEIB Yard of the Year Awards, so thank you to the SEIB team for their vision and support. Learning more about the fantastic work going on across our industry, the dedication involved and the communities the yards create is truly inspiring. Congratulations to all who were involved and especially our winners who certainly shone through."
Judges included Mr Richard Ramsay (Team Ramsay Horton), Sarah Jenkins (Horse & Hound), Winnie Murphy (British Equestrian) Emma Bedford (Your Horse Live), Petra Ingram (Horseworld) and Cheryl Johns (Livery List). Panel judge Richard Ramsay said: "We are really seeing how as the future of the sport, riding schools, are moving with the times. They are adapting and offering so much more. We have noticed a significant increase in the number of non-mounted activities on offer."
Editor in Chief at Horse & Hound, Sarah Jenkins said: "Horse & Hound is happy to support these awards again in 2023, such is the support for those yards nominated. It is a great opportunity to recognise excellence in the industry and client appreciation of all the hard work and business acumen that goes into running a truly successful yard. It is also wonderful to see what a difference each of those yards nominated is making to the lives of riders within their communities. I hope all those nominated are rightly proud of the positive impact they have had – and huge congratulations to all of this year's winners."
The SEIB RDA Centre of the Year, in association with British Equestrian and Horse & Hound, went to Arrow Riding Centre in Kent. Manager of the centre, Valerie Blake and Natalie Scott attended the awards and went up on stage to collect the magnificent bronze horses head trophy from SEIB's Chief Operating Officer Bipin Thaker, Horse & Hound's Editor in Chief, Sarah Jenkins, SEIB's Chief Executive Officer, Suzy Middleton and British Equestrian's Head of Communications, Winnie Murphy. Fiona Pearson and Debs Mackay of Gordon Group RDA made the journey to Dorney Lake from Aberdeen a worthwhile one and took the highly commended award in this section.
Mill Farm DIY Livery Yard won the SEIB DIY Livery Yard of the Year, in association with British Equestrian and Horse & Hound for the second year running. The award was collected by proprietors Robert and Julia Banwell. Kate Jackson and Kim Fearns from Swarthdale Stables from Yorkshire took the Highly Commended award.
The Small Riding School of the Year section was won by Hemps Green Riding Stables. Yard proprietor, Lisa Spence and Beth Tamburrini collected the wonderful trophy. Sweetlands Farm in West Sussex took highly commended which was presented to owner, founder and BHSAI Victoria Farmer and her husband, Nigel Farmer.
The Large Riding School of the Year Award category saw Hampshire based, Pinkmead Farm Equestrian Centre take the win for Manager, Mandi Rowe and instructor Harriet King. Rein and Shine Equestrian took highly commended with husband and wife team, Johanna and John McDonald heading on stage to collect the framed certificate for this yard based in Wiltshire.
The SEIB Full Livery Yard of the Year, in association with British Equestrian and Horse & Hound, went to Ali Dane and Jackie Dane of Hurston Eventing and Dressage. Nodwood House Equine took the Highly Commended certificate with Katie and Anthony Powell going up on stage.
The Competition Venue of the Year Award went to last year's runner-up, Chard Equestrian Centre owned and managed by Jane Gregory and deputy manager, Sarah Johnson. Taking the Highly Commended in this section was Beechwood Equestrian Centre with Katie and Paul Venus-Bishop going on stage to collect the certificate.
SEIB's Marketing and Events Manager Nicolina MacKenzie said: "What a celebration of excellence in yards from Scotland through to Kent we have had. So many grateful customers, owners and riders have put time and thought into their nominations for the yards they love. To celebrate with and speak to our winners is so encouraging and long may they continue their hard work and the fabulous services they offer at this worrying time when many riding schools are facing closure.
"We were delighted to welcome the support of British Equestrian this year and to have Horse & Hound onboard for the second time. The awards are growing and this extra support from leading industry names reflects this."
Giving to others is embedded in the culture of SEIB. From supporting grassroots competition that gives opportunities to amateur riders that they could only otherwise dream about, right through to the company's unwavering loyalty to promoting nationwide equine welfare, giving to charity and supporting the funeral industry, SEIB are leading the way within the markets they operate.
As equestrian insurance experts, SEIB covers all types of equestrian businesses, including Livery Yard Insurance, Riding School Insurance, Freelance Groom Insurance and Riding Instructor Insurance.
Full results
SEIB in association with H&H and BE - DIY Livery Yard of the Year Award 2023
Highly Commended – Swarthdale Stables
Presented to – Kate Jackson and Kim Fearns
Winner – Mill Farm DIY Livery Yard
Presented to – Robert Banwell and Julia Banwell
Highly Commended – Sweetlands Farm
SEIB in association with H&H and BE – Small Riding School of the Year Award 2023
Presented to – Victoria Farmer BSHAI and Nigel Farmer
Winner – Hemps Green Riding Stables
Presented to – Lisa Spence BHSI and Beth Tamburrini
SEIB in association with H&H and BE – Large Riding School of the Year Award 2023
Highly Commended – Rein and Shine Equestrian
Presented to – Johanna and John McDonald
Winner – Pinkmead Equestrian Centre
Presented to – Mandi Rowe and Harriet King
SEIB in association with H&H and BE – Full Livery Yard of the Year Award 2023
Highly Commended – Nodwood House
Presented to – Katie Powell and Anthony Powell
Winner – Hurston Dressage and Eventing
Presented to – Ali Dane and Jackie Dane
SEIB in association with H&H and BE – Competition Venue of the Year Award 2023
Highly Commended – Beechwood Equestrian Centre
Presented to – Katie Venus-Bishop and Paul Venus-Bishop
Winner – Chard Equestrian Centre
Presented to – Jane Gregory and Sarah Johnson