For those that own a horse or a livery yard, they - or their clients are likely to have a whole wardrobe of equipment that comes as part of the package.

A saddle and bridle at the very least, plus rugs for various seasons and other accessories, all of which are likely to add up to a considerable value. So, how do owners keep their tack and saddlery safe, and ensure that in the event of theft, loss or another incident it is insured accordingly?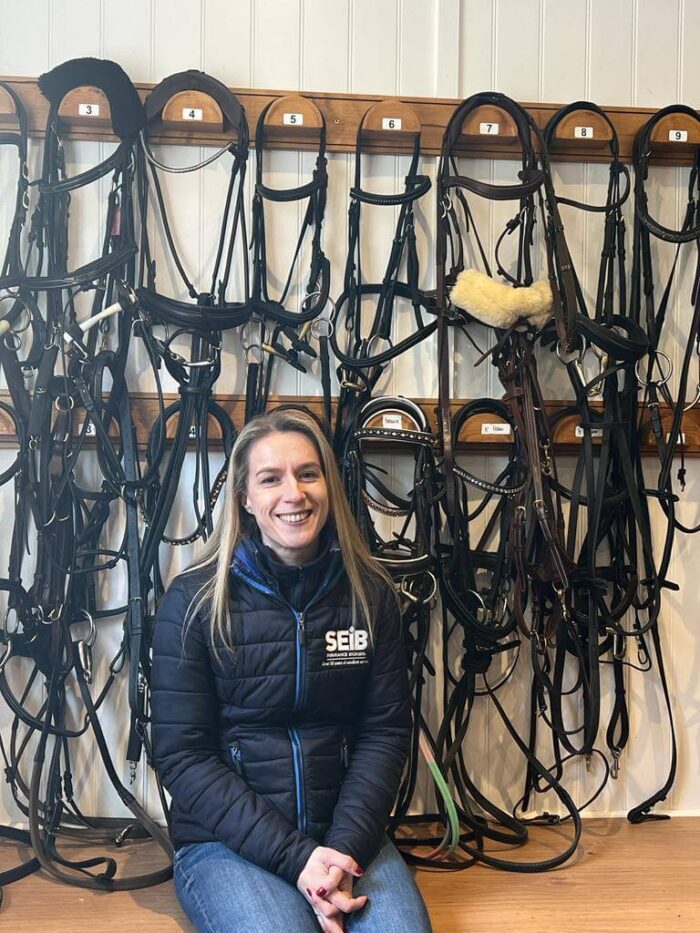 It's important to ensure that the owner of the tack has the correct insurance cover in place to help protect their expensive belongings. It's important to check insurance documents, including policy limits or exclusions and if the tack is suitably kept safe and stored as stipulated by the insurer.

Below, we highlight some important considerations for the safe storage of tack and equipment.

Where to keep your tack
Under personal Horse Insurance policies, there will be certain expectations from insurers to make sure that tack is kept securely. Most notably, it is kept in a locked building. This could be defined as:

a) A domestic building, not being a caravan or mobile home, that you live in and that has all windows and doors locked; or
b) A building or part of a secure building that you do not live in that has all doors locked with a 5 (five) lever mortice deadlocks and has steel bars or steel grids on all windows; or
c) A metal shipping container or similar that has been secured against removal and locked with a heavy-duty padlock.

Some insurers may also have specific criteria for tack rooms that should be met in terms of the type of lock, window security, and who has access to the area. It is the owner of the items responsibility to make sure that where it is kept is appropriate for the storage of tack- not only to meet the insurers needs in terms of security, but also to ensure the tack is kept in good condition in all seasons.

Livery yard owners may have a specific equestrian business policy, and requirements may differ slightly in terms of acceptable criteria for 'secured' storage. This may include the tack room stated as a "standard construction" building.

A standard construction building being one whose walls are made entirely of brick/block/stone/concrete. If the tack/saddlery is kept in a non-standard construction building, cover may be subject to Underwriters' agreement and an additional premium and/or special terms may be applied.

What exactly would be insured?
In general, only equipment used on the horse whilst it is partaking in insured activities would be covered - such as saddles, bridles, martingale, boots etc.

It should therefore be considered that other items such as riding hats, rugs, grooming kits or other personal equipment not worn by the horse may not be covered and you should therefore check with your insurer to see exactly what is covered and consider alternative insurance or alternative storage for items that may not fall under your tack and saddlery insurance.

For personal riding wear such as show gear, riding hats and boots, especially those of high value, it may be that these are more suitable to be kept at home, rather than the yard, and likely they will fall under a home insurance policy.

The maximum sum insured permitted for tack and saddlery may depend upon the security measures that are in place such as whether the proprietor lives on-site or not, types of storage and access, and the type of intruder alarm in place (if any). Therefore, the better the level of security the higher the maximum amount insured. This is especially important if there are high-value items, or multiple items such as saddles and bridles.

In the event of an insurance claim, insurance companies may need proof of the access procedures for the tack room, the lock type and any other precautions taken to deter theft.

Who is responsible for the insurance of tack and equipment?
Generally, the owner of the tack and saddlery should have personal tack and saddlery insurance for their own belongings. This may be included within their horse insurance policy and it is important to be sure exactly what is covered by the policy, the terms that may apply, and that the value of cover is suitable for the items.

Most livery yards will not have tack and equipment cover for their clients on their yard, and this will extend only to the personal items belonging to the livery yard owner. If a client's horse is on schooling or competition livery, - where the yard owner is responsible for the exercise or competing of the horse - it may be that the tack is therefore covered under the business insurance. For all livery types - especially those where the yard is in charge of the exercise of the horse and therefore to an extent the suitable storage of the tack, horse owners should seek verification of insurance cover held by the yard owner.

Tack checklist
In the event of a theft or loss of any tack or equipment, it can be hard to remember everything that may have been lost, the value or important identifying details. It is therefore a good idea to have an inventory of all of tack and saddlery for insurance purposes. See suggested below (where possible):

a) Description of the item: i.e. brand, colour, size
b) Purchase price of the item (or estimated value) although ideally a copy of the purchase receipt if bought new.
c) Details of any identifying marks such as engravings, stamps or microchips
d) Good quality photographs showing the items clearly from several angles, plus of any identifying marks as mentioned above

In the event of a claim, although some insurers have specialist equine or property loss adjusters who can attend premises if required, most simple claims can be assessed using photos and videos provided by the insured. The most useful proof in the event of a claim is a purchase receipt, written saddler valuations plus a photo of where and how the tack is stored (ideally with the tack and saddlery shown in situ).

Transportation of tack
There may be the need to transport tack and saddlery outside the yard. Perhaps to an event, when moving yards, or simply taking it home to clean.

Keeping tack safe when at an event
When tack and saddlery is 'in use' (i.e at an event), tack should be kept in a horsebox locker either a built-in internal or external locker on the horsebox, or a personal tack locker that is secured to the floor, or alternatively tack and saddlery should be covered in the boot of the car which must be locked at all times.

However, if tack and equipment was loaded into a lorry or car the night before an event, or left in there overnight after an event, this may well invalidate any insurance claim as the tack or equipment was not 'in use' at the time.

If temporary stabling is being used for events, or overnight stabling at a different yard, it is important to ensure that this meets your insurance obligations. For example, a movable tack locker chained to a mobile stable would usually not be secure enough to prevent theft and therefore not covered by insurance, and if stored at another yard it needs to be ensured that the aforementioned points in terms of security criteria are still considered.

Tack and Saddlery considerations
The overall security of a yard should be considered. Is the yard 'open to all', is the tack room readily accessible and unlocked throughout the day, are there security cameras, tack room alarms or other security systems in place, are any locks, gates or closures of high quality, are the buildings well maintained, are there procedures in place to deal with fires or other eventualities that could put anything on the yard at risk?
To help reduce the risks, it is suggested to only keep what is necessary at the yard. If there are items that are only used for show days, at certain times of the year, or infrequently then it's best to only take these to the yard when needed.
Tack and saddlery should be stored suitably to avoid contamination, deterioration or vermin damage. Storage areas such as tack rooms should be dry, and ideally with management of humidity. Tack and equipment should ideally be kept off of the floor, covered when not in use in dedicated tack bags or covers, or in vermin-proof storage boxes. Ideally, all items should be clean and dry before storage, and then stored suitably to prevent them getting damaged, dirty, or decayed whilst not in use.
It is wise to have identifiable marks on tack and saddlery so they can easily be identified. There are schemes that offer tack stamping/ marking services, or DIY kits can be purchased for stamping, engraving, or marking with UV pens. Covert marking systems can also be employed such as smart water, DNA based systems or microchipping.
The main goal is to ensure every possible precaution is taken to prevent the theft or damage of tack and saddlery, to make sure any insurance claim would be valid, and in the event of theft, to aid its recovery and identification.
It's important to remember that the exact insurance requirements and level of insurance cover will be determined by the insurer. The information provided is to be used as a guide only.

About SEIB
SEIB have been arranging insurance for horses for 60 years. This experience allows us to tailor policies to suit your circumstances and ensure that you and your horses are covered should the worst happen.
Terms and Conditions apply.