With the cost of living continuing to increase we're all looking for ways to reduce our outgoings, even when it comes to our beloved horses. The Horse Insurance team here at SEIB understand that every penny counts, so we wanted to highlight an optional feature of our Classic Horse Insurance policy that can be used to reduce the cost of your premium.
Co-insurance is where you as the horse owner agree to share the risk with the insurer. Our SEIB Classic Horse Insurance offers a 20% co-insurance option, whereby in the event of a valid claim, you will be responsible for 20% of the bill, plus the £165 excess, with the insurer picking up the balance.
Do you pay at the end of a claim?
No, that's another benefit of co-insurance. It's paid on a rolling basis throughout the lifecycle of your claim. So, for every invoice you receive from the vet, 20% is covered by you, with the insurer picking up the balance. This enables you to pay your share of the claim in smaller chunks, rather than having to settle a large bill at the end of your claim.
Does co-insurance reduce my premium?
Yes, because you're agreeing to pay 20% of any vet fees claim and your excess, your premium is discounted to reflect the reduced risk for the insurer.
What's a real life example?
Bob the cob has gastric ulcers and needs treatment. His claim amounts to £1,200 and his owner, Sarah, has him insured on an SEIB Classic Horse Insurance policy with 20% co-insurance and a £5,000 vets fees limit.
Sarah receives two invoices from her vet throughout the course of her claim: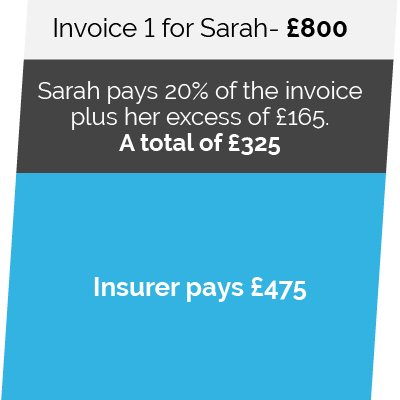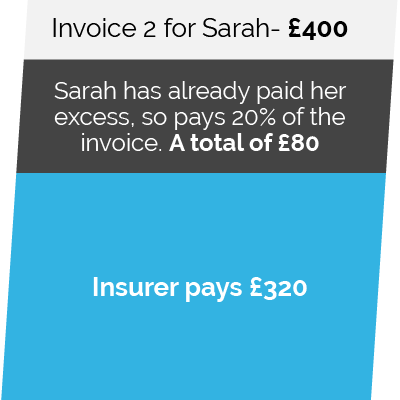 Need more info?
Co-insurance is just one example of how we can help you to lower your premium, learn more about other ways in our blog, "How to save on your Horse Insurance cost?". Our team can talk you through all the options to find the best solution for you, your horse and your budget.
If you're looking to make your Horse Insurance Premium more affordable, please give our friendly team of horse owners a call on 01708 850000, or you can get a Classic Horse Insurance price indication online in less than five minutes here.
About SEIB
SEIB have been providing insurance for horses for over 60 years. This experience allows us to tailor policies to suit your circumstances and ensure that you and your horses are covered should the worst happen. If you'd like advice on your insurance please call us on 01708 850000.