Nobody wants to hear their horse has Strangles, but what do you do if you suspect your horse has contracted this highly contagious disease? Have you got a horse insurance policy to cover the costs? Is your yard ready for the isolation process?
Recently, Katie Oswald from our Marketing team faced this very unfortunate situation with her horse Albie. We asked her what happened and what advice she had for others based on her experience.
Was the Strangles diagnosis completely out of the blue?
We'd had a scare at the yard five weeks prior to Albie being diagnosed, which we thought we'd all managed to avoid and deal with. We'd been on lock down and the whole yard had blood tests, all of which came back negative, so when he came in poorly and I got the news that the results had come back positive it was a bit of a shock!
What symptoms did you notice first?
Albie came in from the field in the morning with what just looked like a bit of a dirty nose. As we'd had the scare prior to this I didn't want to take any chances so I took his temperature straight away to see if there was any sign of infection. His temperature was very high for him, his normal is around 37.4 and that evening it was 38.9.
Despite the temperature, he seemed pretty happy in himself. I then gave him his dinner, and as he put his head down all of the nasal discharge started to drip out, so I called the vet immediately and had an emergency call out that evening.
Top tip: A healthy temperature can range from 37.2 – 38.5, so take your horses temperature regularly so that you know what their normal is and can act if their temperature exceeds this.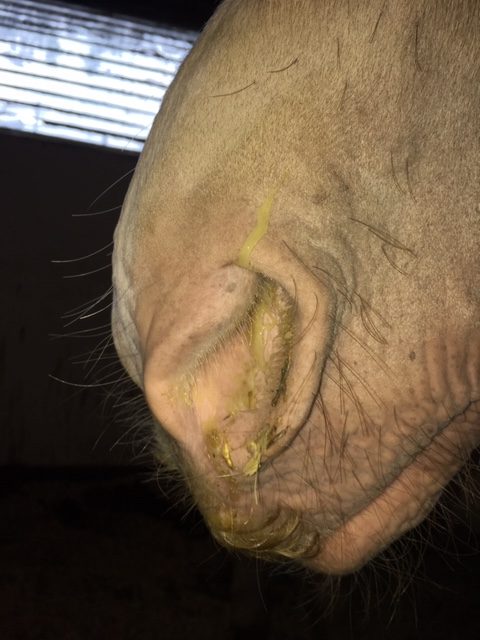 What action did the vet take?
The vet arrived, listened to Albie's lungs and breathing which was all fine, took another blood sample and also took two nasal swabs.
The vets then sent the bloods and the swabs off to the Animal Health Trust the following morning. These were tested for both Strangles and Equine Influenza. The results were back within 48 hours.
What were the findings?
Albie's bloods came back negative again, showing no Strangles antibodies at all. This apparently only happens in about 6% of horses that contract the infection. His equine flu test was also negative. However, the nasal swabs came back positive.
Top tip: It's important to remember that the blood tests are to detect antibodies and not the strangles infection itself, so it isn't always a straightforward yes or no answer as to whether your horse has strangles or not. Antibodies can take up to two weeks to appear which is why it's good to do a paired blood test, an initial test and another two weeks after. For more information on this please watch Redwings interview with their Head of Welfare and Behaviour, Nic de Brauwere MRCVS.
What did the vet prescribe?
Despite it being such a contagious disease, the general consensus seems to be that horses just need to rest in isolation with anti-inflammatory drugs (bute or similar) to bring their temperature back down. He was put on two bute a day, which brought his temperature back to normal within 24 hours.
Albie is likely to be infectious for several weeks after he has recovered from the infection, so he'll be tested again and treated to prevent him from becoming a long term carrier of Strangles.
How have you found the isolation process?
Albie is stabled in a barn, and as all of the other symptom-free horses had to remain out in the field 24/7 he was on his own, so it was all very boring for him.
As well as dealing with a bored horse you also have the hygiene side of it. I disinfected my boots every time I went in and out of the barn. I had to do the same with my wheelbarrow, as well as wearing disposable gloves and generally avoiding everyone and everything else on the yard!
Top tip: One of the best disinfectants to use to kill the bacteria is Virkon. This is because it is not deactivated by organic material (i.e. muck on your boots) which many disinfectants are.
What advice would you give to someone who suspects their horse has Strangles?
Don't wait to see if it passes! Call your vet immediately and isolate your horse – even if it's nothing it's better to be safe than sorry as it really is so contagious.
Also, don't panic. It's perfectly manageable if you carefully follow the advice of your vet.
About Strangles
What is Strangles in horses?
It's highly contagious and is one of the most common equine infectious diseases in the UK. Strangles is caused by bacteria called Streptococcus equi and infects the upper respiratory tract.
It is so contagious that almost all horses with no immunity to the disease will become infected if they come into contact with it.
What are the symptoms of Strangles in horses?
Signs of Strangles can vary depending on the severity of the individual case, but could be any combination of the following:
Increased temperature
Lethargic/depressed
Loss of appetite or difficulty eating
Thick nasal discharge
Abscesses under the jaw, behind the jaw or below the ears
A cough
What is the incubation period for Strangles in horses?
After a horse has been in contact with the Strangles bacteria it normally takes 3-4 days for signs to develop. There have been cases where it can take up to 21 days though, which is why it is now recommended to keep precautionary isolation in place for three weeks.
Will my horse become a Strangles carrier after having it?
Around 10% of infected horses become long-term Strangles carries. It is key to intervene here and treat potential carriers to ensure that all horses involved in the outbreak are only given the all-clear when they are completely free from the infection.
How does Strangles spread?
Infection can be passed by direct contact between horses, or indirect contact where the bacteria is picked up from stables, water troughs, buckets, transport, yard equipment or on people's hands, clothes or boots. Strangles is not an airborne disease.
Is Strangles fatal?
Strangles is rarely fatal, but there can be complications in up to 20% of horses. The abscesses in the throat can make it hard for the horse to eat and breath if they are putting pressure on the airway.
'Bastard strangles' is much more serious. This is the development of abscesses in parts of the body beyond the upper respiratory tract and this is usually fatal.
Working with Redwings Horse Sanctuary
This year we have been working very closely with Redwings Horse Sanctuary on their latest #StampOutStrangles campaign.
If you're a horse owner or yard manager you can make a pledge to commit to using good biosecurity and being open about the disease via their online hub. You'll even receive regular updates and access to free resources.
About SEIB
SEIB Insurance Brokers are specialists in horse insurance, funeral directors insurance and private hire insurance. We are able to provide flexible policies to suit individual client needs and provide advice on what cover is needed. For more information call the team on 01708 850 000.