Let's be honest, as equestrians, if our horses ever need anything we instantly sprint to the tack shop or tap our fingers online to order.
However, when it comes to treating ourselves, we often put up with the leaky boot or worn-out breaches.
To help provide you with some inspiration on what you'd like this Christmas, the Horse Insurance Team here at SEIB have created a gifting guide. But don't worry, we've obviously included items for your horse or pony.
From ridding leggings to unique gifts from independent retailers, carry on reading to find out more.
Independent retailers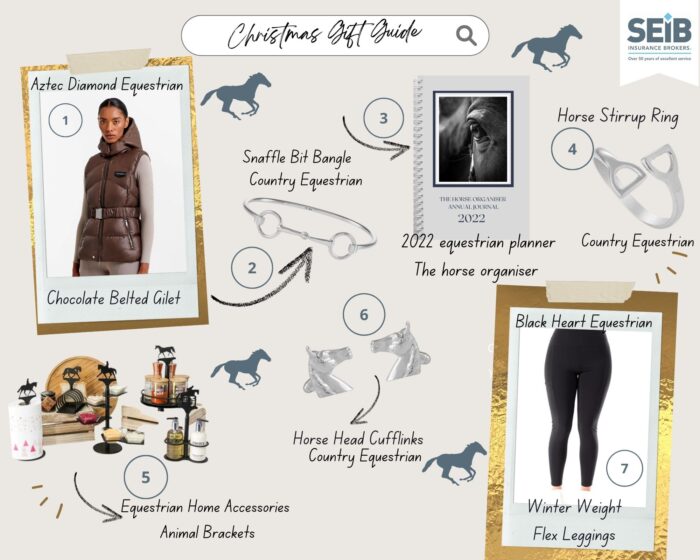 Chocolate Belted Gilet
Price £100.00
Also comes in black and charcoal
Loose Ring Snaffle Bit Bangle - O-Ring
From £85
2022 equestrian planner
£24. 95
4. Horse Stirrup Ring (Country Equestrian)
From £30.00
5. The Profiles Range – Animal Brackets
Contact directly for individual prices.
6. Horse Head Cufflinks (Country Equestrian)
From £115.00
Winter Weight Flex Leggings
Also available in Charcoal and Navy
£55.00
For our perfect partners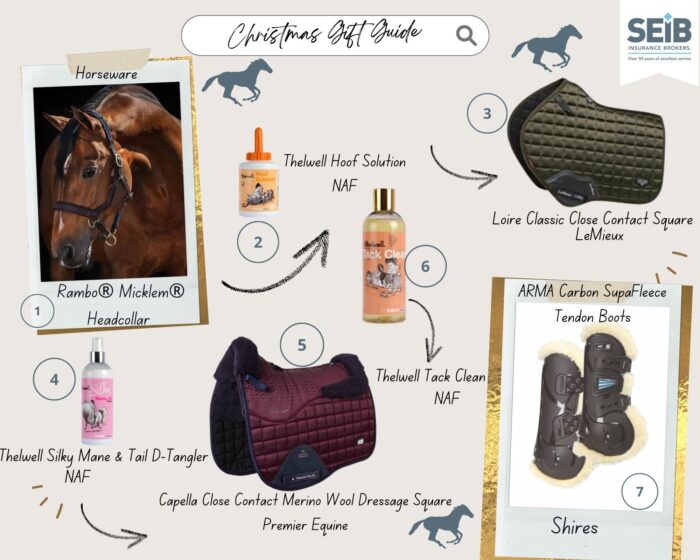 1. Rambo® Micklem® Headcollar from Horseware
Available at selected stockists. Price dependent on individual stores.
£14.99
500ml
3. Loire Classic Close Contact Square Oak – LeMieux
From £58.96
4. Thelwell Silky Mane & Tail D-Tangler
£5.99 300ml
5. Capella Close Contact Merino Wool Dressage Square from Premier Equine
£90.00
£5.99 300ml
7. ARMA Carbon SupaFleece Tendon Boots Shires
From £71.99
For the little ones – under £30
We've all been there, trying to go through page upon page of the children's 'Christmas wish list', where you'll find everything from 'a new pony' to a pair of socks.
It can be challenging trying to whittle down the list and let's be honest, children unfortunately don't seem to quite grasp the concept of money.
1. My Horse and Pony Activity and Sticker Book
British Horse Society Shop
£4.99
Amazon £4.49
3. Uvex Sportstyle Kids Glove Pink
Harry Hall
£17.00
4. Elico Pony Princess Fantasia Lycra Hat Silk
EQUUS
£20.00
5. Horses and Ponies Monopoly Board Game
Amazon
£24.37
Ponyo
£25.00
About SEIB
SEIB have been arranging horse insurance for over 50 years. This experience allows us to tailor policies to suit your circumstances and ensure that you and your horses are covered should the worst happen.
Please note, this is not a product endorsement and if you would like to be considered for our 2022 Christmas gift guide, please email gdewar@seib.co.uk
We wish you all a Merry Christmas and Happy New Year.