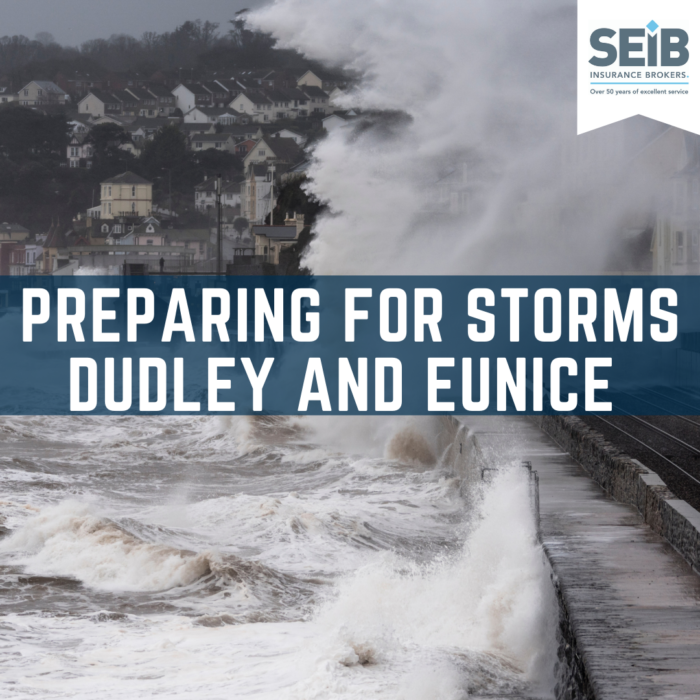 The Met Office is predicting 90mph winds, with both yellow and amber weather warnings issued for Storm Dudley – potentially impacting Scotland, Northern Ireland, Wales and the north of England from this afternoon (Wednesday 16th February).
From Friday 18th February, Storm Eunice is set to bring further winds and disruption for England, Wales and Northern Ireland.
This extreme weather is set to cause damage and disruption to your business premises. As a business owner, you have a duty to keep your premises (including pavements, car parks and other land) clear and safe from hazards such as snow and ice. Also, a build-up of fallen leaves that become wet or have started to decay can create slips risks in two ways; they hide any hazard that maybe on the path or they themselves become a slip risk.
If a visitor or member of the public were to slip and injure themselves on your property, they could seek compensation by bringing a personal injury claim against you. The same applies to employees. The best thing you can do to minimise the chances of this happening is to be prepared.
Read our blog to find out how to prepare for the #Twostorms and what to do after a storm to help minimise risk.
Secure loose objects in your grounds - such as ladders, furniture or anything else that could be blown into windows and other glazing
Close and securely fasten doors and windows, particularly those on the windward side of the building and especially large doors such as those on garages
Park vehicles in a garage, if available; otherwise keep them clear of buildings, trees, walls and fences
Close and secure loft trapdoors with bolts, particularly if the roof pitch is less than 30°
If your building is fitted with storm shutters over the windows then ensure that these are closed and fastened.
What to do during a storm
Stay indoors as much as possible
If you do go out, try not to walk or shelter close to buildings and trees
Keep away from the sheltered side of boundary walls and fences — if these structures fail, they will collapse on this side
Do not go outside to repair damage while the storm is in progress
If possible, enter and leave your building through doors in the sheltered side, closing them behind you
Open internal doors only as needed, and close them behind you
Do not drive unless your journey is really necessary
Take care when driving on exposed routes such as bridges, or high open roads, delay your journey or find alternative routes if possible
Slow down and be aware of side winds, particular care should be taken if you are towing or if you're driving a high sided vehicle
Do not park cars near any seafront area as damage by waves and shingle blown from a beach can cause significant damage
Do not stand too near any seafront areas. The large waves are a danger.
After the storm
Be careful not to touch any electrical/telephone cables that have been blown down or are still hanging
Do not walk too close to walls, buildings and trees as they could have been weakened
Make sure that any vulnerable neighbours or relatives are safe and help them make arrangements for any repairs.
Arrange insurance cover
Whilst the above are all useful actions to take in protecting against storms, it's impossible to guard against all scenarios. Having comprehensive business insurance cover in place will ensure that help will be on hand should the worst happen:
Public liability insurance can cover against slips, trips and falls suffered by third parties
Employers' liability insurance can cover against slips, trips and falls suffered by employees
Buildings and contents insurance can cover against escape of water claims and damage caused by extreme weather conditions, while business interruption cover protects against any loss of income (or increased costs of working) resulting from the incident
If your business is not already protected by our specialist Funeral Directors Business Premises policy, then call us now on 0345 450 0648 to find out how little it costs to safeguard your business whatever the season.
About SEIB
Here at SEIB we have been arranging tailored insurance for funeral directors and associated trades for over 40 years, giving us expert insight into the risks faced by such a unique industry.