Employees from SEIB Insurance Brokers and WRS Insurance Brokers recently donated £6,000 to a local charity of their choice.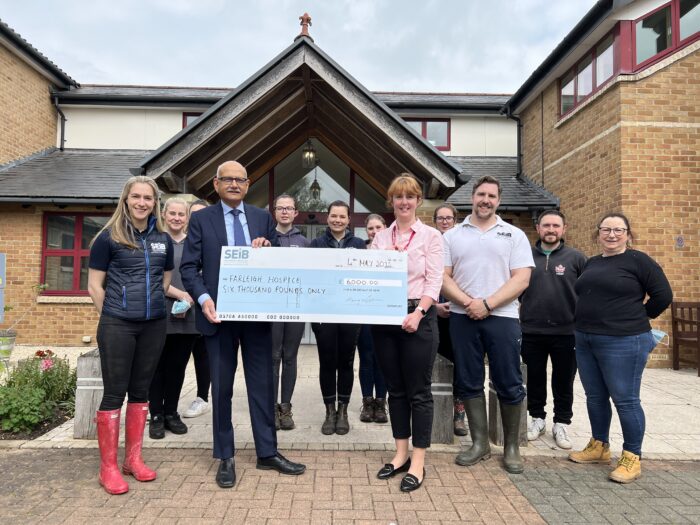 We're delighted to announce, we have recently donated £6,000 to Chelmsford-based charity, Farleigh Hospice.
Farleigh Hospice is a registered charity, providing hospice care to people affected by life-limiting illnesses across mid-Essex. The hospice also provides support for families and carers, and for people who have been bereaved.
Chief Operating Officer at SEIB, Bipin Thaker said: "SEIB and WRS have supported various small charities over the past few years and it is satisfying to see the difference our donations make to the work done by these charities. It is always inspiring to see the dedication of the volunteers and the outcomes that they achieve for those they are helping."
Alongside the charitable donation, teams from both SEIB and WRS Insurance Brokers rolled up their sleeves to help volunteer at Farleigh Hospice. Duties included a range of gardening services, from painting benches and mowing the garden areas to sweeping and general tidying – ensuring the outdoor space was fit for patients and families to enjoy during the summer months.
Debbie de Boltz, Farleigh Hospice's Fundraising Manager, added, "Thank you to SEIB and WRS for supporting Farleigh Hospice. The fantastic donation of £6,000 will help us to continue
providing free award-winning hospice care to local people affected by life-limiting illnesses and bereavement. Our patients really appreciate the work that the volunteers put into making the hospice gardens an enjoyable place to spend some peaceful moments, to watch and be close to nature."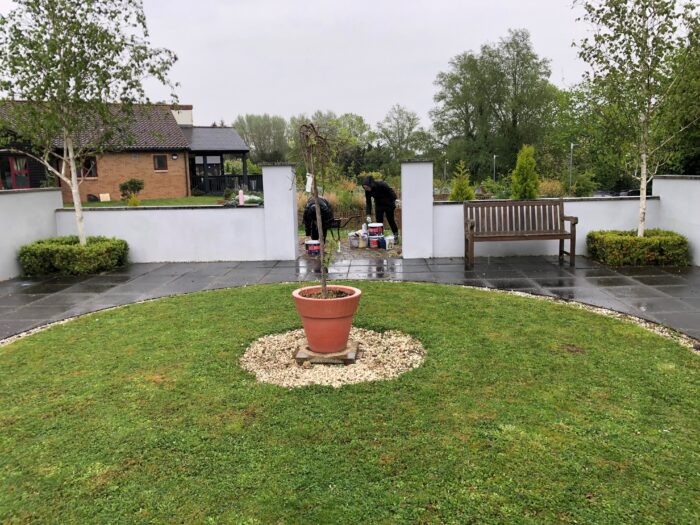 SEIB and WRS regularly support small and local charities both through donations and fundraising initiatives by employees. The company provides insurance cover for a number of charities and has done so since its inception nearly 60 years ago.
Both SEIB and WRS Insurance Brokers form part of the Benefact Group, a charity-owned, international family of financial services companies that gives all available profits to charity and good causes.
About SEIB Insurance Brokers:
SEIB Insurance Brokers are specialists in horse insurance, funeral directors insurance and private hire insurance.
SEIB provide flexible policies to suit individual client needs and provide advice on what cover is needed.
For more information call the team on 01708 850 000
Visit the website to find out more about SEIB here www.seib.co.uk
About WRS Insurance Brokers:
WRS are part of the Benefact Group, a diverse family of specialist financial services businesses driven by the shared ambition to do right by their customers and clients, and united by a common purpose to give all available profits to charity and good causes. Being owned by a charity – Benefact Trust – places good intentions at the foundations of their Group. Together they provide responsible and sustainable investment, protection of iconic buildings and world heritage sites, and trusted advice to people, businesses and charities, like Farleigh Hospice.
WRS Insurance Brokers are owned by SEIB Insurance Brokers, both are part of the Benefact Group, profits are used for good causes.
WRS specialises in the social welfare sector alongside providing business and property insurance, all from an ethical standpoint. The company provides tailor made insurance cover for charities, churches and care and community groups.
This socially responsible approach from WRS fits well with SEIB's ethos.
Find out more about WRS here www.wrsinsurance.co.uk
About Benefact Group:
​​Benefact Group is an independent, specialist financial services group that exists to give its profits to charity.
Owned by a registered charity, Benefact Trust, Benefact Group's family of businesses provide specialist insurance, investment management and broking and advisory services in the UK, Australia, Canada and Ireland.
Benefact Group is the fourth-largest corporate donor to charity in the UK, according to the UK Guide to Company Giving 2021/22. It has donated over £100m to charity since 2016 and is aiming to reach its target of giving £250m by 2025.
Many businesses say they are different. Benefact Group really is. Find out why here www.benefactgroup.com
About Farleigh Hospice:
Farleigh Hospice is a charity that provides award-winning hospice care, free of charge, to people affected by life-limiting illnesses and bereavement across mid Essex.
This includes cancer, heart disease, chronic pulmonary disease, multiple sclerosis and motor neurone disease.
Over 93% of Farleigh's care takes place out in the community and within patients' own homes.
It costs over £16,500 every day to provide these vital services for local people, which is over £6 million a year.
Farleigh Hospice relies on fundraising, donations and gifts left in Wills.
You can donate now by calling 01245 457408 or by visiting www.farleighhospice.org