We're thrilled to report, that SEIB's very own Digital Marketing Manager Katie Oswald and Patroclo, a three-year-old Murgese from the south of Italy scooped first prize at Equifest at the East of England Showground on August 19th.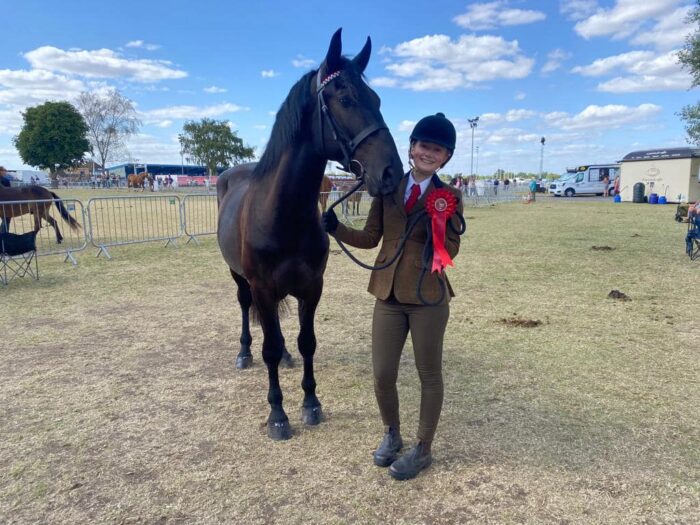 Shown in-hand by Katie, Patroclo a 15hh gelding performed amazingly well for his first outing and showing debut, seeing him secure first-prize and Reserve Champion when competing in the 'World Breed' class.
Patrolco, arrived in the UK just a few months ago. This little-known breed are found in the Puglia region of southern Italy.
A stunned Katie couldn't believe it when the judge pulled her in the top placing and was thrilled with his overall performance and attitude in the show ring.
Interestingly, in Italy Murgese are increasingly used as police horses presenting an imposing presence in full riot gear. They also have the dexterity to perform at the highest level as demonstrated by the blue roan Murgese, Carletto a Grand Prix level dressage horse in the Netherlands.
Katie commented: "I'm over the moon with Patrolco's performance and attitude during his first ever show. Although this was also my first showing debut, I felt totally at ease in the show ring with Patroclo taking it all in his stride and loving every second. I also thoroughly enjoyed the total experience and this has certainly given me the showing bug!"
About SEIB
SEIB have been arranging insurance for horses for over 50 years. This experience allows us to tailor policies to suit your circumstances and ensure that you and your horses are covered should the worst happen.