The winner of the inaugural Pony Club SEIB Search for a Star Your Horse Live lead rein final, Thistledown Elpaso and his seven-year-old rider Emily Hiscox took the ridden championship title before going supreme at the SEIB Search for a Star Championship in the main SEIB arena at Your Horse Live on the 12th November. Finn Williamson and Kirsty Wilson's dark bay mare Port Lou Lou took the in-hand championship title.
Champions of all shapes and sizes were crowned across eleven finals at the SEIB Insurance Brokers Search for a Star Your Horse Live Championship at Your Horse Live at Stoneleigh Park, Warwickshire on Friday 11th November. The winners of ten of the championship classes went forward for the first ever Search for a Star Your Horse Live championship on Saturday the 12th November when the ridden and in-hand champions were crowned before Thistledown Elpaso and Emily took the supreme title.
North Warwickshire Pony Club member, Emily Hiscox and her mother, Heather Hiscox's, Welsh section A pony, Thistledown Elpaso won the Search for a Star Pony Club lead rein championship at Your Horse Live on the Friday before returning for Saturday's overall championship. Their Saturday performance was foot perfect and Emily finished by showing her fabulous balance and her pony's steadfastness by standing up on his back for a few seconds. Judge Katie Jerram-Hunnable said: "It was a unanimous decision from the judges, myself, Chris Hunnable and Matthew Lawrence. The grey pony's show was exceptional." Heather said: "We didn't think for a moment we'd be in with a chance of winning the Pony Club final. Today I was shaking in the ring! Emily has been up since 5.30 this morning and Elvis is meant to be going to a Pony Club rally tomorrow, although I think we might give him a day off!" Emily added: "I wanted to stand up on his back today and mummy said I could. I would like to do some vaulting on Elvis next!" Heather continued: "We have owned Elvis for three years and he has plenty of variety in his life from pony club camp, to hacking to jumping. He is Emily's little unicorn and will be going back out in the field tonight – with no hood!" Seven-year-old Emily is Emily is a pupil at Leamington Hastings Church of England Academy in Rugby.
Pony Club Chief Executive Officer, Marcus Capel said: "We are absolutely delighted that the inaugural Pony Club Search for a Star has been such a success. It was wonderful to see all the members and parents here enjoying this fabulous show and for a Pony Club member to go on and win the supreme is just the icing on the cake, thank you to SEIB for giving our members this opportunity and I look forward to next year."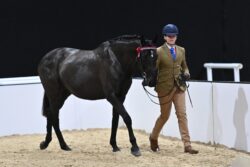 Another young rider took the in-hand SEIB Search for a Star championship at Your Horse Live. Finn is fifteen-years-old. He said: "I have been so nervous this week. It was amazing to win yesterday and then she was brilliant today. We cracked on and it all went brilliantly. Search for a Star has been such a good experience for us and she loves showing! I've got my GCSE's coming up next year and we hope to do some intermediate classes. After the great time we've had this season we think showing is her thing!" Finn and Port Lou Lou were Search for a Star HOYS finalists in the riding horse hack championship at Horse of the Year show last month. Finn is a student at Fallibroome Academy in Macclesfield. Conformation judge Matthew Lawrence said of Port Lou Lou: "As soon as this mare entered the ring I thought she was a great type. She has a lovely way of going with fabulous cadence and has been beautifully produced by her enthusiastic handler."
Your Horse Live Director Emma Bedford said: "We have been so excited to welcome Pony Club Search for a Star this year to Your Horse Live. It is great to see so many young aspiring riders giving showing a go and enjoying the experience. We are delighted to see Search for a Star at Your Horse Live growing and becoming an integral part of our Friday programme."
Founder of Search for a Star, SEIB's Marketing Manager, Nicolina MacKenzie said: "You simply couldn't beat the atmosphere at the Search for a Star Your Horse Live championship this year. Our competitors were so enthusiastic and grateful and both our team and the Your Horse Live team ensured everything ran seamlessly. This year we have more than doubled from five to eleven championship classes and it has been a delight to see. We are thrilled to welcome The Pony Club to Search for a Star and the inaugural championship really has been a true success."
FRIDAY SEIB Search for a Star Championship classes at Your Horse Live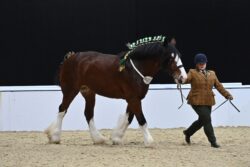 The first championship final of the day encompassed the five classes that make up the SEIB Search for a Star in-hand championships. Twenty-two horses and ponies and their handlers entered the main SEIB Arena en-masse. Many different types were represented, from Dartmoor ponies, through hunters and thoroughbreds right up to the first ever Shire finalist at Search for a Star. Each finalist completed a go-round in walk before lining up and coming out for individual conformation assessment followed by trotting-up for the judges. Detailed commentary was provided by Spencer Sturmey and judges, Matthew Lawrence, Chris Hunnable and Katie Jerram-Hunnable.
The first winner to be announced was the in-hand veteran which went to Lucy Ashworth and her own twenty-four-year-old bay gelding, Randall IV. This showjumper still competes to 1m 30 level and also qualified in the plaited horse Search for a Star in-hand final. A delighted Lucy said: "I have been really ill, I was diagnosed with stage 3 cervical cancer in November last year and didn't think I'd be showing this year. It is just brilliant to have got my life back a bit. Randall was an ex-international showjumper and he is still ridden and does everything. When I bought him, I went to see an ex-racehorse and ended up coming home with Randall!"
The largest horse in the championship, Shire mare, Milnerfield Lady Isabelle won the in-hand native and traditional Search for a Star championship for her handler, Lucy Parr. Issy, as the mare is known is everything to Lucy who said: "All I wanted when I came along to the Search for a Star qualifier was to get her out and help raise the profile of the breed. We have achieved so much more, we put in plenty of time and effort and Issy is so versatile. She rides, drives and hopefully we will also breed from her." There were just 250 Shire foals registered in 2021 with around 800 breeding mares. Denise Badger from the Bickers Court Stud who is Lucy and Issy's main cheerleader explained: "There is a push to expand the gene pool of the Shire horse, more artificial insemination means access to more stallions. The Search for a Star series is really opening up showing of Shires to both younger and more inexperienced people. It would be fabulous if people can learn from what Lucy has been out and done."
The in-hand mountain and moorland winner at Your Horse Live, Lachlann of Croila Croft, had traveled all the way down from the Scottish Highlands with his owner and handler, Judith Hogg. Lachlann of Croila Croft is only five years old. Judith said: "He has never seen anything like this before! He was broken in this spring and has been to several outside shows. We realised at the beginning of this week that he is scared of clapping so had to quickly remedy that." Lachlann of Croila Croft is also broken to traditional hill work in the Highlands. Judith continued: "His hill work involves carrying hinds and fallows down the hill to the larder. It is a very traditional thing to do and ensures the hill is looked after. There aren't many places that this still takes place. He will have a short holiday now and then carry out some more hill work through the winter." Judith and Lachlan of Croila Croft also competed in the ridden Mountain and Moorland championship at Your Horse Live where they finished in second place.
Bay mare, Ryehill Petit Ami won the in-hand plaited pony championship for her handler Lisa Hayyez. Five-year-old Ryehill Petit Ami has been owned by Lisa since last May. Lisa said: "I am over the moon with her today, this is her first proper season going to shows and even to qualify was amazing! We came today with no expectations and as a schooling exercise. Search for a Star has helped give her a really good grounding in the show ring. We plan to bring her out as a lead rein pony next year and this will have helped her experience hugely."
Next in the arena were the Pony Club Search for a Star classes. A total of sixteen ponies traveled from England, Ireland, Scotland and Wales for the first ever Pony Club Search for a Star, Your Horse Live championship over the three finals classes.
The first ridden Search for a Star Pony Club championship went to Rufford Pony Club member Emily Elliott and her roan pony, Larchgrove Isabella. Owned by Connie Elliott, Issy as the pony is known at home is a Welsh Section B. Connie said: "She is such a lovely pony, Issy and Emily have done everything from galloping on a racecourse at camp to veteran championships and working hunter pony classes." The Elliott's have owned Issy for just over a year. Connie added: "She is such a polite pony, Emily would love to start to ride her side saddle next year." Nine-year-old Emily is a pupil at Muskham Primary school in Newark.
In the open Pony Club Search for a Star championship, Mid Surrey member, Helena Kitchener riding Naomi Kitchener's grey Connemara, Cavan Mick took the win. Helena said: "What an amazing experience, we still have borrowed gear for this but it is fine! Mick wasn't all that forward going at the start of the year so we've had a few showing lessons with help getting him forward. Search for a Star has been great, through the showing I've learned to ride with two reins and go through trotting up practice. He is such a patient pony. We will spend the winter arena eventing and we will have another go at Search for a Star next year." Helena also competes in tetrathlon with Mick and the pair competed at the Pony Club championships this year finishing in the top 20%.
Katie Jerram-Hunnable continued: "It is fantastic that The Pony Club are encouraging showing, the Pony Club Search for a Star series is a major step forward and it is all thanks to Nicolina and SEIB for getting the championship in motion, it couldn't be better. I am so pleased to see the versatility of these ponies and the diversity of entrants at this Search for a Star championship. The in-hand final at Your Horse Live was such a spectacle with all these different animals in the ring together. I think the only breed we didn't have was a Shetland! It was lovely for the spectators to have the live commentary too. I would strongly encourage amateur riders with an interest in showing to give Search for a Star a go. The team offer so much support and enthusiasm to the many competitors."
Maia Ellis and her own part-bred Welsh cross traditional cob black mare, Furlong Socks won the part-bred traditional Search for a Star Your Horse Live championship. Maia said: "I am just delighted! It was a three hour journey and she has been settled since we got here. She went so well in the ring today, I am just shocked and can't believe we have won. Just getting here is a massive achievement." Maia has owned twelve-year-old Sox since she was four. Maia works as an apprentice hairdresser and she and Sox also compete in cross country, dressage and fun rides.
The first Your Horse Live Search for a Star championship took place in 2018 for Mountain and Moorlands, and now, four years on, the championship has become a true amateur mountain and moorland goal. Natalie Pastor and her lovely chestnut, New Forest gelding, Langorra Ginger Port were convincing winners of this competitive final. Natalie said: "Anything was a bonus today, he has been a star. When they started reading out the results in reverse order, I realised we were in the top three and was so delighted when we won!" Natalie and her homebred, Langorra Ginger Port last month won the SEIB Search for a Star Working Pony final at Horse of the Year Show. She continued: "It was always the plan to breed from our lovely mare. We bred two foals from her while I was away at uni, the other one went to Ireland and I kept Larry. I backed him and have produced him myself." Larry is by Woodrow Portman who competed at HOYS in flat and working hunter pony finals.
Just four top horses and ponies came forward to contest the Search for a Star Open Veteran final at Your Horse Live. Each gave a unique individual show with plenty of flamboyance and the four judges held up score cards – similar to Strictly – and gave a mark out of 10 for the shows. Following stripping and trotting up, the winners were announced.
Millie Bowles riding her mother Selina Bowles', twenty-four-year-old Welsh section B pony, Cottrell Riverdance were crowned the champions. Millie said: "We really enjoyed the atmosphere today, it is so exciting to come to a show with big names, such as Charlotte Dujardin walking past the ring! We came here last year and won the in-hand veteran final before taking second place in the ridden Search for a Star veteran class. Ronnie as we call him has recently been going to water treadmill sessions once a week. I work as an apprentice journalist for Kent Online Monday to Friday and it helps get him out. We have also been doing some tackless riding which we are enjoying. He just has a rope around his neck while I am riding him!" The winner of the Open veteran Championship did not go forward to the Saturday Search for a Star championship as the class was open to all riders without Search for a Star amateur rider rules applying.
Competitors at the Search for a Star Your Horse Live championships are lucky to go under top producers, Katie Jerram-Hunnable and Chris Hunnable and Matthew Lawrence for their final. As each class is underway, the judges will voice their thoughts over a microphone. This has proved very popular with the audience.
Leading equine Insurance brokers, SEIB Insurance Brokers set up Search for a Star nearly 30 years ago so they could offer a unique competition opportunity to many of their amateur rider customers. SEIB has a long association with the showing world and is renowned for 'putting something back' by supporting many equestrian events and activities in addition to Search for a Star.
Leading equine Insurance brokers, SEIB Insurance Brokers provide cover for horses, horse boxes, yards and much more. The company has a long association with the showing world and is renowned for 'putting something back' by supporting equestrian events and activities.
For horse insurance queries visit www.seib.co.uk or call 01708 850000.
ENDS
Results SEIB Search for a Star Championships at Your Horse Live 2022.
SEIB Search for a Star Your Horse Live Champion 2022
Thistledown Elpaso owned by Heather Hiscox and ridden by Emily Elliott from Warwickshire
SEIB Search for a Star Your Horse Live Reserve Champion 2022
Finn Williamson owned by Kirsty Wilson and exhibited by Finn Williamson from Cheshire
IN-HAND VETERAN
1st – Randall IV, owned and exhibited by Lucy Ashworth from Oxfordshire
2nd – Woodview Ingot, owned and exhibited by Hollie Thomas from Birmingham
3rd – Midnight Magic, owned by Gemma Hoe and exhibited by Donna Hoe from St Helens
IN-HAND NATIVE AND TRADITIONAL
1st – Milnerfield Lady Isabelle, owned and exhibited by Lucy Parr from Yorkshire
2nd – World Horse Welfare Paolo, owned and exhibited by Grace Willis from Essex
3rd – Razzle Dazzle Them owned by Sue Baker and exhibited by Brooke Baker from West Sussex
IN-HAND MOUNTAIN AND MOORLAND
1st – Lachlann of Croila Croft, owned and exhibited by Judith Hogg from Crieff, Scotland
2nd – Amilas Slumberdown, owned by Jo Stewart and exhibited by Michelle Prentice from Hertfordshire
3rd – Collstone Perfect Storm owned and exhibited by Jamie Clarke from Birmingham
IN-HAND PLAITED PONY
1st – Ryehill Petit Ami, owned and exhibited by Lisa Hayyez from Buckinghamshire
2nd – Romanno Royal Myth, owned by Victoria Bryan and exhibited by Molly Bryan from Staffordshire
3rd – Rhos Elodie owned and exhibited by Sam Crutchlow from Warwickshire
IN-HAND PLAITED HORSE AND HOGGED SHOW COB
1st – Port Lou Lou, owned by Kirsty Wilson and exhibited by Finn Williamson from Cheshire
2nd – West Country Samurai, owned and exhibited by Suzi Ayres from Ayrshire
3rd – Randall IV owned and exhibited by Lucy Ashworth from Oxfordshire
SEARCH FOR A STAR PONY CLUB LEAD REIN CHAMPIONSHIP
1st – Thistledown Elpaso, owned by Heather Hiscox and ridden by Emily Hiscox from Warwickshire
2nd – Blackhill Osprey, owned by Lisa Croft and ridden by Millie Croft from Nottinghamshire
3rd – Clearfell Bumblebee owned by Sophie Milczarek and ridden by Florence Milczarek from Shropshire
SEARCH FOR A STAR PONY CLUB FIRST RIDDEN CHAMPIONSHIP
1st – Larchgrove Isabella, owned by Connie Elliott and ridden by Emily Elliott from Nottinghamshire
2nd – Desabre Sparrow Hawk, owned by Victoria Cable and ridden by Lucia Cable from Essex
3rd – Nerwyn Leonardo owned by Sarah Fraser and ridden by Annabel Fraser from Cumbria
SEARCH FOR A STAR PONY CLUB OPEN CHAMPIONSHIP
1st – Cavan Mick, owned by Naomi Kitchener and ridden by Helena Kitchener from Surrey
2nd – Battlestown Jenny, owned by Fiona Radford-Jones and ridden by Isobel Radford-Jones from London
3rd – Phantoms Masquerade owned by Sarah Adams and ridden by Grace Adams from West Yorkshire
SEARCH FOR A STAR PART-BRED TRADITIONAL CHAMPIONSHIP
1st – Furlong Socks, owned and ridden by Maia Ellis from St Helens
2nd – Bradwell Dun Deal, owned by Hannah Chalkly and ridden by Catherine Chalkly from Co Durham
3rd – Addien Toy Soldier owned and ridden by Helen Jackson from Yorkshire
SEARCH FOR A STAR RIDDEN MOUNTAIN AND MOORLAND CHAMPIONSHIP
1st - Langorra Ginger Port, owned and ridden by Natalie Pastor from Warwick
2nd – Lachlann of Croila Croft, owned and ridden by Judith Hogg from Crieff, Scotland
3rd – Saulire Thunder Struck owned and ridden by Caroline Edgson from Warwickshire
SEARCH FOR A STAR OPEN VETERAN CHAMPIONSHIP
1st – Cottrell Riverdance, owned by Selina Bowles and ridden by Millie Bowles from Kent
2nd – Abbas Blue Rainbow, owned by Anna Dunn and ridden by Ella Dunn from Angus, Scotland
3rd – Dollar Boy owned and ridden by Alexander Osborn from Worcestershire