Last year, World Horse Welfare were the highest-placed charity at the 2022 SEIB Giving Awards receiving £12,000. Our horse insurance team caught up with them to find out how they're using the grant to help the equestrian world.
"I just wanted to give you a brief update on how much the funding we received from SEIB has helped us in 2022, in particular in relation to the rescue and rehabilitation of multiple-horse cases.
We saw 25 multiple-horse cases last year, which could involve anything from a handful of horses to 75+ on one site. A number of horses from one site went to our Glenda Spooner Farm Rescue and Rehoming Centre, which you may remember was the location for our case study with the 19 Shetland Ponies which we put forward when we were nominated originally. The last of the Shetlands from that particular case have been rehomed and I had the pleasure of meeting one of the former stallions, Enrique, when I visited the farm in September. Seeing what the funding achieves in the flesh is incredibly inspiring and moving and we are just so grateful for SEIB helping us to make these happy endings possible.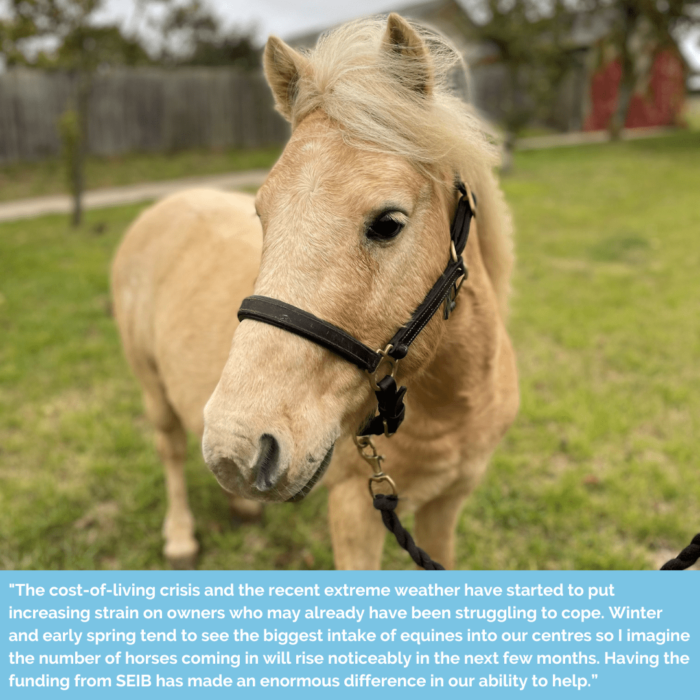 The multiple-horse situations we see often involve pregnant mares so the total number of horses from one case frequently rises after they have come to the farm. The rehabilitation process is longer and more complex with in-foal mares, as mares are pregnant for 11 months and their foals will need to be weaned (usually just after six months of age) before the mothers can be found new homes. The youngsters will need to learn their basic handling skills before they're ready for rehoming too. You may remember that we had a group of 14 Welsh ponies arrive at our Penny Farm Rescue and Rehoming Centre in Lancashire in late 2021 after their owner sadly died suddenly. Four of the mares gave birth to healthy foals and three of the youngsters are now up for rehoming and ready to start the next chapter of their lives.
The cost-of-living crisis and the recent extreme weather have started to put increasing strain on owners who may already have been struggling to cope. Winter and early spring tend to see the biggest intake of equines into our centres so I imagine the number of horses coming in will rise noticeably in the next few months. Having the funding from SEIB has made an enormous difference in our ability to help."
In 2023, SEIB Giving will run for its sixth consecutive year, and to celebrate our 60th year in business, we'll be giving away over £60,000 to charities.
About SEIB
SEIB have been arranging insurance for horses for over 50 years. This experience allows us to tailor policies to suit your circumstances and ensure that you and your horses are covered should the worst happen.