The late HMQ Elizabeth II, now His Majesty The King's, ex-racehorse, First Receiver fulfilled a dream of the late Queen in taking the SEIB Racehorse to Riding Horse championship at Horse of the Year Show (HOYS) on the 5th October in the International Arena at the Birmingham NEC.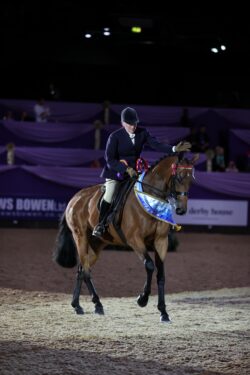 Her Majesty had long wished for one of her home-bred horses to win at Horse of the Year Show and First Receiver, beautifully produced and ridden by Essex based, Katie Jerram-Hunnable was the convincing winner of the 2022 running of this series set up by SEIB Insurance Brokers to help give thoroughbreds a second career after retiring from the racecourse.
Katie Jerram said: "The Queen's passion was for her horses – and homebred's in particular. When I was first approached twenty years ago, Her Majesty wanted one to win at HOYS and now we have finally done it!" At just five-years-old, First Receiver was foot perfect in the International Arena at Horse of the Year Show. Ride judge, Magnus Nicholson said of his winner: "He gave a beautiful and comfortable ride, for a young horse he was obedient and used his corners and had a lovely mouth."
In qualifying for the SEIB Racehorse to Riding Horse championship, First Receiver and Katie gave Her Majesty her last ever showing victory. The pair won at the Land Rover Burghley Horse Trials on Sunday 4th September 2022 to qualify for this prestigious HOYS championship. Katie continued: "Her Majesty knew that First Receiver had won at Burghley, her head groom Terry Pendry passed on the news straight after the class. We were so upset, along with the whole world in the death of Her Majesty. First Receiver only came out of training eighteen months ago. He was tricky to start with and has taken time. By the time of the Hartpury Racehorse to Riding Horse qualifier in the summer we felt he was ready and the Queen always wanted her best horses to go to HOYS." Katie and First Receiver took third place at the Hartpury qualifier before winning a few weeks later at Burghley.
Top show producer, Mr Richard Ramsay judged conformation in the final, he commented: "It was fabulous to see a group of such quality horses in the final. Our winner was a lovely young horse with a lot of potential and exceptionally clean limbs – he had manners to burn." During his racing days, First Receiver was in training with Sir Michael Stoute, he ran several times on the flat and won once and was placed. He earned just shy of £20,000 during his racing career. Previously Katie and HM The Queen's former Cheltenham Gold Cup runner, Barbers Shop, twice took the reserve title in the SEIB Racehorse to Riding Horse HOYS championship.
Another five-year-old took the runner-up spot in the SEIB Racehorse to Riding Horse championship. Tracy Bailey and her own horse, Debt of Honour impressed the judges to take second. Tracy said: "This is just his first season showing. The Racehorse to Riding Horse championship is such a great series. We've always commented at the SEIB shows the staff are so accommodating and it is all very smoothly run." Debt of Honour has had a busy first season showing. Tracy added: "In the long-term we will aim him at open classes. He is such a good learner." Debt of Honour ran on the flat and in one hurdle race in his racing days, he was trained by Neil Mulholland and is by Kyllachy.
Sarah Gwilliam riding Sar Cassidy-Hill's Imperial Ruby took third place on their second visit to HOYS in this championship. Last year they finished in 8th place. Sar has owned Imperial Ruby since he was "weeks old". Imperial Ruby He was trained by Mick Channon and was placed fourth once at Kempton. Sar added: "He now does everything, side-saddle, jumping, dressage. He lives in or out and has a very nice home life!" Imperial Ruby was ex-racehorse champion at Hickstead earlier this season.
In fourth place was the ex-Philip Kirby trained, Rich Man Poor Man owned by Morean Hamilton and ridden by Kirstine Douglas. Tori Thomas and Wonga Swinger took fifth and former HOYS runner-up, Mumford and Claire Oliver took sixth for owner Sarah Hartland.
SEIB Marketing Manager Nicolina Mackenzie said: "We could not have anticipated this result. We are so proud that the late Queen's horse has won today and absolutely delighted for Katie. It really is a dream come true. Ex-racehorses are really beginning to make their mark on the showing world and each and every year, the standard of conformation and re-training improves."
Leading equine Insurance brokers, SEIB Insurance Brokers provide cover for horses, horse boxes, yards and much more.   The company has a long association with the showing world and is renowned for 'putting something back' by supporting equestrian events and activities.
For full details, rules and entry forms visit www.seib.co.uk/competitions . Find SEIB Racehorse to Riding Horse on Facebook at www.facebook.com/SEIBR2R.
For insurance queries visit www.seib.co.uk or call 01708 850000.
ENDS
Images – Katie Jerram and First Receiver take the SEIB Racehorse to Riding Horse title at Horse of the Year Show 2022. Credit 1st Class Images
Results SEIB Racehorse to Riding Horse Championships at Horse of the Year Show 2022.
1st – First Receiver, owned by the late HMQ Elizabeth II now His Majesty The King and ridden by Katie Jerram-Hunnable from Essex
2nd - Debt of Honour, owned and ridden by Tracey Bailey from Berkshire
3rd – Imperial Ruby, owned by Sars Cassidy-Hill and ridden by Sarah Gwilliam from Berkshire
4th – Rich Man Poor Man, owned by Morean Hamilton and ridden by Kirstine Douglas from Dumfries and Galloway
5th – Wonga Swinger, owned and ridden by Tori Thomas from Gloucestershire
6th – Mumford, owned by Sarah Hartland and ridden by Claire Oliver from Gloucestershire
7th – Golden Bird, owned by Lindsay McCulloch and ridden by Richard Telford from Ayton Castle
8th – First Fandango, owned and ridden by Hannah Chisman from Gloucestershire
9th – Malibu Dancer, owned by Katie Atkinson and ridden by Ben Ferris from Preston