Katie Jerram wins on H M The Queen's horse at Land Rover Burghley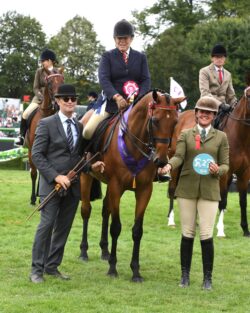 Katie Jerram won her first ever title at Burghley in taking top spot with HM The Queen's ex-racehorse, First Receiver, in the SEIB Racehorse to Riding Horse class in the main Burghley arena on the final day of the Land Rover Burghley Horse Trials on the 4th September.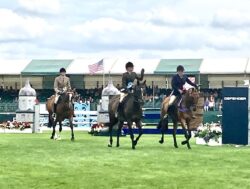 With just one final Horse of the Year Show qualification ticket remaining in the 2022 SEIB Racehorse to Riding Horse series, the atmosphere in the class at Burghley was buzzing. Fifteen retrained thoroughbred ex-racehorses came forward to vie for the one qualifying spot.
A delighted Katie said: "I can't quite believe it, I've been placed second several times in this class, with Barber's Shop – also owned by Her Majesty – but to have done it with this beautiful young horse, is simply brilliant. There will certainly be a lot of excitement at Balmoral over this later today!!" At just five-years-old, First Receiver was one of the youngest horses in the class. Katie continued: "He has had five wins this year in just seven outings, he is very much a horse for the future, he's not going to be put under pressure and when deciding about coming here today, Terry Pendry told me if he feels ready then bring him."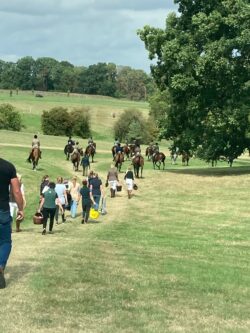 The class judges, Michaela Bowling (ride) and David Ingle (conformation) enjoyed their time in the main Burghley arena. Michaela commented: "Our winner was a joyful, free young horse. He went brilliantly and I very much look forward to seeing his journey. It was an honour and a privilege to judge here today." David Ingle said: "My first impression of our winner was that he took my eye, there was lovely strength in quality here this afternoon and there is so much time and effort put into these beautiful horses."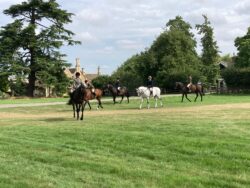 Marketing Manager at SEIB, Nicolina MacKenzie said: "It is magical to be here at Burghley, and the opportunity the ex-racehorses and their riders have to showcase their skills and retraining in the main Burghley arena on showjumping day is second to none. We are so very grateful to hold our qualifier here."
Leading equine Insurance brokers, SEIB Insurance Brokers set up Racehorse to Riding Horse over fifteen years ago to celebrate ex-racehorses and give them a chance of success in a second career. SEIB has a long association with the showing world and is renowned for 'putting something back' by supporting many equestrian events and activities in addition to Search for a Star.
In the meantime - if you need to insure your horse, horsebox, trailer, yard or business - SEIB are here to help so please give us a call on 01708 850000 or visit www.seib.co.uk. #SEIBhere2help.
For all Search for a Star and Racehorse to Riding Horse information and to enter, please see www.seib.co.uk/competitions.
Results SEIB Racehorse to Riding Horse Land Rover Burghley 2022
1st – First Receiver owned by HM The Queen and ridden by Katie Jerram
2nd – Lough Inch owned and ridden by Lizzie Harris
3rd – Mighty Minks owned and ridden by Ben Stanley
4th – Burnieboozle owned and ridden by Sophie Staveley
5th – Perfect Harmony owned and ridden by Georgina Wilkes
6th – Hero Worship owned and ridden by Abigail Sole