The final SEIB Search for a Star and Racehorse to Riding Horse championship tickets for 2022 are won at Onley Grounds
The final SEIB Insurance Brokers Search for a Star and Racehorse to Riding Horse qualifier of 2022 took place on the 7th August at Onley Grounds in Warwickshire. Yet another bumper entry came forward with nearly 200 horses and ponies competing across the range of showing classes offering qualification opportunities for Horse of the Year Show and Your Horse Live. Search for a Star has this season received nearly 1,000 entries across the seventeen classes the series now offers.
An upbeat atmosphere was in the air at Onley as the Search for a Star qualifier followed a busy evening gala finale for the Traditional of the Year Show (TOYS) the previous night. Several TOYS competitors stayed on and competed in the Search for a Star traditional cob classes held the following day.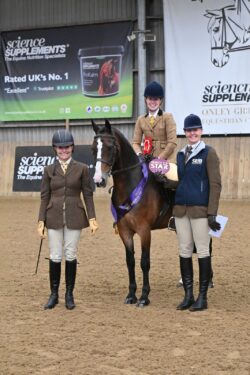 A strong working pony class got the day at Onley off to a flying start. Eight entries came forward with a mix of plaited and traditional and native ponies. Lauren Metcalfe and her own bay gelding, Chester were the convincing winners. Lauren said: "I have been going to HOYS every year for the last 20 years and I have always said that if my dream came true and I went it would be on Chester." Eighteen-year-old Chester has been owned by Lauren since he was four. She continued: "I was twelve when I got him and he was my first pony. He is a true fighter. Chester was born in the wild on the Welsh mountains and when he was four months old was taken to the meat man. A friend saved him and bought him for £16 and kept him for three years." Over their years together, Lauren and Chester have competed in many different disciplines including showjumping, pony club eventing and hacking. They had a go at Search for a Star in 2019. Lauren explained: "We came 4th, 3rd and 2nd in Search for a Star that year so I was so determined to come back. We very nearly lost Chester last winter, he lost a quarter of his body weight and no-one could work out why. He had scans and lots of investigations. Eventually he was prescribed steroids which helped his weight but gave him laminitis. I can't believe how well he is now!"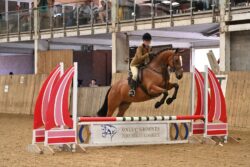 Next up were the working horses, with a huge entry of 25 in the class. The eventual winner was Mollie Rodgers and her own bay gelding, Notley King of Hearts. A delighted Mollie said: "I am so chuffed we have won!" Mollie and Bill as the gelding is known at home won the hunter class at the previous qualifier at Stoneleigh a few weeks earlier but owing to a passport problem they missed out on HOYS qualification and so came back to have another go at Onley. Mollie is a student make-up artist, she continued: "Bill went impeccably today and it was so good to come back. We will be doing plenty of practicing between now and HOYS."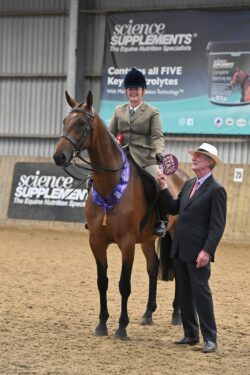 Class 2, the hunters saw Sarah Moreland and her own bay gelding, Coultard take top spot. Judge, Richard Ramsay commented: "Our hunter winner is a classic lightweight." Sarah said: "He went beautifully today, an absolute dream ride for the judge. I am over the moon, HOYS has always been top of the bucket list dream." Coultard competes in many different things including dressage and side-saddle. He even competes in para dressage with grade 4 rider, Georgina Maton.  Sarah continued: "Coultard's nickname is Scottie, Sandra Lowmitchell found him, I flew up to Scotland and saw that he was perfect for what I was looking for – at the time it was a choice between buying a nice horse or a nice car and he won hands down!" Scottie was bred in Aberdeenshire.
Abbie Emms and her bay gelding, Gifted Z took runner up spot in the hunter class at Onley. Abbie said: "I have always wanted to go to HOYS, he went great today and this is still his first season showing. I bought him five years ago as a four-year-old to event. That didn't work out so we have done a few other things and this year we started showing. We won the amateur hunter class at the North of England show and took 3rd in the novice hunters and then went to the Midlands Amateurs show where we won the hunter class and then took reserve champion. I used to do some mountain and moorland showing before I had Gifted but this is the first Search for a Star show I have ever been to and I am hoping that the experience gained will help us get on the road to competing in open classes next year."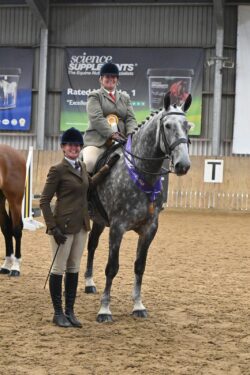 Irish Draught horse, Dowdstown Pride and his owner and rider, Carol Capener took third place for the final Search for a Star hunter HOYS ticket of 2022. Carole said: "I can't believe it! It is the first show we have been to! Dowdstown Pride came from Northern Ireland, he is a full Irish Draught by Crosstown Dancer. Back in 2013 he was champion Irish Draught foal at the Dublin Show. Dowdstown Pride was also the unaffiliated ridden hunter champion at the Blakesley Show as a five-year-old with a friend. He is a horse I never thought I would be fortunate enough to own." Ride judge in the class, Nicola Taylor said: "This is the best Search for a Star hunter class we've seen all season. The winner was simply amazing to ride."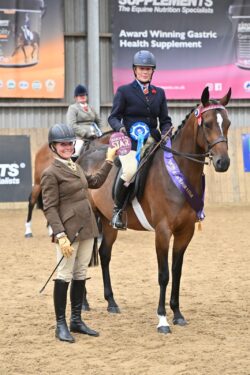 Qualifying for HOYS in the riding horse hack class at Onley were second placed Sarah Lindsey and her bay gelding, Just Elusive. A delighted Sarah said: "We were here eleven years ago with Just Elusive's dam, Just Maybe! I am so delighted that she is following in her mother's footsteps. In the year that Just Maybe went to HOYS in Search for a Star, she was the only hack at the finals. We looked up the rules to make sure that it was ok to come back to Search for a Star and as it was over 10 years ago we decided we had to give it a go. This is Just Elusive's first proper show, she is only five-years-old. I bred both Just Maybe and Just Elusive. It has taken time and we will eventually aim for open hack classes." Sarah works in the Land Rover warehouse.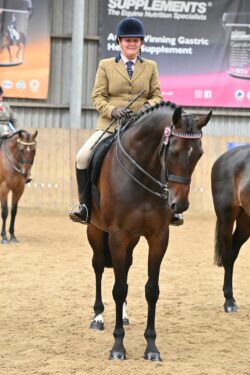 Charlotte Payter and her thoroughbred gelding Cervin earned their HOYS ticket also in the riding horse hack class. Charlotte said: "I am so thrilled, we were pulled in 5th and then moved up, this is the first time we have competed in Search for a Star and only our second season showing." Charlotte used to be a point-to-point trainer and has many wins in point-to-points and several hunter chase winners to her name. She continued: "I never trained Cervin, he was placed in a few bumpers in France and then was trained by Tim Vaughan. A friend heard Cervin was for sale and we went to see him out in a field with about 40 other horses! We were second in the amateur showing championship at Aintree last season and I would love one day to do the SEIB Racehorse to Riding Horse class with him one day."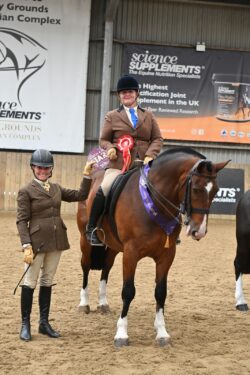 Lorraine Dixon's bay cob, Gran Reserve, won the cob class at Onley. Ridden by Lorraine's sister, Yvonne Major, Gran Reserve's HOYS ticket has been a long time in the making. Lorraine explained: "I can't quite believe we have finally got there. They qualified in Search for a Star at Arena UK back in 2019 and his passport wasn't right so we were disqualified. It's a lesson to everyone to get the passport sorted!! We didn't think we would get another chance, we went to the Vale View qualifier this year and were pulled in 2nd and went down to fourth, we very nearly didn't come and give it another go!" Gran Reserve is known as Oli Cob at home. "Our showing is a true family effort, my husband, Tony who is an NHS doctor is our lorry driver, I get up to sort the horses before going to work as a secretary for the NHS and then Yvonne comes over to ride the horses! We will go as far as we can with Oli, he will never be for sale!"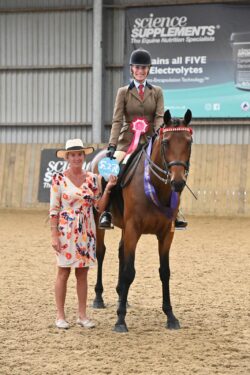 A huge entry in the SEIB Racehorse to Riding Horse qualifier at Onley saw the class split into two sections, both of which were strongly contested. The eventual winner was Tracy Bailey and her own five-year-old bay gelding, Debt of Honour. Tracy said: "This is just his first season showing, he went so well today for the judge (Nicola Taylor) who rode so beautifully. The judge said what a beautiful ride for a five-year-old. I am simply over the moon. The Racehorse to Riding Horse championship is such a great series. We've always commented at the SEIB shows the staff are so accommodating and it is all very smoothly run." Debt of Honour has had a busy first season showing, he has qualified for the Aintree showing finals, won in-hand at Barbury, won and went champion at The Showing Register and was second and reserve champion at the Brecon show. Tracy added: "His first show was a disaster, but it has all improved massively since then. In the long-term we will aim him at open classes. He is such a good learner." Debt of Honour ran on the flat and in one hurdle race in his racing days, he was trained by Neil Mulholland and is by Kyllachy.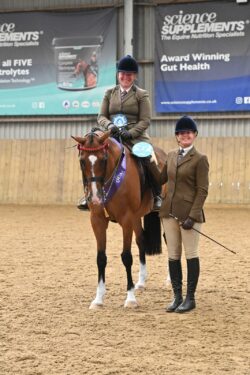 Jenni Savolianen and her own bay gelding, Dewi's Mate took runner-up spot. A thrilled Jenni said: "He went beautifully for the ride judge and is loving his showing! It was such a strong class, I am delighted to have come second. He is totally home produced and his owner gifted him to me for my 40th birthday. I had never done showing before when I first had Dewi on loan three-years-ago, we have learned together." Jenni and Dewi have also qualified for the 2022 SEIB Search for a Star championships at HOYS in the riding horse hack class too. The pair have also had success in dressage at elementary level and have qualified for the retrained racehorse southern dressage championship at Blenheim in September.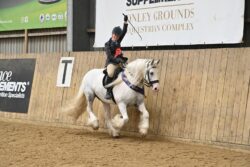 The traditional cob class at Onley was won by Brooke Baker and her Sue Baker's Skewbald Tobiano gelding, Fourlands Larry. Brooke said: "We have been to a few qualifiers, with our best previous placing being 3rd at Bury Farm earlier this season. HOYS is my dream! We bought Larry from his breeder, Arthur Harvey when he was just 10 months old. He was bought by my mum to bring on and he has now blossomed into a show horse." Brooke works as a landscape gardener, and she and Larry's groom on the day, Tommy Jackson won the best groom prize in the class. Brooke joked: "Tommy is my boss! Seriously though, Tommy and I run the landscaping company together and it works brilliantly fitting in with the horses." This win was added to an exciting victory for Brooke in the in-hand traditional and native class earlier in the day with another Skewbald Tobiano gelding, Razzle Dazzle Them.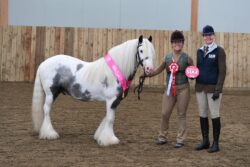 Also owned by Sue Baker, Razzle Dazzle Them, known at home as Larry in winning his class, qualified for the Search for a Star Your Horse Live championship. Brooke added: "We got Harry just before Christmas, he was completely feral and we couldn't catch him at all. My mum bought him from a photo. He wants people to be his friends and you can see that he wants to trust people. I would love to get to the point with him where he is as calm ridden as he is in-hand."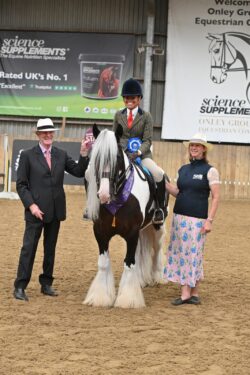 Runners-up in the traditional cob class were Tyra-Jo Cockburn and Rachael Atkin's piebald gelding, Bankview Freddie Flintoff. Fifteen-year-old Tyra-Jo said: "I've only been riding for two years and I've owned Freddie for two years. He is the first pony I've had and it was because of him I started riding. This is our first Search for a Star qualifier, we bought him from the field for £350 and he was even nervous of his own shadow." Tyra-Jo's mum added: "Tyra-Jo is such a hard worker she does everything with Freddie, grooming, mucking out and riding. I'm a single mum and sometimes everything seems so difficult, but it goes to show that dreams do come true!" Tyra-Jo is set to start year 11 at Baysgarth High School in Lincolnshire in September.
Your Horse Live qualifying classes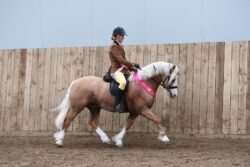 A strong mountain and moorland class at Onley was won by reception teacher, Caroline Edgson and her own Welsh section D palomino gelding, Saulire Thunder Struck. Caroline said: "We have worked so hard to get here, we came fifth at both our Search for a Star outings in 2021 at Bury Farm and Stoneleigh. This year at Bury Farm we came 3rd, so we have gradually got closer. I bought Chino as he is known at home eighteen-months-ago and he was very thin with rainscald. I wanted a section D and fell in love with him when I first saw him, he has the best temperament and loves hugs in the field. Our ultimate goal is to compete at the Royal International show and HOYS."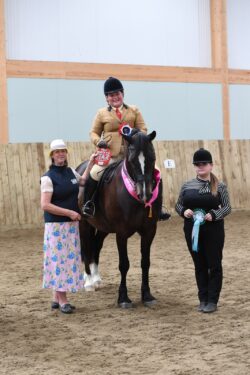 Molly Broadley riding Laura Hopkins Welsh section D gelding, Crossways King William took second place in the mountain and moorlands at Onley. Molly said: "I am so pleased with him. I've been riding Billy for five-years now and he loves going out to shows. We also compete in dressage and cross-country and fun rides. Billy has been working really hard lately so we will make sure we do lots of fun things between now and Your Horse Live." Molly has previously competed in some Search for a Star cob qualifiers.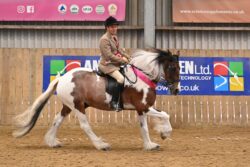 The open veteran class at Onley was won by Alexander Osborn riding his own Skewbald gelding, Dollar Boy. This class is open to all riders, irrespective of experience, and horses or ponies aged 16-years or over. Alex said: "Leo, as he is known at home, is amazing. We bought him locally and he has done everything in the years I have owned him. He took part in the Search for a Star cob finals in 2010 at HOYS, has nannied many other horses and riders, jumped up to 90cm, hunted and taught numerous people to ride. When he went to Search for a Star all those years ago he was clipped and hogged. He hates being clipped though so now we show him as a traditional, he likes being hairy! I am so excited about Your Horse Live, Jacob Griffiths who has been my brilliant groom today is massively looking forward to Your Horse Live as well."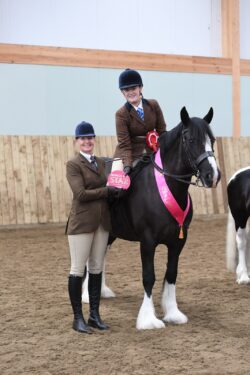 Maia Ellis and her own part-bred Welsh cross traditional cob black mare, Furlong Socks won the part-bred traditional Your Horse Live qualifying class. The pair had been competing at the Traditional of the Year Show (TOYS) at Onley earlier in the week and along with numerous other TOYS competitors, decided to stay on for the Search for a Star qualifier on the Sunday. Maia works as an apprentice hairdresser and she and Sox also compete in cross country, dressage and fun rides.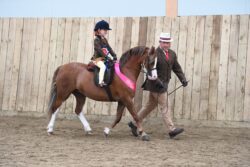 It was a day for Welsh success in the Your Horse Live qualifying classes at Onley. Welsh section A pony, Clearfell Bumblebee ridden by five-year-old Florence Milczarek won the Pony Club lead-rein class. Bumblebee has been owned by Florence's mother Sophie Milczarek for three years. Sophie said: "We have done everything with Bumblebee since she was just broken in. We would like to go on and do affiliated showing." Florence is a member of the Wheatland Pony Club and attends Corbett Primary school in Staffordshire.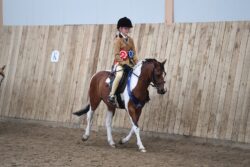 Emily Ridgway and Just The Way You Are won the Pony Club first ridden class. Owned by Emily's mother Sara Ridgeway, skewbald gelding, Just the Way You Are is a part-bred Welsh pony. Sara said: "This is the first year they have done showing as a pair and Bruno, as he is known at home, is a model for the Old Berks Hunt Branch of the Pony Club! We have owned him for just over a year and he is set for a busy week with Pony Club camp starting tomorrow!" Bruno and Emily have also qualified this year for the Checkendown Winter League Championship and the Sunshine Tour. Emily is a pupil at King Alfred's Academy in Wantage."
A Connemara pony won the open Pony Club class at Onley. Fiona Radford-Jones had owned grey mare, Battlestown Jenny for just a week when her daughter, Isobel Radford-Jones rode the pony to success in the class. Battlestown Jenny's stable name is TuTu. Fiona said: "TuTu was originally bred for showing and then some friends had her to event which she wasn't really enjoying. Issy's Welsh section C pony had gone lame and so we had TuTu on loan before buying her last week!" This is the first time thirteen-year-old Issy has really competed in showing. She spends plenty of time helping train racing Shetland Ponies with JPL Racing. Issy is a member of the Woodland Hunt Pony Club.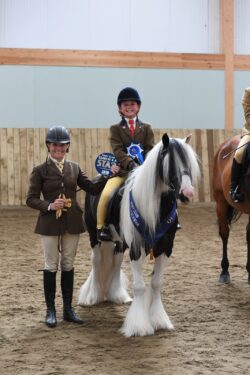 Taking runner-up spot in the open Pony Club class was traditional pony, Phantoms Masquerade ridden by Grace Adams. Known at home as Merlin, Phantoms Masquerade is owned by Grace's mother, Sarah Adams. This was the third qualifier that Grace and Merlin have competed in and they were another combination that competed earlier in the week at Onley at TOYS. Sarah said: "They got through to two evening performances at TOYS this week. Grace and Merlin won the Pony Club TOYS class, took second in the mini cob ridden and sixth in the mini cob in-hand before winning the best turned out. We are now very excited to be off to Your Horse Live! Grace and Merlin do everything together, hacking, jumping, hunting. When she outgrows him the plan is to break him to harness." Grace is a member of Ryburn Pony Club and attends Hipperholme Grammar School in Halifax.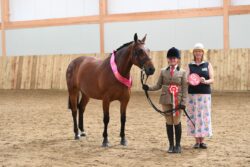 The plaited horse and hogged show cob class was won by Amber Hall and her own six-year-old bay mare, Sister Act. Amber from Buckinghamshire said: "She was just amazing on the day at Search for a Star. We've had her for a few months now and it is so exciting to have qualified for our first big, championship show. She is young and we spend plenty of time hacking her out at home, I found the Search for a Star in-hand really useful as a way of getting her out to see things and now we have qualified for Your Horse Live it will be a great chance for her to experience the championship final atmosphere. We will get out ridden showing in time and I would love to compete in intermediate show hunter classes and maybe one day qualify for HOYS."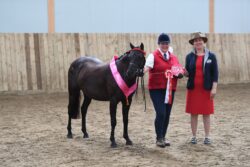 Sam Crutchlow and her British Riding Pony, Rhos Elodie won the in-hand plaited pony class. Sam said: "I've only owned her for three months! This is brilliant! We decided to start out in-hand to get her used to shows and to get going, she was bred by the Rhos stud and we are delighted to have her now. I bought Elodie for my daughter Phoebe to eventually compete in the children's riding pony classes and maybe one day qualify for HOYS in that." Phoebe rode her pony, Betty in the Search for a Star Pony Club first ridden class earlier in the day.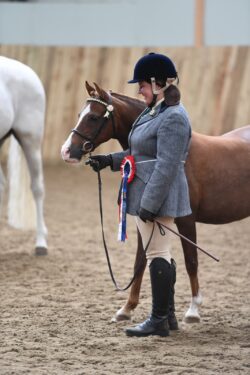 Qualifying in the in-hand veteran class were Hollie Thomas and her own 122cm British Riding Pony, Woodview Ingot. This chestnut pony is eighteen years old.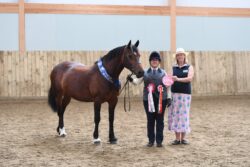 The final class of the day, the in-hand amateur mountain and moorland was won by Tracey Perkins and her own Welsh section D, Frog Ella. Tracey said: "I saw the Search for a Star facebook page a few months ago and realised there was a qualifier just down the road from me at Onley and thought – nothing ventured, nothing gained – so we came along! Frog behaved beautifully and I was so pleased she won. I've owned her for about five-and-a-half years and we have done lots of dressage and jumping and shows. We've done quite a bit of in-hand so decided to give the in-hand Search for a Star class a go and see how it went with the aim of coming back next year to maybe do in-hand and ridden. Frog came from West Wales, I'd put out a wanted advert for a nice natured native type – within a 60 mile radius of Coventry, and after a lot of phone calls to her previous owner decided to make the journey to go and see her, where I quickly realised she was just what I was looking for!"
Nicolina MacKenzie, Marketing Manager at SEIB Insurance Brokers said: "Onley has rounded off a truly fantastic Search for a Star qualifying season this year. The standard has been great across the board, our new 'weekender' Search for a Star workshops in Scotland and at Stoneleigh have been a great success, with brilliant feedback and the whole team is looking forward to seeing how those lucky enough to qualify get on at the championships at Horse of the Year Show and Your Horse Live."
Leading equine Insurance brokers, SEIB Insurance Brokers set up Search for a Star over 20 years ago so they could offer a unique competition opportunity to many of their amateur rider customers. SEIB has a long association with the showing world and is renowned for 'putting something back' by supporting many equestrian events and activities in addition to Search for a Star.
In the meantime - if you need to insure your horse, horsebox, trailer, yard or business - SEIB are here to help so please give us a call on 01708 850000 or visit www.seib.co.uk. #SEIBhere2help.
For all Search for a Star and Racehorse to Riding Horse information and to enter, please see www.seib.co.uk/competitions.
Results SEIB Search for a Star and Racehorse to Riding Horse Stoneleigh Park 24th July 2022.
HOYS Qualifying classes:
Class 1A Working Pony – Chester, owned and ridden by Lauren Metcalfe from Manchester
Class 1B Working Horse – Notley King of Hearts, owned and ridden by Mollie Rodgers from Oxfordshire
Class 2 Show Hunter – 1st, Coultard owned and ridden by Sarah Moreland from Hertfordshire
Class 2 Show Hunter – 2nd Gifted Z, owned and ridden by Abbie Emms from North Yorkshire
Class 2 Show Hunter – 3rd Dowdstown Pride, owned and ridden by Carol Capaner from Buckinghamshire
Class 3 Riding Horse Hack – 2nd Just Elusive, owned and ridden by Sarah Lindsey from Leicestershire
Class 3 Riding Horse Hack – 3rd Cervin, owned and ridden by Charlotte Payter from Worcestershire
Class 4 Show and Maxi Cob – 1st Gran Reserve, owned by Lorraine Dixon and ridden by Yvonne Major from Nottinghamshire
Class 5 Racehorse to Riding Horse – 1st Debt of Honour, owned and ridden by Tracey Bailey from Berkshire
Class 5 Racehorse to Riding Horse – 2nd Dewi's Mate, owned and ridden by Jenny Savolainen from Herefordshire
Class 6 Traditional Gypsy Cob all colours - 1st Fourlands Larry, owned by Sue Baker and ridden by Brooke Baker from West Sussex
Class 6 Traditional Gypsy Cob all colours – 2nd Bankview Freddie Flintoff, owned by Rachael Atkin and ridden by Tyra-Jo Cockburn from Lincolnshire
Your Horse Live qualifying classes:
Class 7 Mountain and Moorland – 1st Saulire Thunder Struck, owned and ridden by Caroline Edgson from Warwickshire
Class 7 Mountain and Moorland – 2nd Crosswaters King William, owned by Laura Hopkins and ridden by Molly Broadley from West Midlands
Class 8 Open Ridden Veteran Horse and Pony – 1st Dollar Boy, owned and ridden by Alexander Osborn from Worcestershire
Class 9 Part-Bred Traditional Gypsy Cob – 1st Furlong Socks, owned and ridden by Maia Ellis from Liverpool
Class 10 Pony Club Lead Rein Pony – 1st Clearfell Bumblebee, owned by Sophie Milczarek and ridden by Florence Milczarek from Shropshire
Class 11 Pony Club First Ridden Type – 1st Just The Way You Are, owned by Sara Ridgway and ridden by Emily Ridgway from Oxfordshire
Class 12 Pony Club Open – 1st Battlestown Jenny, owned by Fiona Radford-Jones and ridden by Isobel Radford-Jones from London
Class 12 Pony Club Open – 2nd Phantoms Masquerade, owned by Sarah Adams and ridden by Grace Adams from Yorkshire
Class 13 Amateur In-Hand Plaited Horse including Hogged Show Cob – 1st Sister Act owned and handled by Amber Hall from Buckinghamshire
Class 14 Amateur In-Hand Plaited Pony – 1st Rhos Elodie, owned and handled by Sam Crutchlow from Coventry
Class 15 Amateur In-Hand Traditional and Native Type – 1st Razzle Dazzle Them, owned by Sue Baker and handled by Brooke Baker from West Sussex
Class 16 Amateur In-Hand Veteran – 2nd Woodview Ingot owned and handled by Hollie Thomas from Redditch
Class 17 Amateur In-Hand Mountain and Moorland – 1st Frog Ella, owned and handled by Tracey Perkins from West Midlands