SEIB Search for a Star 2021 got underway with a high-quality level of competition at Richmond Equestrian Centre in North Yorkshire on Monday 12th July. Longstanding Search for a Star judges, Richard Ramsay and Jordan Cook were joined on the day by Nicola Taylor, Jerome Harforth, Liz Morley and probationary judge, Craig Mclelland who also helped by stewarding… Entries were plentiful across the classes with the Hunters and Riding Horse Hack classes particularly strong. Several competitors that came close to qualifying in 2019 have worked hard with their horses through lockdown, entered Virtual Search for a Star over the winter and made the most of the judges comments to come out and qualify first time this year.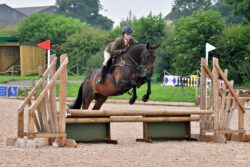 The first class, Working Horse saw a big field with some excellent entries put forward. Judges, Jordan Cook and Richard Ramsay were impressed with the standard. Sophie Brown and her own ex-racehorse Amroth Bay took top spot after an exemplary ridden set show. Sophie said: "I am just thrilled with this, I used to ride Amroth Bay when he was in training and I am delighted to be off to HOYS now with him, he is the easiest horse on the planet." Seventeen-year-old, Amroth Bay was in training with Dan Skelton before Sophie took him on and began his second career in the show ring. Amroth Bay won around ten races including the Cambridgeshire National before going showing. Sophie continued: "We have also competed up to BE100 level in eventing and hunted once with the Bedale – we might wait until his showing career has ended before we go again!" Sophie works as travelling head girl for Middleham trainer, Liam Bayley and this was the only Search for a Star qualifier the pair planned to head to this year, she added: "I don't want to be travelling him everywhere to qualify, so this was our one chance and he has been brilliant."
A part-bred Dartmoor pony took first place in the Working Pony class at Richmond; Cayberry Guns N Roses owned by Joanne Harwood and ridden by Alex Harwood. Conformation judge Richard Ramsay said: "Our winner was beautifully presented and turned out and went very correctly." Alex and Cayberry Guns N Roses have campaigned Search for a Star qualifiers several times over the past three years, coming second in a qualifier in 2019. Alex said: "We bought him 7 years ago as a four-year-old to have a bit of fun with and then we started to do well showing so have carried on from there. He is good at dressage and combined training, we will also do a few working hunter pony classes over the summer. I have ridden since I was three and we mainly had ponies on loan before Cayberry Guns N Roses came along. We have stayed in touch with his breeder and the person that owned him before us." Alex studied Motorsport at College and now works as a welder / fabricator at Kevin Parker Horseboxes.
Polly Baker made the long journey from Norfolk worthwhile to win the hunter class with her own bay gelding, Latice. Polly has owned this 11-year-old bay gelding for two years, she said: "I am just thrilled with this win, we have no arena at home. I work in Newmarket and my parents look after Latice in the week and I ride him and look after him at the weekends." The pair are also off to the Royal International Horse Show in the lightweight amateur hunter class and then Latice will have a well-deserved holiday. Polly continued: "I got into showing as dressage frightened me – with being the only rider in the ring – and I had a bad hunting fall. With my old boy I competed in some side saddle classes and really enjoyed the experience." Polly and Latice also hunt with the North Norfolk Harriers and head out on plenty of sponsored rides. Polly works as a secretary at the Newmarket Equine Hospital. Judge, Nicola Taylor said: "Our winner was very typey, he needed to learn to go a little more but we decided that as it is Search for a Star it is a learning experience and he gave a comfortable, nice ride and Jordan Cook the conformation judge was pleased with the way he is put together."
In second place in the hunters was Galway Thatcher ridden by Laura Toal. A delighted Laura said: "He is just amazing, this is our first time at Search for a Star, I am super chuffed. I've never been to HOYS, not even for the shopping. Its going to be a big experience!" This was just the second show that the pair have been to and they have enjoyed plenty of hacking and fun rides through lockdown with some hunting in the winter. Laura added: "I didn't want a grey horse, but he has the most lovable personality and is so good on the ground." Laura works at her local hospital as a nurse assistant.
Welsh Section D, Owfen Mr Softee won the Mountain and Moorland, Your Horse Live qualifying class with his owner rider, Zara Rudd. Trainee accountant Zara said: "I didn't realise we had qualified, I am so excited. Baby B (as the pony is known at home) and I do everything together from showing to mounted games, fun rides and dressage. I was given him for Christmas 5 years ago by his breeder Alison Hibbert, who hand reared him as a foal." Zara initially had Baby B on loan from April through to Christmas and then she gifted him to Zara as she was delighted to see Baby B having so much fun out and about with Zara. Baby B and Zara are on the TSR Pathway too – they plan to go to the beach and on some fun rides between now and HOYS as well. Through lockdown, the pair also competed in Virtual Search for a Star and took 4th place in Diamond Pony. Zara commented: "The video from the Judge Richard Ramsay was great!".
Gissings Military Woo Hoo took second place in the Mountain and Moorland with his owner rider Mia Anness. The pair just missed out on qualifying for Your Horse Live in Search for a Star in 2019 when they were placed in qualifiers at both Osbaldeston and Greenlands. Mia said: "We had Military Woo Hoo on loan from his breeder, Lesley Jolly for four years before buying her last October. We won the in-hand Highland class at the Yorkshire Show in 2019 and have entered the ridden and in-hand classes there this year." Military Woo Hoo is a real family pony and takes part in pleasure rides, beach rides and hound exercise with Mia and her mother. Mia added: "The comments from the judge, Jerome Harforth today were helpful and we have found Search for a Star to be a really useful series for helping us improve."
A hack at her third ever show won a very competitive and large Riding Horse Hack class at Richmond. Bethany Phoenix rode Molecule One to take top spot. Bethany bought Molecule One eighteen months ago as a three-year-old. The pair had a quiet season in 2020 owing to covid. Bethanie said: "Search for a Star is something I have wanted to do and qualifying at our first attempt is just brilliant. We bought her from the Broomhill Stud with the overall intention of competing in large intermediate classes and hacks. She was quite underweight when we bought her so have taken it slowly to gain condition." Bethany works as a self-employed hairdresser, she and Molecule One will go out to plenty of shows between now and HOYS to gain experience.
Riding Horse, Imperial High Force, owned and ridden by Hannah Coates took second place. Hannah said: "This is such a nice surprise, it is our first time out showing in three years. I had a baby and then coronavirus took over so we have had a big break. I bought Imperial High Force when she was six months old, I was in the right place at the right time." Hannah was working at the End House Stud when Imperial High Force was born and jumped at the chance of buying her when she came up for sale. Imperial High Force is an Arab cross warmblood and is eight now.
Laura King and her grey Irish draught mare, The Lady Farmer won the cob class at Richmond. The Lady Farmer is a grade 1 bred Irish Draught by Tors Gentleman Farmer out of Corran Ginger. She was bred by Valerie Davies in Ireland. Laura said; "This is just unbelievable! She was really poorly in November, we thought we were going to lose her at one point. At the time we believed it was EMS, but it transpired to be a deep foot abscess. In March, she got the all clear so we decided to get out there with her. She spent two months doing in-hand work and then another 2 months ridden. We have only done about 6 weeks schooling and this is the third show she has been to. She is absolutely loving it!" In her four-year-old season, The Lady Farmer went out to some in-hand shows. She won at North Yorkshire County and was 5th at the Great Yorkshire. The Lady Farmer has also bred two pure-bred Irish Draught foals, a colt which the King's sold and a now yearling filly which they plan to show.
Whitewood Boy and Rachelle Spencer took second in the cob class. A delighted Rachelle said: "For 30 years I have wanted to ride at HOYS. Both my parents have ridden there in the past and I am so excited to have now qualified. We came close when Riley – as Whitewood Boy is known at home – came 3rd in Search for a Star as a 5-year-old. I then had a baby and now we are back out showing! It was an interesting story how we bought Riley. My mum was at a presentation evening and a drunk lady said she had a hunter she wanted to sell. We went to see Riley and thought he looked odd for a hunter but ended up buying him. Riley was nervy when we first had him but with some patience he has come round. We had entered a One Day Event, but now we have qualified for HOYS there is no chance I am risking it! I think it hasn't really sunk in yet!"
Two horses that have previously been to HOYS qualified in the SEIB Racehorse to Riding Horse class. In first place was Lindsay McCulloch's Golden Bird, ridden by Richard Telford no ridden by Richard Telford. An excited Lindsay said: "This is the third time he has now qualified for HOYS and each year he has qualified at the first time of trying. We really didn't expect it today! In his first season of Racehorse to Riding Horse classes, Golden Bird was really inexperienced when he qualified for HOYS. Since then he has gone on to take 6th place in the SEIB Racehorse to Riding Horse HOYS final and 4th in the open hacks at HOYS."
In second place was Collette McGoldrick and Mumford. This pair have previously qualified for the HOYS Racehorse to Riding Horse final finishing in 4th place. Mumford was champion Racehorse at the Hickstead Derby meeting earlier this season. Collette said: "He is the first racehorse I have had to show and what a horse he is. He has such a great temperament and loves his shows and his hacking. I broke my ankle badly last autumn in a fall and he definitely has helped me out with it. Mumford was placed during his racing days and he ran about nine times on the flat over several seasons." Mumford has won plenty during his showing career including taking the Goffs supreme championship in 2019 and winning the title of champion racehorse at the UK National Championships in 2020.
In the Traditional Gypsy Cob, coloured class, Kimberley Moreton and Dudley Do Right took top spot. Kimberley said: "She is my little miracle, I've owned Dudley Do Right since she was 6 months old and she nearly died of liver failure as a four-year-old. We took a blood test from her and found that her liver wasn't functioning. We think it was probably caused by a virus. In 2019 we came 2nd in a Search for a Star qualifier and it is so exciting that we have now gone one better." Dudley Do Right was a Christmas present from Kimberley's grandparents. She added: "I saw her in a field and thought she was just great, she was the best Christmas present ever. My granny and grandad paid £75 for her." Kimberley and Dudley Do Right are now off to the Traditional of the Year Show and Equifest with beach riding and hacking in between to keep her happy before they head to the Search for a Star Your Horse Live finals in November.
The winner of the Solid coloured Traditional Gypsy Cob class has been trying to qualify for the Search for a Star finals since 2018. Lucy Austick and her own Maisy were thrilled to achieve their goal at Richmond. Lucy said: "I originally took part in the Working Pony class but in our last traditional qualifier in 2019 we took second place and I am just so excited to have finally got there. I couldn't have done it without my sister Faye and Claire Robinson of Robinson's Equi Teach in Middlesborough." Lucy and Faye have had Maisy for seven years, she competes in showing and riding club activities and hunting. Lucy works as a hairdresser, she added: "I am often trying products from work on Maisy's feathers. I am so lucky that she is such an amazing horse."
Earning their ticket to the Search for a Star Your Horse Live Part-bred Traditional Gypsy Cob finals were Anika Wilding and her own Letton Helen of Troy. This pair were at just their second show together. Anika said: "I am just really pleased, I qualified for the finals in 2019 with my mare who then had a foal and then we came across Letton Helen of Troy. She had done well in-hand, but I have only been riding her for four months. She is so willing and wants to please, I had a nasty accident just before lockdown and Letton Helen of Troy has really helped me get my confidence back."
Qualifying for the Your Horse Live final and winner of the veteran pony class was Isabella Mason and her mother, Juliette Mason's pony, Podraig. Eleven-year-old Isabella is a year-7 pupil at Carnforth High School, she has competed in plenty of BSPS working hunter pony classes with 19-year-old Podraig. Isabella said: "He was great today and I am looking forward to Your Horse Live." Her mum, Juliette – who also competed in the SEIB Racehorse to Riding Horse class at Richmond added: "Podraig used to be a show jumping pony and has plenty of experience. Last week the pair took the supreme of show title at BSPS area 1B, Isabella fits all this in with plenty of netball and running too."
In the veteran horse class, first place went to the Connemara, Liskeran Dun Bobby owned by Sarah Hill and ridden by Elly Hill. This pair previously competed in the Search for a Star finals back in 2014. Liskeran Dun Bobby, known at home as Ferdi has been owned by the Hill's for eight years now and now aged 20 is still going strong. Horses and ponies that have previously competed in the Search for a Star HOYS finals and are 18 years of age or over are eligible for the Search for a Star veteran competition.
SEIB's Marketing Manager, Nicolina MacKenzie said: "It has been so good to be back out with the Search for a Star team today. We have met some brilliant, enthusiastic new competitors and been delighted to see some much-improved combinations from 2019 back in the ring, some of whom have deservedly earned their HOYS and Your Horse Live tickets today. Search for a Star is all about having a willingness to improve and our judges really do enjoy seeing people and their horses becoming more polished and succeed in achieving their goals."
For all Search for a Star and Racehorse to Riding Horse information and to enter, please see www.seib.co.uk/competitions.
In the meantime - if you need to insure your horse, horsebox, trailer, yard or business - SEIB are here to help so please give us a call on 01708 850000 or visit www.seib.co.uk. #SEIBhere2help
Results
SEIB Search for a Star and Racehorse to Riding Horse Richmond Equestrian Centre 12th July 2021
Score sheets for Working Horse, Working Pony and Mountain & Moorland can be found here
Class 1A Working Horse – Amroth Bay, owned and ridden by Sophie Brown from Richmond
Class 1B Working Pony – Cayberry Guns N Roses, owned by Joanne Harwood and ridden by Alex Harwood from Preston
Class 2 Show Hunter – 1st Latice, owned and ridden by Polly Baker from Norfolk
Class 2 Show Hunter – 2nd Galway Thatcher, owned and ridden by Laura Toal from Stoke-on-Trent
Class 3 Riding Horse Hack – 1st Molecule One, owned and ridden by Bethany Phoenix from Preston
Class 3 Riding Horse Hack – 2nd Imperial High Force, owned and ridden by Hannah Coates from Barnoldswick
Class 4 Show and Maxi Cob – 1st The Lady Farmer, owned by Mrs s and Miss L Kind and ridden by Laura King from York
Class 4 Show and Maxi Cob – 2nd White Wood Boy, owned and ridden by Rachelle Spencer from Lancashire
Class 5 Racehorse to Riding Horse – 1st Golden Bird, owned by Lindsay McTulloch and ridden by Richard Telford from Great Ayton
Class 5 Racehorse to Riding Horse – 2nd Mumford, owned and ridden by Collette McGoldrick from Derbyshire
Class 6A Traditional Gypsy Cob Piebald and Skewbald - 1st Dudley Do Right, owned and ridden by Kimberley Morton from Goole
Class 6B Traditional Gypsy Cob Solid Colour – 1st Maisy owned and ridden by Lucy Austick from Middlesborough
Class 7 Mountain and Moorland – 1st Owfen Mr Softee owned and ridden by Zara Rudd from Lancashire
Class 7 Mountain and Moorland – 2nd Gissings Military Woo Hoo owned and ridden by Mia Aness from Kirklees
Class 8 Part-Bred Traditional Gypsy Cob – 1st Letton Helen of Troy owned and ridden by Anika Wilding from Herefordshire
Class 9A Veteran Horse – 1st Liskeran Dun Bobby owned by Sarah Hill and ridden by Elly Hill from Warrington
Class 9B Veteran Pony – 1st Podraig owned by Juliette Mason and ridden by Isabella Mason from Lancaster