True amateurs take top SEIB Search for a Star honours at Horse of the Year Show 2022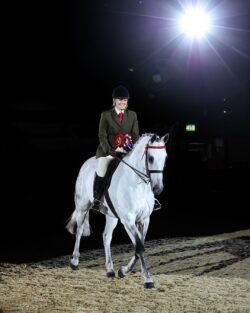 Cardiology nurse, Alex Windross and her grey riding horse, Herbie, took the much-coveted amateur showing title in the SEIB Insurance Brokers Search for a Star Championship at the Horse of the Year Show (HOYS) on the 7th October. As the results were announced in the main HOYS international arena on Friday afternoon, it took a few seconds for Alex's win to sink in before her moment in the iconic HOYS spotlights with Herbie.
To compete in the Search for a Star finals at Horse of the Year Show is a dream for legions of amateur showing enthusiasts, let alone be the one to finish as overall Search for a Star champion. SEIB Insurance Brokers set the series up in the mid-1990's and it has been a popular fixture at HOYS since and gone from strength to strength. This year alone, nearly a thousand competitors have taken part in one of the nationwide Search for a Star qualifying shows, with just fifty making it through to the HOYS championship. Many Search for a Star competitors and finalists have made the most of the expert support offered by the team of top judges and gone on to success in open classes.
Top show producer, Katie Jerram-Hunnable and former Olympic eventer, Chris Jerram-Hunnable judged conformation and former Search for a Star champions, turned leading show producer Jordan Cook was ride and performance judge in the finals at HOYS. Jordan said: "It is an honour and a great pleasure to judge for the Search for a Star team, giving back to others what the series gave to me." Both Katie and Chris spoke over the microphone during the classes which provided some very educational and entertaining insights.
The winners of each Search for a Star final throughout the week at HOYS went forward to the Search for a Star Championship in the International Arena on the Friday afternoon of HOYS.  Each of the Search for a Star winners shone in the buzzy atmosphere and the judges had a tough choice in naming the overall champion and reserve. Herbie was foot-perfect and he stood impeccably still to receive his top prize from the judges before executing a mannerly HOYS centre line trot under the spotlights with Alex.
Alex, from North Yorkshire, said: "I absolutely didn't believe it when they announced the results! Just to be riding here is a dream come true, let alone to have won! I have been coming to HOYS to watch with a friend for years, and to come and ride here with the likes of the Whitakers really is a dream." Herbie is mainly competed by Alex as a dressage horse, she continued: "I bought my first horse, Freddie, when I was 18, he was very nervous and I found the only activity he really enjoyed was showing. Sadly, I lost him this March, just before his 28th birthday. That is when I decided to show Herbie, one last little dedication to Freddie. When we entered the Search for a Star qualifier at Vale View, back in April, we thought we'd see how we got on – it was Herbie's first showing show and so exciting that we qualified." Alex and Herbie won the Search for a Star riding horse final on the Thursday at HOYS before coming forward for the Friday championship in the international HOYS arena.
Alex has owned Herbie since he was a four-year-old, she explained: "It was a choice of Herbie or a new kitchen. Herbie won. We only started competing last year and are members of Whitby riding club Herbie and I are part of a quest dressage team, The Mane Event." Alex works as a cardiology nurse at James Cook University Hospital in Middlesbrough. The horses have to fit in around Alex's shifts at the hospital: "It is hard to juggle sometimes with the riding and mucking out after working nights. I'm not back at work now until Monday so I plan to enjoy the weekend!"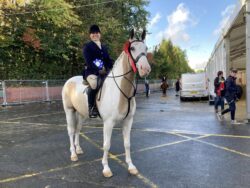 Small business owner, Maxine Linas and her own dun and white gelding, An Buachaill Ban Bui, took the Search for a Star reserve champion title. This pair thoroughly enjoyed their HOYS experience, they are more often found out competing in British Eventing at BE90 level. Maxine said: "I've always wanted to go to HOYS, Bandit – as we call him at home – has been amazing this week. After we won the working horse Search for a Star final yesterday I was delighted and my aim was to have a few celebratory drinks and find my navy jacket for today! We have put a lot of work into this week, Bandit has been swimming and to hydrotherapy in the run up."
Maxine and Bandit are new to showing, the pair qualified for HOYS at the Stoneleigh qualifier back in July, Maxine explained: "We went to a working hunter class at the Aintree show and the judge said we should have a go at Search for a Star so we came along! Bandit has a varied life and I've owned him for two years now, we have plenty of fun together." Maxine runs a social media marketing company, Maximise Social.
COB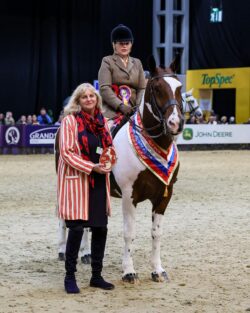 The cob final was the first Search for a Star championship of the week on the Wednesday of HOYS. The class is open to cobs and maxi cobs and their amateur riders.
Gloucestershire based Hannah Johnson riding Linda Penfold's skewbald gelding, B Unique won the Search for a Star HOYS cob final. Hannah said: "B Unique loves going to a show, he was just great today. It has been a steep learning curve! I can't believe it!" Hannah and B Unique went to their first show in 2021. It was a Search for a Star qualifier at West Wilts Equestrian Centre. Hannah said: "We took him along to see what it would be like and we came third. The judges were so nice and encouraged us. They said our tack was wrong but that he had lots of potential. We changed the tack and have worked really hard. The help and support we have had from SEIB has been great. The team are helpful not critical and we probably wouldn't have come back this year if they hadn't been so encouraging." It is pure chance that Hannah is riding B Unique, Hannah explained: "B Unique belonged to his owner, Linda's, best friend since he was a foal, she very sadly got cancer and died a few years ago. B Unique was out on loan when Linda was alerted that he wasn't getting on with his people. We had him for two weeks to start off with and he has stayed ever since, Linda has been so supportive."
HACK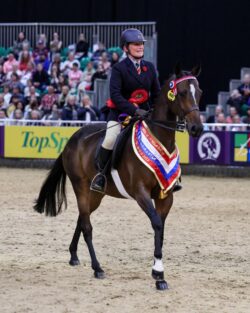 The riding horse hack final was as always run as one class at HOYS, with one hack winner and one riding horse winner, both going through to the Search for a Star Championship on the Friday. The Search for a Star champions, Alex Windross and Herbie won the riding horse final.
Sarah Lindsey from Leicestershire and her five-year-old, second generation homebred, bay mare, Just Elusive won the Search for a Star hack final. A delighted Sarah said: "Eleven years ago we took Just Elusive's dam, Just Maybe to Search for a Star and qualified and attended the HOYS finals! I am so delighted that Just Elusive is following in her mother's footsteps. We looked up the rules to make sure that it was ok to come back to Search for a Star and as it was over 10 years ago we decided we had to give it a go." Sarah bred both Just Maybe and Just Elusive. She added: "It has taken time and we will eventually aim for open hack classes." Sarah works in the Land Rover warehouse.
HUNTERS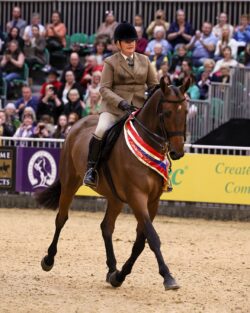 The Search for a Star hunter championship was run on the Friday of HOYS before the Search for a Star championship in the international HOYS arena later in the afternoon.
Sarah Moreland from Hertfordshire and her own bay gelding, Coultard Z took top spot in a very competitive Search for a Star hunter final. HOYS has always been top of the bucket list dream for Sarah, her late father was a steward at HOYS for many years and retired in 2013. Sarah said: "This is my dream, I've grown up around horses and been coming to HOYS since I was little. Coultard is the most wonderful horse. Search for a Star has given us an opportunity in coming to HOYS that we would otherwise never have had. The judges have been fantastic, the support and training offered by Search for a Star is fantastic." Coultard competes in many different things including dressage and side-saddle. He even competes in para dressage with grade 4 rider, Georgina Maton.  Sarah continued: "Coultard's nickname is Scottie, Sandra Lowmitchell found him, I flew up to Scotland and saw that he was perfect for what I was looking for – at the time it was a choice between buying a nice horse or a nice car and he won hands down!" Scottie was bred in Aberdeenshire.
TRADITIONAL COB
The Search for a Star traditional cob HOYS final was held on the Wednesday of HOYS. This popular class is in its third year at HOYS and is open to traditional cobs registered with the Traditional Gypsy Cob Association and ridden by amateur riders.
The striking, palomino and white gelding, Hermits Golden Safari took the traditional cob Search for a Star final with his owner and rider, Kirsty Sheath. A thrilled Kirsty, from Leighton Buzzard, said: "I am so delighted with him. This is a great opportunity and it has given us so much confidence. I work as a saddler and have had lots of my customers texting saying good luck for today! We have owned Hermits Golden Safari for the last two years but he has had severe ulcers and travelling has been a big issue. We now seem to have the ulcers under control, but we try not to travel him too far or put him under any stress." Hermits Golden Safari is the first traditional cob that Kirsty and her mum Jean Sheath have owned. Kirsty continued: "My mum always wanted a traditional and he was our lockdown purchase – I think mum had pretty much bought him before she'd even seen him. He loves life though and hacks, jumps and has the best attitude. We have now just bought another young traditional!" This pair now plan to compete in open traditional classes.
WORKING HORSE / PONY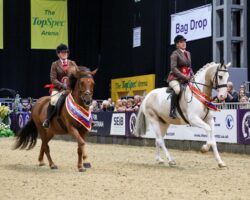 The working horse and pony final was as always run as one class at HOYS, with one horse winner and one pony winner, both going through to the Search for a Star Championship on the Friday. The overall reserve Search for a Star champions, Maxine Linas and An Buachaill Ban Bui were the winners of the Search for a Star Working Horse final on the Thursday of HOYS.
Warwickshire based, Natalie Pastor and her homebred six-year-old New Forest gelding, Langorra Ginger Port won the working pony Search for a Star final at HOYS. Natalie said: "It is amazing to have won, you just never know what is going to happen and you can't replicate a show like this. He kept his cool and was great today. It is a miracle we were even here today as he has had time off and only came back into work a month ago, he has done plenty of swimming lately which has paid off!" Langorra Ginger Port was bred by Natalie out of her New Forest working hunter pony mare, Portmore Lil. Natalie added: "It was always the plan to breed from our lovely mare. We bred two foals from her while I was away at uni, the other one went to Ireland and I kept Larry.  He is home bred, I backed him and have produced him myself." Larry is by Woodrow Portman who competed at HOYS in flat and working hunter pony finals. Natalie and Langorra Ginger Port have also qualified for the Search for a Star finals at Your Horse Live next month in the mountain and moorland final.
SEIB Insurance Brokers set up the Search for a Star series, with its HOYS finals nearly 30 years ago to give amateur riders and their horses the chance to compete at the Horse of the Year Show (HOYS). The series has led to many thrilled competitors achieving this dream.
SEIB Marketing Manager Nicolina Mackenzie said: "Search for a Star has been fabulous this year. We have had more people than ever before coming to the qualifiers, keen to realise their dream of riding here at HOYS. We are humbled by the thanks from so many competitors for the support and training provided by our top team of judges and trainers who genuinely want to help our competitors and see them improve in order to achieve their goals and dreams. We are looking forward to seeing some of our competitors compete in open classes next year. Just this afternoon at HOYS, our first ever Search for a Star mountain and moorland champions, Chantelle Chapman and Greenholme Falcon went on to win the junior mountain and moorland Ridden Pony of the Year championship."
Leading equine Insurance brokers, SEIB Insurance Brokers provide cover for horses, horse boxes, yards and much more.   The company has a long association with the showing world and is renowned for 'putting something back' by supporting equestrian events and activities.
For full details, rules and entry forms visit www.seib.co.uk/competitions. Find SEIB Search for a Star on Facebook at: www.facebook.com/SEIB.Search4AStar.
In the meantime - if you need to insure your horse, horsebox, trailer, yard or business - SEIB are here to help so please give us a call on 01708 850000 or visit www.seib.co.uk. #SEIBhere2help.
Results SEIB Search for a Star Championships at Horse of the Year Show 2022.
SEIB Search for a Star Champion 2022
Herbie, owned and ridden by Alex Windross from Saltburn-by-the-Sea, North Yorkshire
SEIB Search for a Star Reserve Champion 2022
An Buachaill Ban Bui, owned and ridden by Maxine Linas from Cheshire
WEDNESDAY
TRADITIONAL COB CHAMPIONSHIP
1st - Hermits Golden Safari, owned and ridden by Kirsty Sheath from Buckinghamshire
2nd - The General II, owned by Alice Geldeard and ridden by Hollie Atkinson from Lancashire
3rd - Valiant Soldier, owned and ridden by Tara Kingston-Smith from Derbyshire
4th - Woodhouse Supreme, owned and ridden by Rachel Motley from Pateley Bridge
5th - Colour of Money, owned and ridden by Laura Cox from Burnley
6th - Big Mac, owned by Jacqui Down and ridden by Beth Gibson from Somerset
COB CHAMPIONSHIP
1st - B Unique, owned by Linda Penfold and ridden by Hannah Johnson from Gloucestershire
2nd - Heath, owned and ridden by Mollie Longworth from Manchester
3rd - Dali Havidson, owned and ridden by Felicity Benton from Lincolnshire
4th - Gran Reserve, owned by Lorraine Dixon and ridden by Yvonne Major from Nottinghamshire
5th - Kas Nickleby, owned and ridden by Cat Griffiths from Birmingham
6th - Rhythm and Jazz, owned and ridden by Laura Dobson from Derbyshire
THURSDAY
WORKING PONY
1st - Langorra Ginger Port, owned and ridden by Natalie Pastor from Warwick
2nd - Chester, owned and ridden by Lauren Metcalfe from Manchester
3rd - Dunaskin Gimlie, owned by Eleanor Crate and ridden by Dana Simpson from Ayrshire
4th - Mosshey Centurion, owned and ridden by Georgia Norton from Hampshire
5th - Muddycreek Milford, owned and ridden by Leah Edgar from Manchester
WORKING HORSE
1st - An Buachaill Ban Bui, owned and ridden by Maxine Linas from Cheshire
2nd - Notley King of Hearts, owned and ridden by Mollie Rodgers from Oxfordshire
3rd - Graffite V, owned and ridden by Emily Quillian from Aberdeen
4th - Pferde Stud Cezanne, owned and ridden by Rebekah Young from West Sussex
5th - Candle Line, owned by Dawn Mather and ridden by Sarah Mather from Manchester
RIDING HORSE HACK
1st RIDING HORSE - Herbie, owned and ridden by Alex Windross from Skelton
1st HACK - Just Elusive, owned and ridden by Sarah Lindsey from Leicestershire
2nd - West Country Samurai, owned and ridden by Suzi Ayres from Blairgowrie
3rd - Dewi's Mate, owned and ridden by Jenni Savolainen from Herefordshire
4th - 1st Tiger Lady, owned and ridden by Rachel Lambert from Andover
5th - Leap of Faith, owned and ridden by Carly Sneddon from Larbert
6th - Port Lou Lou, owned by Kirsty Wilson and ridden by Finn Williamson from Cheshire
FRIDAY
HUNTER
1st - Coultard Z owned and ridden by Sarah Moreland from Hertfordshire
2nd - Gifted Z, owned and ridden by Abbie Emms from North Yorkshire
3rd - Dowdstown Pride, owned and ridden by Carol Capaner from Buckinghamshire
4th - Bowland Shooting Star, owned and ridden by Rachel Bond from Preston
5th – Eyebrook Mardale, owned by Fiona Haley and ridden by Abbie Haley from Dumfrieshire
6th - Pearl Panshine, owned and ridden by Lucy Askey from Derbyshire